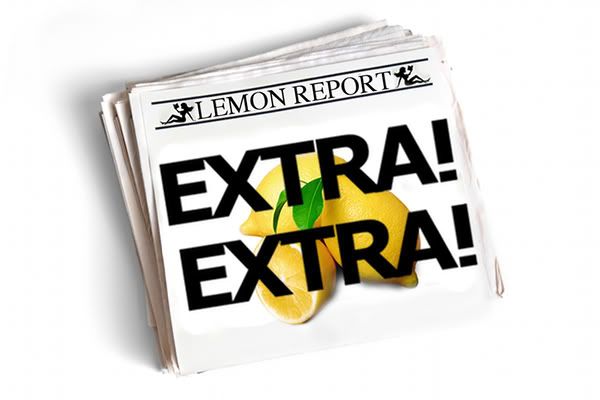 The Lemon Report - Fancy finding out what is on the FF bookshelves of the Pervy Girls of the PPSS? The lemon report lets you know our personal favourite updates of the week, and why you should give the fic a try.... It's a great place to trawl for new recc's and don't forget to share your favourite update with us by leaving us a comment.
Acronym Guide
AU - Alternate Universe
AH - All Human
WIP - Work in Progress
O/S - One Shot
OOC - Out of Character
WP - Wussperv
Slash/Femslash - Features homosexual characters and romance.
---
AH, O/S, Slash, James/Riley
---
Jeanne -
Holy Hell!
TruceOver
has done it again. This time with a sexy and hilarious little romp at the airport. Poor college student Riley gets stopped at Security for some suspicious (hehehe) items in his bag, and fuckhot James gets to give a special check.
Riley is adorable, and sweet in his embarrassment. While James is insanely hot in his uniform and almost Dom-eques commands. The sex is short, but so good. It's the perfect little shot of hotness to wake you up in the morning.
Chele -
Oh, Hotness. I will never look at airport security the same. I like to think that James booked a flight on Riley's plane and there is some mile-high action happening right now.
Jen -
If this is what's happening in the TSA questioning rooms then I think we need to demand viewing windows and pay-per-view or something. I'm with Chele on imagining a happy ending for James with Riley at some point in the very near future.
Jess -
So, when I saw this pop into my box, I died laughing at the title and summary - "I love a man in uniform." I mean, seriously, who doesn't want to read that... and then to find James (who I imagine as Cam) and Riley (Xavier), sweet holy mother kill me dead. And hot... hot does not even describe the sexiness of this funny little one-shot.
Emmy -
This is so hot and yum and lovely! Its a brilliant slice of fun. I love how Riley is freaking out about his interfering mother, until he gets the distraction of his life instead of a reprimand from the security bloke - ( I can't rem what you call them stateside - they have some kind of fancy name I think). But anyways, hot yummy ensues. LOVE it! :)
---
AH, O/S, Charlie/Alice
---
Jeanne -
I don't know how I only found this beautiful story now, but I am so glad I did. I (like Chele) am a true believer that Charlie/Alice has roots in canon.
afragilelittlehuman
does a wonderful job of easing you into their loving, sensual connection. Be brave, open your mind (and legs) to the possibility of these two finding happiness and love together.
Chele -
I am a firm FIRM believer that there is basis in canon for a Charlie / Alice Ship. I love what
afragilelittlehuman
did with this. Giving them the chance to transform their forbidden desires into a passionate love.
Jen -
Oh, how I love this story; I've lost count of how many times I've read it. My non-canon 'shipping heart did a little dance watching Eclipse in the theater when Alice emerged from the Swan home after a visit with Charlie. I really do believe that Charlie always felt something for Alice. This six chapter AH telling of Charlie and Alice's love story is so very sweet.
Jess -
And hello Jess, welcome to Team Anything Goes! This Alice/Charlie story, my first of this kind, completely blew me away. In my head I could see the playfulness of their relationship from the books playing out before my eyes into a beautiful, challenging romance between an older man and a younger woman. Seeing their passion, devotion, the pain of hiding it, and the pain of it being discovered, while also their need and desire to cling to each was heartwarming.
I was initially afraid I'd be totally squicked (sp?) out at the idea of sex between these two, but again, surprise, it was so perfectly well-written. Charlie's tenderness and attentiveness, coupled with Alice's quiet exuberance and deep affection... love, really between them both, showed up in such a beautiful and sexy way.
I'm also excited about the side story that will result from this Alice/Charlie lovefest. I'm dying to understand what really transpired between Edward and Bella. Very exciting...
afragilelittlehuman
is on author alert, and I'm anxiously waiting!
---
AH, WIP, E/B
---
Chele -
Fuck, this chapter was amazing. It was like actually watching Edward bloom; all his potential, all his passion, finally bared. Touching, beautiful, and intensely hot.
Jen -
I think it's safe to say that TheLadyinGrey has written some extremely damaged Edwards in her multi-chap fics Love Amongst the Ruins and Our Lives Unbound. So it makes sense to me that I'd feel tremendously proud of both of these Edwards when they overcome their pasts. OLU Edward has been making such amazing progress, and in this chapter he conquers some of his largest demons. It's gorgeous and moving and the lemon is a symbol of both his growth and his deep love for Bella.
Jess -
I feel like I am constantly humping the
TheLadyinGrey42's
leg over this fic, but I just can't help it. It's like every chapter brings these characters to life in a more robust and vivid way. This chapter was no exception. Seeing Edward snap, find himself, and stand up for what he believes and knows to be true was absolutely awe-inspiring. And then, to see him take from Bella and for her to give was such a vivid depiction of the journey and progress he's made. Just amazing... and freaking hot!
Trin -
Oh how I ADORED this chapter!!! Like Jess I feel like I'm always humping but I can't help it. So very lovely and just wow! I was so proud of Edward in this chapter...as corny as it is to say it gave me chills.
Emmy -
You must be sick of me always wittering on about this fic. But seriously. Wow. Amazing chapter. I adore this Edward so much. Such an intense and perfect chapter. What I love about this is how much what transpires between Edward and Bella means to Bella. The love and pride she has for him radiates throughout this chapter. Just lovely! (& fuck hot!)
Kimpy -
Yes, I love
TheLadyinGrey42
. This isn't news. But damn, I just can't help myself for getting twisted into pretzel formations over everything she writes. This chapter was especially meaningful because of the progress Edward has made. NGL, it's almost against my nature to dislike an incarnation of Carlisle, but OLU's version needs to be junk punched and put into his place. *kimpy rolls up sleeves and prepares the barrage* To witness Edward take control, and to see him be
assertive
? As hot as their sex life is already, this version of empowered Edward's sexytimes was UNF with a capital "U." If you aren't reading this already, I highly recommend it. As hot as the lemons are, it is the story wrapped around those lemons that makes them even steamier.
RAWR
---
AH, O/S, Bella/Carlisle
---
Chele -
If you've been waiting to read about a Carlisle that can fuck his partner into a state of semi-consciousness, then make sure she stays awake so she can enjoy his continued fucking? Your wait is over. Brits23 is holding nothing back here in her efforts to satisfy our perviest desires. There is wall fucking, tongue fucking, mouth fucking... I think there's even nose fucking. I would swoon, but I am still dead from the wickedness. Awesome. If you are a Carlisle-loving perv, you have no excuse for not having this story on alert. Yesterday.
Jeanne -
I don't know what I did to deserve all this smutty Carlisle/Bella fic, but I am loving it like no body's business. In the latest chapter of
Masterperv Theatre
we meet married Dr. Carlisle and his lover Bella taking a moment to get nasty with his iPhone. The Dirty Talkin' doctor gives Bella detailed instructions on how to perform for the camera. This is shit is hot, dirty and very fun to read.
Jen -
This Carlisle/Bella o/s is dirty, dirty stuff. There's something raw about Carlisle telling Bella what to do, all while he's filming her on his iPhone. Carlisle and Bella make no apologies for their sexuality and their desperate attraction and physical need for one another. Unf!
---
AH, O/S, Slash, Jake/Edward
---
Chele -
As if Edward as a porn star wasn't enough, Edward as a gay porn star? I simply couldn't be happier. Jacob loses a bet, and is suspiciously insistent on fulfilling the resulting obligation to audition for an all-male porn company. When it turns out that his audition is for a scene with Edward? Well, the star of the show is going to need to conduct this interview personally. Unf. Edward's cheeky dominance is perfect, and Jake's fixation, divine.
Jeanne -
I LOVE Edward/Jacob. LOVE! I need more fics about them falling love, and fucking. Lots and lots of fucking. Edward as a pornstar is perfect, but the added delight of a
straight
falling in lust with him. Yeah,
Starry_nights88
had me trying to hump my monitor. If you like a sexy, confidant, gay Edward, drop everything and read this fic NOW!
Jen -
I just love Jacob in this o/s. He doesn't seem completely freaked out by his attraction to Edward and there's something so sweet about him. He could get out of making good on the bet, but he's so good natured about it, and yeah, a lot bit curious. When the man who inspired his hard on is the one to audition him, Jake is caught off balance, but he goes with it and gets what his body desires. I really hope that
Starry_nights88
is planning to continue this because I need more of these two characters.
Jess -
After much humping on one of our threads, I decided to read this, and thank sweet baby jeebus I did. Jacob is awesome in this o/s that I'm praying will become more (please
Starry_nights88
please!!!). I love that he stuck to his guns and followed through the bet, and I love that he hardly uttered a word when Edward finally got to him. And who would with smoldering eyes and the body of fhot pr0n star?! Just delicious and light and yum!
Emmy -
Hubba Hubba Yum-Yum... That's really all I can say about this.. Are we going to get a round two? PLEASEEEEEEEEEEEEEEEeeeeeeeeeeeeeeee?
Gah, this was great!!! But I am totally wired and waiting for more. MOAR I tell you. So much unresolved... Their tension is unnnfffff. I love the older dirty confident Edward and the Jake who is young, confused and dying for Edward.. (I so wanted to say "young, dumb and full of cum" LMAO, bwahahah - But Jake is NOT dumb - he's just trying to get his head straight. Lucky Edward wants to help out one head whilst hopefully helping Jake figure out the other..... Bring on the porno.... (PLLLLLEEEEEEeeeeeeAAAAAAAASSSSSSSEEEEE) (ps - I love porn-set ff) (not just porny ff - although I like that too! LOL)
---
AH, O/S, Carlisle/Bella
---
Jeanne -
I think that it's important for me to take a moment to tell you (the readers) something. I will never judge your taste in smut. NEVER. One of the things that is wonderful about written erotica (smut, porn, whatever) is that it allows us to explore our sexuality in a very safe way. We, the readers and writers, are the only ones at risk when we open the doors to our desires. Even when the desires are very dark, or taboo in nature. It is our right to explore them in the safe confines of the written word.
That being said, HOLY SHIT this story is so hot, dirty and wrong I just had to share it with you.
AmeryMarie
has King Kong sized balls for tackling the sex taboo of cheating. Bella is dating Edward, Carlisle is his father, but that doesn't stop them from giving in to their intense attraction. When they finally get a moment alone to act on their feelings, and have some the hottest, smuttiest, and down right dirty sex (not to mention nastiest sex talk) I have read in a long time. This isn't the sweet, kind Carlisle you know. He is Dominant (with a capital D), and says some pretty degrading shit, but that's half the fun of it. If you're into cheating stories, dirty talk, and an extremely dominant man this is the fic for you. Be brave, give it a read. I promise, it'll be our little secret.
Jen -
If you decide to read this o/s just be sure to make sure NO ONE is going to disturb you for a while. Trust me, you do not want to be interrupted when reading this. UNF!
Chele -
This is a rather particular kink executed flawlessly.
AmeryMarie
held nothing back in this debauched tale of needy fucking; giving every detail necessary to make it feel naughty and wrong and insanely erotic.
---
E/B O/S Complete Fluffy AH
---
Emmy -
This is an adorable piece of Valentines fluff. A long and substantial (but never drags!) one-shot featuring shy junior assistant Bella who is hopeless for Editor Edward. Alice has plans one Valentines for Bella to get over Edward, but what happens when the play goes awry... Is there more to Bella and Edward's interactions than Bella can see. Fluffy and sexy - this is a brillo one-shot of romantic smut!
Jess -
This was a fun little bit of Valentine's day love. I won't recap what Emmy said above, but suffice it to say a steamy executive Edward and a junior assistant Bella navigating the waters of sexually charged unrequited crushes in corporate America is just pure sexy fun...
---
Description
---
Jen -
For All Eternity
is a collection of one-shots related to the AU
Zoya Zalan
created in her fic
First Night
. In this universe, you marry one member of the coven, you marry them all. This is my favorite one so far. Bella's on a self-imposed sex-bargo because she's in finals week at university. She and Carlisle both find themselves aroused after a routine financial discussion, but Bella sticks to her guns. Lucky for Dr.C Edward is around and is more than happy to relieve the situation in Carlisle's pants with what is possibly one of the best blowjobs I've read in fic. There's more lemony goodness, including Bella and Carlisle's tryst. I love
Zoya Zalan's
universe and look forward to more from her and this polyamorous coven.
Chele -
The entire content of the AU that
Zoya Zalan
for this series is just completely beautiful. I am thrilled at the level of love and intimacy that is depicted, and it makes my little pervy heart sing each time I see a new vignette post which gives another sexy, emotion-filled glimpse into the lives of this loving family. The combustion which occurs as a result of Bella's self-imposed celibacy is an inferno. Loved it.
---
AH, WIP, BDSM(ish), E/B (but B with others)
---
Emmy -
First up folks, I have to issue a warning.. This IS a Bella/Edward fic. They work together him as Dean Cullen and her as Miss Swan at the same university/college thingie and they participate in a fully consensual BDSM relationship. BUT they enter into a game one sexually frustrated week.... This game means that
Bella sleeps with a variety of her university students - male and female
. SO - although Bella and Edward are the main focus of this story - their games are detailed.....
Anyways - its good, hot fun. Edward is a possessive controlling arse - and its hot to read! :D Bella is a horny mess. Its not a serious story, its more lighthearted, sexy and entertaining. This is only two chapters in, but the companion piece that started it all off (3POV) of Bella and her dalliances with her students is here:
Making the Grade
.
---
AU, Outtake, Paul/Bella
---
Teal -
Miror Quaenam Sis Tam Bella may be over *sniffle* but
MeraNaamJoker
brought back the hot hot heat for a short and still smutriffically delicious little outtake. I squee'd and flailed when I saw this in my box, and getting a taste of some Paul/Bella action again was a fantastic treat. If you haven't read the original story yet, GO now, then enjoy this outtake!
Chele -
This small glimpse into Paul's mind was everything I had hoped it could be. Emotional, erotic, conflicted, and simply beautiful.