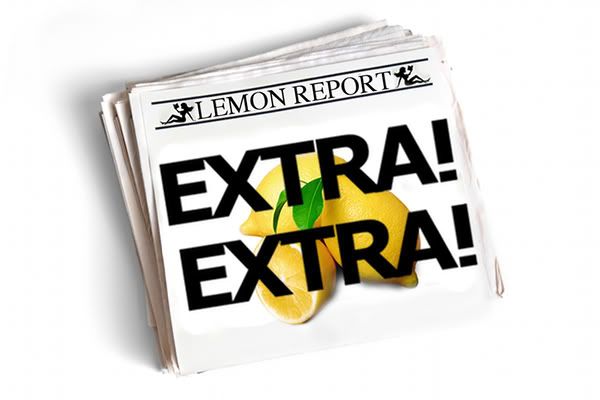 The Lemon Report - Fancy finding out what is on the FF bookshelves of the Pervy Girls of the PPSS? The lemon report lets you know our personal favourite updates of the week, and why you should give the fic a try.... It's a great place to trawl for new recc's and don't forget to share your favourite update with us by leaving us a comment.
Acronym Guide

AU - Alternate Universe
AH - All Human
WIP - Work in Progress
O/S - One Shot
OOC - Out of Character
WP - Wussperv
Slash/Femslash - Features homosexual characters and romance.
---
AH, E/B, Complete
---
Kimpy-
Love In My Box was one of those fun, fluffy stories that I loved to read when I needed to find my happy place. This Edward was so delightfully anal, and Bella was a perfect pairing for him. The reason I loved this outtake was, naturally, because the lemon was hot, but also because we got a peek at Edward and Bella's married life as new parents. I'm such a sucker for HEAs, it's legendary.
This outtake was even more fun because Bella had been on bedrest prior to delivering her twins, so it was like a five-month hiatus from sex, and as a result, they are both incredibly needy for each other. Bella decides to surprise Edward with a little visit to his office, posing as one of his patients. Needless to say, Bella is the last patient of the day, and the office is cleared out by the time Edward comes out to call her in to his office. The lemon is so sweet and fun, because they needed each other desperately. Without a doubt, this got me to my happy place.
Jess-
OMG! This is so the life of every couple with small children -- okay, maybe not the whole play doctor bit -- sex after pregnancy is often hard (pun intended in all the ways it could possibly mean) and less often that you might like. And good grief with the interruptions. This was just straight up HOT! Bella sneaking in as Edward's patient, the hot sexy times -- and it was DEFINITELY more than making love -- and then the babies crying... that's just life and was fun and beautiful. What a fun, fun outtake!
Emmers
I was so chuffed to see an update of this this week! It really brightened up my day/week. Edward is still just as adorable, and the two of them together are just as sexy. Just what the doctor ordered! In more ways than one.........
---
E/B AU/AH Novella Complete
---
Emmy -
This is a lovely wee treat. Just two chapters but a perfect boost of a story. Bella is the poor downtrodden PR bird. Enter annoying Hollywood starlets - the bitch Kate and the actor she is all over - Edward. But is everything as it seems? Lots of nummy RARRR moments - some just teasy flashbacks and some lovely fluffy bits too. Just perfect.
---
AH J/B O/S
---
Jess-
I've only just started reading Jacob/Bella stories. There's something really appealing about the warmth, deep sensuality, and simplicity of Jacob, and the more I read about him, the more I like him.
TuesdayMidnight
wrote a one-shot that left my heart aching with familiarity. I won't go into any detail here, because I don't want to give anything away. Suffice it to say, Jacob gave Bella what she needed and what I hope and imagine will be something that turns into forever.
Jen-
This is an AH story, but
TuesdayMidnight
incorporates so much canon into this beautiful, poignant o/s. The lemon is taut with unspoken emotion, and I think even the most die-hard E/B only, Team Edward would be rooting for Jacob (Edward has no role or mention in this story).
---
AU Ed/Jacob O/S
---
Jeanne -
One of the things that often bugs me about a lot of AU Ed/Jake fic is the fucking EMO Heartfail. Don't get me wrong it's kind of a love hate thing, cause god damn are there some fucking flawlessly beautiful heartfail Ed/Jake fic, but with all the serious going you don't get to see a lot of what I love about Jacob's character, aka his humor. While
The New Normal
doesn't soften the blow of how awkward and difficult it would be for canon Jacob to imprint on Edward, it shows that even in the face of something this insane Jacob never once loose his sense of humor. Edward is also his stoic, sympathetic self. His compassion for Jacob's predicament is almost saint like, and makes this story all the more believable. That is what I love the most about this fic, how both these characters are so in character, despite the change of canon.
Chele -
Finally, FINALLY a Jacob imprints on Edward story that I can hump to within an inch of it's life. I love how this was done, from Jake's consistently dude-like inner monologue, to Edward's reserved, curiosity. Completely fucking beautiful.
Jen-
I love that this Jacob truly is a teenager, with a teenage boy's thoughts and concerns. Although he's understandably freaked about imprinting on a vampire, I think he does really well accepting that he's bonded in some way to Edward. Their getting to know you dates are adorable, and while this isn't an angstfest as Jeanne mentions, my heart was in my throat hoping that Edward wouldn't break his heart.
---
AH E/B WIP
---
Jess -
Sex in a club is hot. Sex in a private room with mirrored windows is even hotter. And to feel the pulsing beat of the movie against the glass when Edward has you pressed up naked against it... DEAD.
Emmy -
I love the constant push-me-pull-me dynamic going on between Bella and Edward. His gradual emotional thawing, does not melt their tension in the slightest. Hot club sex anyone?
---
AH, E/B, Complete
---
Kimpy-
Yes, I know, I added Reality Minus Expectations last week, but bear with me. It deserves a separate listing this week, because I finally read the outtakes, which are included at the end of original story. There are a total of five outtakes at the end, and having read them, every single one absolutely belongs in the Lemon Report.
While there are five total outtakes, the one I want everyone to read NOW is "Edward's College Threesome." In the main RME story, Edward makes a passing reference to threesomes, but we don't get anything more than this brief glimpse. In the second outtake, "EB and The Amazing Anal Vibe," Edward does more than reference the occasion, he tells Bella about it in detail while they're having red hot mad sex, and talk about a way to amp up the sexual energy! After reading that outtake, I COULD NOT WAIT to get to the threesome. I wasn't disappointed.
RME Edward was in a punk band in college (I know, I know, like he needed to be any hotter than he already was!!), and after his gig, he flirts with a little cutie he's been trying to pick up. The thing is, she has a roommate, who happens to be a guy, who happens to be tending bar, who happens to be gay/bi/curious/whatever. Edward agrees to go home with them, and lucky us, we're along for the ride, too, as flies on the wall.
What I love so much about MJ's writing style is that her characters are very real and believable. While they have so much awesome sex, things start out a bit awkward, which is to be expected in such a situation. The minute they start touching each other, however, the awkward falls aside and sexual energy takes its place. The best part is that Edward has no qualms whatsoever about experiencing pleasure, no matter who gives it to him. Before the night is through, Edward has participated in some double penetration (as in he was penetrating, not being penetrated), kissed another guy, and found himself in more positions than a Kama Sutra manual for threesomes.
If you are looking for smoking hot smut, RME Outtakes are for you. Especially #3. As in threesome. As in good things come in three. You get my meaning.
Chele -
I fucking loved these outtakes, and especially the threesome. It contains one of my favorite lines of all time. There is handholding involved and it makes me soar every time I read it. So awesome.
Emmy -
I know that this story has been recc'd to fuck on the PPSS - both old and 2.00. But really its ruddy good. It has amazing sex, brilliant chemistry and a wonderful relationship. Its real, raw and sexy. Jesus these two know what works for themselves and for one-another... Scorchio! So go read it lovelies. Please?
Jeanne -
I must first shamefully admit that I have yet to read
Reality Minus Expectations
. I have however read the threesome outtake, don't give me that look we all know I'm a whore like that. Anyway, it is seriously fucking hot. This young, cocky Edward had me achy and panting. I won't give away much, but it definitely left me screaming for more.
---
AH, E/B, Complete
---
Kimpy-
This short story (5 chapters) by M slipped under my radar screen somehow. I happened upon it this weekend, and it made for an enticing, quick read. This is very different from Swirl + Daisy in rating (M) and tone (angst/drama), so don't go looking for Swirl or Daisy anywhere near this story.
That being said, this story is wonderfully crafted in premise, and filled with sexual tension and intrigue. Edward's older brother is a major player, and tries to pick up Bella. She doesn't bite. In fact, not only does she not bite, but she falls for his moral little brother who is the antithesis of his player older brother.
What drew me in about this story were things that I did not expect--when the player watches Bella kiss Edward in front of him, he gets totally turned out by it. He wants Bella, but Edward has her, and he pines for her, tries in vain to win her. It was one of those situations where you absolutely do no want to look at what is happening, but you cannot look away. Watching your sibling make out has never felt more alluring or outright wrong than in M's story, but damn, wrong doesn't mean I won't look. Just saying.
Emmy -
I think this fic is very cleverly done. Its not rich on smut, but its full of depth and meaning. Very intricate, and gets under your skin, nipping at your heart. I asked some of my fandom friends who love Jasper if they liked it-they did-and also thought it very well done.
---
E/B AH WIP
---
Emmy -
The author advises that you should read the connected story before reading this. But I didn't. (I will do that once I get more time!) I stumbled upon this somehow, and found myself quite enchanted. It is of 2 loves, finding their way back to one-another again... The latest chapter posted has Edward getting some ahem relaxation from Bella ahead of his Bar Exam..... **slurp**
Jen-
Some time around Chanukah last year I read
Eight Nights of Delights
by
Stupidsuckedinreader
. I was excited when Jeanne told the Pack that the adventures of this Jewish Edward and Bella would be continuing. As Emmy says, Edward and Bella are on their way back to each other, and while they started off treating each other very cautiously, they definitely both want to try again. I think I was anticipating this chapter as much as Edward was. It's fun to read about an Edward and Bella who could possibly be members of my extended family.
---
AH, E/B, WIP
---
Jen-
QBward and Bella never fail to delight. They managed to have some pretty significant relationship talk while getting it on. Far from being a turn off, their talks only underscore how much they adore each other. I read the chapter Monday night while waiting for my daughter at Brownies. Yeah, I felt like a perv, but I'm ok with that.