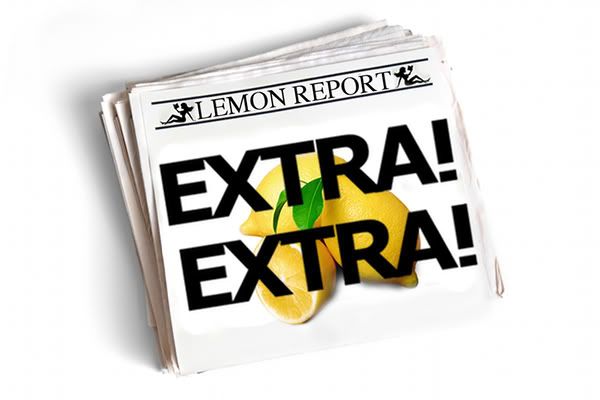 The Lemon Report - Fancy finding out what is on the FF bookshelves of the Pervy Girls of the PPSS? The lemon report lets you know our personal favourite updates of the week, and why you should give the fic a try.... It's a great place to trawl for new recc's and don't forget to share your favourite update with us by leaving us a comment.
Acronym Guide

AU - Alternate Universe

AH - All Human

WIP - Work in Progress

O/S - One Shot

OOC - Out of Character

WP - Wussperv

Slash/Femslash - Features homosexual characters and romance.
---
AH, B/E WIP
---
Chele -
This story is beautifully written. I am completely caught up in it and it's only three chapters in. Bella and Edward meet during Bella's semester abroad in Europe. Their connection is intense, each one taking strength from the other in a way that not only allows them to survive the challenges each one is going though, but permanently shapes who they are to become.
Domysticated's
divine written imagery carries through the erotic interludes, forging this amazing connection between our young lovers, and making me ache for their possibility, even while I can feel their impending separation at the end of Bella's school term.
Let the record show that I am in love with an Edward/Bella fic.
Emmy -
If my girl (& fellow blondie) Chele loves a Bedward fic then I know its going to be a belter... I was not disappointed with this. Its only three chapters in so far. So you can catch up quickly before the chapters build up. Chapter 1 introduces to us a mysterious and quite scarce Edward - foreign, deep and troubled. In otherwords swoonworthy (not just to 16yr old Bella) - with a dangerous edge.
---
AU, Edward/ Alec O/S
---
Chele -
Looking for a little AU vamp slash? Look no further.
giselle-lx
has given us this beautifully written taste of life with Edward if he'd never returned to Carlisle after his human drinking phase. Edward has joined the Volturi, and is notably depressed. Alec's gift may be the only thing that can bring Edward relief. The resulting unexpected passion may bring relief for both of them. Sweet intellectual and full bodied reading swoon and smut.
Jen -
I love the contrasts
giselle-lx
makes here. Edward is a young vampire, but in his human life he was older than Alec. The o/s itself manages to be sexy, poignant, full of longing, and a bit haunting.
Emmy -
Powerful, brooding and delicious.
---
Bella/Paul AU WIP
---
Teal -
I am completely and unsurprisingly addicted to Bella/Paul fic, now. Thanks, Joker ;) Seriously, though, it's hard not to be after this story, especially the 2 fuckhot updates we got this week. And now that the truth is out, I'm soooo excited to see how it all turns out. I wonder what the chances are the Perv Pack can kidnap this author and make her write for us forever and ever and ever...
Jeanne -
Jesus fucking christ these two are going to be the death of me. The incredibly hot sex just keeps getting HOTTER! Like surface of the sun hot, plus this chapter we get banter. Sexy, flirty, adorable fucking banter. Yes, there's other dramatic developments that have me on pins and needles, but for me this story is all about the connection (and love) between Paul and Bella. *swoon*
Chele-
Dead from awesome writing and fuckhot sex. You'll find my body outside Paul's bedroom window where I've become a peeping fucking stalker.
Jen -
Edward who? I want a Paul of my very own. I absolutely love how
MeraNaamJoker
shows how imprinting enhances and intensifies their relationship. As crazy as the idea of it seemed to me in Twilight, *this* is the way the concept should be used. They were adorable and sexy and so yum this chapter.
Jess -
I am just so in love with this story... and like the girls said above, now that the cat... or wolf... (lame I know) is out of the bag, it is only going to get better. UNF!
---
AH E/B WIP
---
Teal -
Aww, such a monumental chapter for these two! Lots of love, and the way Bella surprised Edward was sweet and sexy. I'm crossing my fingers for a smut encore in the next chapter!
Emmy -
Wow. This fic owns my arse for every update. Just wonderful. Deep and happy it stirs something inside and lets it blossom in your tummy and soul. A wonderful wonderful fic. With a delicious Edward.
Jess -
Like Emmy and Chele, I'm in love with this story and have been from the very beginning. Love watching these two find - or shall I say - refind themselves together...
---
AH, WIP, Jake/Rosalie
---
Jeanne -
That's right, JACOB BLACK AND ROSALIE HALE! SQUEE! I have a deep, abiding love of Jake/Rose. There is something undeniably beautiful about these two, seeming enemies becoming not only friends, but passionate lovers. UNF! We see a great demonstration of how clashing personalities can ignite into burning desire in
Mile High
. Jake is the pilot of a private jet that finds a special surprise in the
cockpit
(snort), namely a very naked Rosalie Hale, the daughter of a very rich client. What follows is hilarious and sexy.
Chele -
This is completely adorable and full of sexy, sexy smut. Author is a self-proclaimed smut-whore, and well, so am I. We are now mated for life. Read this fic.
Jen -
Remember the love/hate relationship Rose and Jake had in BD? They both wanted to protect Bella and the unborn baby and then they wanted to protect Renesmee. Despite these common goals, neither could resist goading the other with all manner of jokes and barbs. Pilot Jake is adorable, and he's got his hands full of prima donna Rosalie. Funny, smutty times abound.
Trin -
I am a WussPerv all the way where Edward and Bella are concerned, other than that I'm wide open. I read this at Jeanne's suggestion and the sexy banter alone made my toes curl. That is one of my favorite things with Rose in a fic, she has such a quick wit and yummy bite to her.
Kitty-
Duuuuude, this is one of those fics that make me all stupid happy! I mean really, I was grinning and giggling like an idiot the WHOLE time I was reading it. Pilot Jake? Oh holy hell just kill me right the fuck NAO! UNF! Seriously, soo good, funny and frakkin H-O-T!
---
AH, O/S, Jake/Rose
---
Jeanne -
Yes, That's right, another Jake/Rosalie fic. This one is a little different, because it shows a softer versions of these characters. Jake and Rose are both broken hearted in their own ways, that through this kinship they develop an unlikely friendship that blossoms into something more.
2Shaes
set my monitor on fire with the sex scene in this delicious one shot. It is at once passionate, tender and eyeball meltingly HOT! This fic is worth venturing outside of the canon pairing bubble, Trust me.
---
J/B, 25 drabble arc
---
Jen -
Stolenxsanity
is writing a drabble a day for this entire year. She just finished posting a 25 drabble arc which was the stuff fantasies are made of. Jasper- hot stranger on an elevator who Bella bumps into. They meet again on their way down (heh) at the end of the day. You know very little about either one of them, but they are both sexy as hell. Many unfs, especially over Jasper. Stolenxsanity crammed a metric ton of ust into these drabbles. It was very pleasurable torture, and all the build-up paid off in an *cough* explosive finale.
---
E/B, AH, Completed
---
Kimpy -
For whatever reason, I've been sitting around with my head in the sand for far too long when it comes to the lovely Mjinaspen. Having had the opportunity to meet her in person recently, and experience Aspen as her Edward and Bella see it, I decided to FINALLY get my ass in gear and read her story.
It's hard to pinpoint exactly why I love this story so much, because there are so many different reasons. Her Edward and Bella are sublime, however, and if there is something I love, it's an E/B pairing that is so strong, it's like the universe wrote their coupling into its celestial fabric as destiny. You might think I'm full of hyperbole, but I assure you--read this story, and you'll understand exactly what I'm talking about.
One of the story elements that makes it so alluring is the "He Said, She Said" action that weaves through it. It is so hard to get Edward and Bella on the same page in terms of communication, but get the two of them in the same room, and they start to communicate sexually, and OMFG, the sexual chemistry is dynamite!
The manner in which Edward and Bella come together sexually is magic, pure and simple. There is something about these two individuals--maybe it is that cosmic intervention I mentioned earlier--that sex, for them? It's perfect. It's divine. It's as effortless as breathing, so natural, so unforced, so organic. Bella has never had very fulfilling sexual experiences until she has a one-night stand with Edward. Suddenly, she's brazen. She's outspoken. She's... coming four times. Only Edward is able to coax these sexual responses out of her, and it's marvelous to read, watching it unfold in front of you, as if you are a fly on the wall.
It isn't just that these two have hot sex, because the story that surrounds their intimacy is just as interesting and fun. There are so many details about life in Aspen that you wouldn't know if you hadn't lived there. MJ shows us exactly why writers should write what they know, because her story is infused with the heart and soul of Aspen.
Since this is the lemon report, however, let's get down to the nitty gritty. You want lemons? You need really, really tart citrus? RME is your go-to story, ladies. Hot, sexy, one-night stands? Check. Kill-me-slowly-UST-sexting? Check. I'm-so-horny-I-can't-wait-to-be-in-you phone sex? Check. Outdoor sex on Edward's private, lush porch? Check. The sky is the limit with these two, and every coupling is hot, unique, fun, raunchy, and amazing. Some of the best lemons I have ever read, hands down.
For those of you who haven't started it yet, for whatever reason? READ IT NOW. For those of you who have already read it? READ IT AGAIN. Seriously, this is far too good to be ignored.