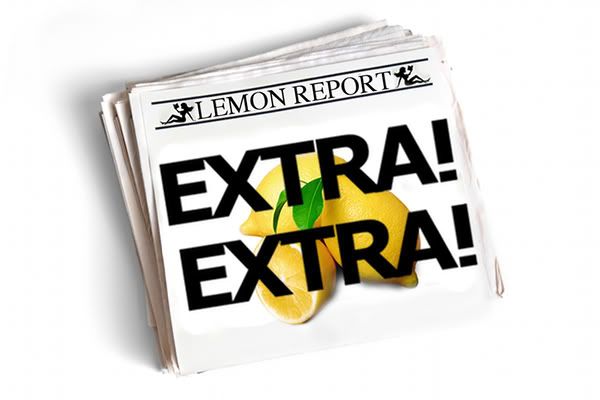 The Lemon Report - Fancy finding out what is on the FF bookshelves of the Pervy Girls of the PPSS? The lemon report lets you know our personal favourite updates of the week, and why you should give the fic a try.... It's a great place to trawl for new recc's and don't forget to share your favourite update with us by leaving us a comment.
Acronym Guide
AU - Alternate Universe
AH - All Human
WIP - Work in Progress
O/S - One Shot
OOC - Out of Character
WP - Wussperv
Slash/Femslash - Features homosexual characters and romance.
---
AH, E/B, Complete
---
Teal -
And so it ends. Sadly, the bang-bang is over, but not before lots of fun, hot banging too place to make up for chapters upon chapters of unbearable UST. The final chapter was a lovely blend of sweet and citrusy to tie up all the loose ends. If you haven't read this one or were waiting for it to be complete, go read/save now -- it's being pulled from FFn in one month.
Jess -
I found this story just as Alice started writing it and have loved it from the beginning. There are so many things to say about it, but suffice it to say, Alice crafted an amazingly witty and fun story full of citrus... once Bella finally found her O! Such fun!
Trin -
This was just such a fun ride. Now that it's complete I think I may even re-read it all together again.
---
Em/Ro, AH, WIP
---
Jen -
Do you like a slow burn? Do you love banter between two strong protagonists? Then
A Player to Be Named Later
is definitely for you.
It's a gorgeous love story that has me wanting to jump up and down like a little girl. Last week's chapter found Emmett and Rosalie breaking some of that delicious tension between them. A lot of making out, a little over-the-shirt boob gropage, and everyone's favorite: the dry hump. So damn good, no less than we'd expect from
TheHeartofLife
and
Hmonster4
.
---
Edward/Riley, AH, o/s
---
Emmy -
Woah! I just read this, JUST after I posted my Valentines request for more Ed/Riley! Hhaha MIND READER! This is squirmy delightful stuff of my favourite slash pairing. Their anniversary means its time for a new first in their relationship, time for the boys to switch hit... RARR! Yummy but also sweet. A delightful addition to the WOEFULLY short list of Ed/Riley stories....
Jen -
Yum. Ed/Riley. I love
mrsyt31's
multi-chap, Til Summer Comes Around. That story is quickly approaching angstville, and while in my own sick way I'm excited about that, it's great to have a happy go lucky o/s to enjoy!
---
Jasper/Carlisle, AH, o/s
---
Jen -
I've been dying for this contest to be over so I could talk about
Thump
. Jasper's a musician--which he often is, but, damn, musician Jasper is hot! Especially so here, as
Greenedgirly
and
Hidingfromsomeone
describe
Jasper the drummer in a most delicious fashion and older man Carlisle is delish as well. The storyline isn't just a device to get them into bed together, though it accomplishes that and makes it sexy, in spades. The authors manage to put a lot of information in the o/s about Jasper and Carlisle's relationship together, and it makes the story all that much sexier. Unf!
Emmy -
**DIES** I forgot how fucking amazing this story is. Whew! Its got me all in a tither in Starbucks as I reread it just now... I am severly shooting inappropriate looks at the hunky tall barista right now! Lmao! hahah. That my friends is the power of a horny, sexy, slash story...
This one is particularly well done. Its got a story beneath the sexual liaisons. Its got depth and a slight edge. Carlisle and Jasper may play games but their bond is true and deep. As is their sexing. Delish.
---
Victoria, Ed/Bella, AH, o/s plus futuretake
---
Jen -
I loved
The Sun Came Out from the Clouds
when I read it as an entry in the In the Closet Contest. The smoldering contest entry was Victoria and Bella's story which ended on a melancholy note, and I so hoped for a second chapter of this story. I was looking around for some femmeslash and happened to see that this story listed a chapter two; I rushed to read it immediately. I really love Victoria, the narrator. My heart still aches for her a bit, but the love and beautiful lemons left me feeling hopeful, too.
Chele -
I thought this was so very well done. Intense smut, realistic characters and situations. It made me ache and yet feel that this was so very right for everyone.
---
E/B AH Complete - Outtake
---
Emmy -
Woah. This was a Valentines outtake with bells on! Delish delish delish! How are the loveable and madly in love Bella and Edward aka Lovin and Suger faring four kids on? Read this fluffy and sexy slice of their future to find out! YUMMY! **fans self**
---
E/B AH/AU Complete Angsty
---
Emmy -
I am WAY behind on this one, only reading it the other day, even though it was written around Christmas time. Its a quick read and believe you me you will race through it, as like me you will be DESPERATE to know how it ends and whether Edward ever gets his do-over with Bella. I ain't going to lie. It was HARD going at times. I did cry. But its so very worth it. A beautiful story with a lovely (albeit lost) Edward. Bella and Edward's struggles are so very real. LOVED this.
Jess -
I read this over the during Christmas, anxiously awaiting each update. This story was so well crafted and unique. I loved the "It's a Wonderful Life-esque" feel of the whol thing and the way
Tkegl
left me rooting for Edward to make it all right. The UST beneath was so well written and when Bella finally found it in her to forgive him, the lemons were beautiful. I really loved this.
---
E/B AH Complete
---
Emmy -
GAH! This story completed this week! It had me on edge, whilst I waited for the daily updates completing it! Cliff-hanger! ;) Bella finally realised the depth of her bond with Edward, which resulted in a beautiful, beautiful scene. Now its complete, if you don't know this fic its a great time to get on board....
---
E/J AH BDSM Slash WIP
---
Emmy -
I keep meaning to add this to the LR every week and I forget! Doh. I am loving this story. It started off as a hot O/S for a contest that had a straight (& living with a girl) Jasper subbing for his dominant Edward (who seemed to care extra hard for his sub). This O/S was as hot as fuck. It is still hot as fuck. But now has a deepening intensity running through it as Edward and Jasper struggle with feelings that run deep, and above and beyond those of a Master and his sub.... Its done so bloody well, things are messy and difficult but their coupling is dynamite. They struggle with balancing love and lust, especially as Jasper gets used to his newfound sexuality, and whether to hurt a woman he was previously in love with.... A hot and meaningful story.
Jen -
I didn't realize that
HidingFromSomeone
had a new multi-chap going on, so when I saw Emmy list it I had to check it out. I can't really be eloquent about it right now. I am just about finished with all of the posted-to-date chapters, and all I can say is happy fucking valentine's day to me. UNF.
Jess -
So, I wasn't planning to read this, but after seeing Emmy's comments and then Jen's, I decided to give it a go. I'm not finished with all the posted chapters, but hot damn, this is intense and so, so good.
---
E/B AH WIP
---
Jess -
BJ. In a parking lot. This was so damn hot, and I loved it because Bella forced Edward to take something for himself for a change instead of giving giving giving. Just another critical step in his journey to finding his confidence and comfort in who he is as a person. I love that Bella has helped him find that.

Emmy -
Everything Jess says.. And then some! This is yet another great chapter in the lives and developments and love of these two. I thank god that Bella was there for Edward as to confront his family without them would have been traumatic and horrific. Yet again we are reminded that there bond is so much deeper than sexual, that no matter how indebted Edward feels towards Bella, he is her steadying anchor too.

Trin -
UNGGHHHHHHH. I LOVED this so much. Their relationship seems to be deepening with every word you read. And really, the BJ UNF!
---
AH Edward/Emmett O/T
---
Jess -
I can honestly say I did a little happy dance when I saw this pop into my box! And then I did another one when I realized the inspiration for this little bit of fluffy Vday lovin' was from one of the Pack's Vday Fic Gifts post. I love these two boys together. They are absolutely sweet and know each other's needs, wants... it's just so heartwarming and HOT!!! Edward, tight black briefs... ded.
Jeanne -
I owe Jen a hug THANK YOU and boobgrope for inspiring
TruceOver
with her
Valentine's Day Fic Gift
post. This future take is hot, romantic and so fucking it sweet I nearly cried. I love these boys, and I love
TruceOver
for giving us a glimpse of their happily ever after.
Jen -
I had so much fun with the fic gifts post, and I really thought for days about what would be the perfect gift for Emmett and Edward. Yes, I spent hours pondering gifts for imaginary people. I thought maybe they'd enjoy looking at a book of photographs by Tony Duran or Rick Day, but that just wasn't quite right. There was an ad for sexy undies on a website I was looking at, and then it was clear. Undies- yeah, that's so Emmett. Imagine my fucking glee when I saw that
TruceOver
wrote a futuretake using the undies as a prompt. It's adorable and so them. Even in a fluffy piece like this, she's shown how much these boys love each other.
---
AU Bella/Paul WIP
---
Jess -
I am so sad to see this story come to a close. We have already raved about how great it is, so I won't rehash all the praising. But watching both Bella and Paul find themselves in each other, grow in the imprint, and to realize that they love each other regardless of it was so beautifully written. Not to mention that the last bit of sexy time comes full circle on the cliff... just brilliant and visceral and real.
Jeanne -
What a way to make an exit.
MeraNaamJoker
will forever be in my heart (and pants) for creating this beautiful Alternate Universe that in some ways makes me wish it were canon. I love Bella and Paul together. Their relationship is mature, strong and utterly captivating. I'm sad to see them go, but I'll forever be thankful that I got to see them fall in love.
Jen -
*sob* I can't believe it's over. It's been a wonderful ride reading this fic. I think we've said it before, but
MeraNaamJoker
really makes sense out of the idea of imprinting. She gave us a meaningful, sweet, intelligent, and oh, yeah, freaking sexy story. As much as I'll miss the updates, the epilogue was completely fitting and beautiful. You couldn't ask for more. Well, except maybe smutty outtakes ; )
Chele -
This story is a gold-standard AU, and some of the best erotica I've read. If you haven't had time to dive into this, do it RTFN. It's complete, and it's amazing.
---
AH E/B WIP
---
Jess -
There is nothing like seeing how profoundly love can heal broken hearts and see people through grief. As someone who lost a parent early, watching Bella struggle with the one year anniversary of her mother's death hits close to home. The loneliness, the sadness, the belief that you should be able to deal with all of it, but the realization that you can't is a hard one to face. Edward, however, sees through all the walls and loves her, supports her, and gives her the push she needs to be fully open about her loss. I don't want to say a lot, but suffice it to say, the lemon is so perfect for the moment, and I was left feeling that warm, achy feeling deep in my chest.
---
AU, Complete, Leah/Jacob
---
Jeanne -
I originally discovered this story on after reading the last
Going Deep: the Jacob Black edition
, and checking out the
Blackwater LJ community
. Aside from having one of the coolest titles EVER, it is also on my personal top list of all time great Leah fan fics.
The Mythical Creature's Guide to Living
takes place during Bella's pregnancy in Breaking Dawn, only it takes the turn that many readers wanted, i.e. Jake does NOT imprint on Nessie. Instead, the wolves, and specifically Leah take center stage as the splitting of the packs has some surprising repercussions for everyone, one of which is Jake and Leah's growing attraction to each other.
Though the chapters are short the UST in this motherfucker is off the charts. Leah's hilarious, totally in character, snarky banter keeps you laughing while you're squirming every time she and Jacob are interacting. The chemistry is so evident even the Cullens take notice, and when these two FINALLY give into their intense feelings for each other I nearly swooned. This story had me up till one o-clock in the morning reading, laughing and hyperventilating for this pairing. Go Read NOW!