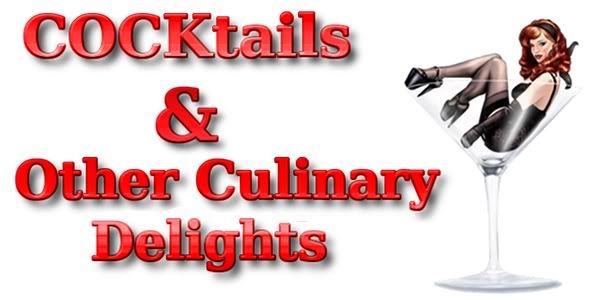 Who doesn't love a good COCKtail or a decadent sweet treat? COCKtails and Other Culinary Delights is a special feature full of fabulously pervy recipes and how-tos for COCKtails, sweet treats, and other food-related pleasures. We'll have all sorts of smuttastic ideas for a girl's night out on the town or a "quiet" evening at home.
---
Valentine's Day is just around the corner. This special Vday edition of COCKtails is all about fun and saucy drinks to accompany any dinner or evening with that someone special. Champagne and wine are both very common and are the perfect accompaniment to most any dish you might choose.
But this is Valentine's Day! The day for hot, sexy, lovin', so why not have a little naughty fun,
Perv Pack style?
Start off the night with a.....
Blue Negligee
One part each Green Chartreuse, Parfait Amour, Ouzo, and ice. Stir and stain into a standard cocktail glass and serve.
A little foreplay can get nice and sweet with a little
.....
Slippery Nipple
2 shots Sambuca (anise flavored, colorless Italian liqueur)
½ shot Bailey's Irish Cream
1 drop grenadine
Pour the Sambuca into a double shot glass. Gently add the Baileys so it floats on top. Add a drop of grenadine in the center to give the appearance of a nipple!
......or hot and intense with a......
Pink Pussy
Equal parts vodka and pink lemonade served in a martini glass with a lot of crushed ice
Variations: Malibu, pineapple juice, or pink grapefruit juice
Everyone loves a .......
Slow Comfortable (or Frantic)
Screw up against the Wall
Equal parts sloe gin, vodka, Southern Comfort, Galliano in a tall glass filled with ice. Top with orange juice and stir slightly.
OR
One part each Southern Comfort and Vodka, half part each Galliano and (Sloe) Gin, four parts orange juice, ice. Build in a tall glass.
Or a fun bit of raw, gritty......
Sex on the Beach
1½ shots vodka
½ shot peach schnapps
¼ shot Chambord black raspberry liqueur
2 shots pineapple juice
2 shots cranberry juice
Shake all the ingredients together in an ice-filled shaker. Strain onto ice in a highball glass.
Regardless of where and how, make sure you end the night wet and screaming.
Wet Spot
One part each Midori, Apple Juice, cream and passionfruit pulp, half part Frangelio, ice. Shake and strain all but pulp. Serve in a standard cocktail glass with pulp floated on top.
Screaming Orgasm
Equal parts vodka, amaretto, coffee liqueur, Baileys in an ice-filled shaker, strained and served in a highball glass and topped with a bit of cream.
The evening wouldn't be complete without a.....
Cocksucking Cowboy
Two parts butterscotch Schnapps, one part Baileys. Layer in a shot glass.
or a....
Menage a Trois
Half part each Monin Triple Lime liqueur,
Cointreau,
Champagne.
Chill and strain liqueurs into a flute glass, top with Champagne.
H
ave a fun, in every sense of the word, Valentine's Day!