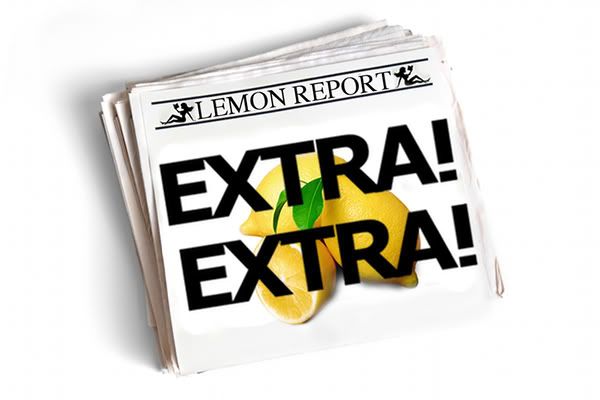 The Lemon Report - Fancy finding out what is on the FF bookshelves of the Pervy Girls of the PPSS? The lemon report lets you know our personal favourite updates of the week, and why you should give the fic a try.... It's a great place to trawl for new recc's and don't forget to share your favourite update with us by leaving us a comment.
In some cases, the Lemon Report may contain spoilers. Please read with caution.

Acronym Guide
AU - Alternate Universe
AH - All Human
WIP - Work in Progress
O/S - One Shot
OOC - Out of Character
WP - Wussperv
Slash/Femslash - Features homosexual characters and romance.
---
AH WIP E/B
---
Jess -
Good night nurse! This little fic just keeps heating up. The chemistry between these two is intense. You know some rough times are coming... but until then... get to reading!
Emmy -
Love how these two are building it up. And how the love of a good woman is helping Edward be the man he wants to be....
---
AU, Thor/Loki, Slash, (not really) Incest
---
Jeanne -
I'm a whore for comic books and mythology. So imagine how much of a whore I am for Thor. Oh yeah, big time! It feels like this fic was written just for my whorish heart and pants.
ddelline
has re-imagined Norse mythology and exploited the obvious UST between (adopted) brothers Loki and Thor. Their relationship is profoundly deeper and more dysfunctional than ever. Yet we see a rare vulnerability in both these godmen when they are together than nearly cracking my heart in two. Whether you like mythology or just saw the Thor movie and thought (like me) "Thank god they're not related!" This is the fic for you.
---
AU, Post-Breaking Dawn, Leah/Nahuel
---
Jeanne -
OMFG Team Nahuel for motherfucking LIFE! This story does not cease to amaze me and explode my pants. I love how Nahuel is so tender and yet so fucking hot! Not to mention how utterly in character Leah is even while this smooth fucking half-vampire god is sexying her shit up. Then she ends the chapter with the emotional equivalent of a piano being dropped on Leah's head. I've been behind on this one and another update has just dropped in my inbox. I can't wait to read it. *flails*
Chele -
I'm standing in line behind Jeanne to get on the Nahuel train. All aboard.
---
AU, SLASH Edward/Jacob
---
Chele -
I do get a craving for some AU Jakeward, and this hit the spot. All that Eclipse awesomeness, without all the Bella getting in the way. I have two words: tent scene. Never before has realistic, awkward outdoor sex been so hot.
Emmy -
I am in the midst of reading this at the mo!GAH! Keeeeeeeling me. As always from
TuesdayMidnight
, its so well done.
Jeanne -
I have just started reading this fic and already I'm over the moon for it. GAH!
---
AH, Slash, Jasper/Emmett
---
Chele -
Such an adorable bit of boy fluff featuring my OTP, Jasper and Emmett. They way they meet is hilarious, their first date is atrocious, their love is swoonworthy, and their sexing? Total hotness.
Jeanne -
Fuck me running this story is hilarious and adorable. I was literally laughing out loud through the first part, but once we go into the meat of Jasper and Emmett's relationship I was all squishy and flaily. I love reading about happy gayboys and these two have just that kind of HEA. UNF!
---
AH, Complete, E/B
---
Emmy -
I added this to my TBR list YONKS ago when our own gorgeous Teal recc'd it back in JUNE on the Lemon Report... But I only just got around to reading it. Its angsty and sad at times but done oh so well! I love DaddyWard fics as you know. So this pulled on my heart strings big style!
How the feck had I missed a fic that has over 9k reviews is a shock to me. But if like me you have missed it. GO READ IT NOW! :)
---
AH, WIP, SLASH, E/J
---
Emmy -
This is a mysterious and heady wee tale. Am loving the mystery of this story and the latest chapter has the beginnings of the naughty stuff. Jasper is complex - can't wait for his secrets to be revealed. Edward is in major denial, and breaking Jasper's heart without realising it...
---
AH, O/S, E/B
---
Emmy -
I always love
StellaLunaSky
's stories. They have a beautiful evocative feel. This one is no different. The love in this love story seems so natural and effortless. Yet its not contrived or fluffy nonsense. Its just a beautiful story of falling in love.
---
AU, O/S, SLASH, Edward/Carlisle
---
Emmy -
As you all know, bar Edward/Riley, Edward/Carlisle is my fave slashy pairing... So I devoured this when it arrived in my inbox. Its angsty and heart-clenchy. But yummily done. I really want another part to this tale. Poor conflicted Carlisle and tortured Edward... I want their HEA.
---
AH, WIP, Historical, E/B
---
Emmy -
I am not often a fan of historical fics, as they are so often contrived, inaccurate, a rip off of Jane Eyre or just plain dull! Huzzah to finding a really good historical fic! :) I have really enjoyed this tale of British Bella who travels by sea to America to become a seamstress - and finds so much more! Love some gentle yet passionate scenes we have seen, especially those from EPOV.
Lady Gwynedd
has stayed so true to the time and yet woven an interesting fic, with lots of layers still to be fully revealed in this fic!
Jess -
I've just started reading this and love it already. I enjoyed
Lady Gwynedd's
other stories, and this one promises to be another good one!
---
AH, WIP, (3somes), Slash, E/Garrett (& other pairings)
---
Emmy -
YAY! A new chapter of this. One of my favey-fave fics!!! And oh my word! Could Garrett be ready to play?
Jeanne -
Three squees for updates! OMFG I love this story so much. Garrett and Edward are so fucking hot and adorable. The potential of adding Jasper and Riley to the mix is curling my toes. YES PLEASE! *sits up and begs*
Jen -
Oh, thank fuck- I have missed these boys something fierce. Hot and adorable all at once.
---
AH, O/S, E/B
---
Emmy -
Well heelllllllllllo SurferWard. Yep this is a delish beach set one-shot. Its a larger than average (twss) one-shot, but doesn't drag. Instead it beautifully unfolds the story of how lifeguard Bella and surfer Edward meet and how their chemistry sizzles up so that love washes over them. Sexy times after beach bonfires? Yes and please.
Jess -
I'm a sucker for surferward. Thrown in LifeguardElla and you get some smokin' hot UST and some very niiiiice sexy times. Best line ever: "Uh…" he actually looked as nervous as I felt "…I don't think it's any great secret that you're the hottest lifeguard in town. Like a Baywatch babe."
Jen -
I can't resist surfers, so I'm going to need to read this one, pronto.
---
Transformers, Bumblebee/Sam/Optimus Prime
---
Chele -
Keelywolfe
officially owes me a new pair of pants, because this O/S set mine on fire. Holy freaking holoform hotness. This is my three-way of the month. The perfect blend of plotty undertones to balance the unbelievably hot smut. I can has more please?
Jeanne -
Holy Fucking Robot Poly, Batman!!! I love
Keelywolfe
's writing. The humor, the hotness and the adorable awkward of gayboy Sam. Now add in a sexy, black haired, blue-eyed Optimus holoform...*Pants Explosion*
Teal -
*died and iz ded* So when you're robot/holoform boyfriend realizes that you're attracted to the holoform of his Prime he suggests a threeway? Bumblebee, I love the way you think. Ever better, I love
Keelywolfe
and her dirty, wonderful mind.
---
Drabbles AH Jake/Ness
---
Jess -
This was such an unexpected delight. I rarely enjoy Jake/Ness, but wow... this one was awesome! Written in 2nd person and from a grown up Ness' perspective... shower lovin' and big girl decisions. So good.
Jen -
LOVED this! So much hotness, so few words.
---
AH WIP C/Es
---
Jen -
Carlisle is so yummy in his Navy dress whites, I think Esme might have jumped him even if they hadn't just gotten married. Super sweet WWII Carlisle/Esme story.
---
AH WIP E/B
---
Jess -
I know I rec this story almost every week, but I seriously adore Amishward/ella. Watching them grow... and spend lots of cold winter days and nights exploring their new found sexuality is just so delightful! Big things to come for these two.
---
AH WIP E/B
---
Jess -
I can officially say with certainty, Prisonward is going to kill me before this story is complete. I love watching these two come undone. Big stuff in this chapter... and the shower scene... HAWT and steamy.
---
AH WIP C/B
---
Jen -
Mysterious Carlisle makes you wonder if he's got an evil twin stashed somewhere. I don't even know what to say about Bella; I like her a lot, although she's of course not perfect. She owns her sexuality, which is one of my favorite traits a twific woman can have. And, damn, does she put her enthusiasm for sex to good use. Some of the hottest sex I've read. The only question is, will this end badly for Bella?
---
AU WIP J/B
---
Jen -
Vamp Jasper so hot for Bella he bends her over the couch? Yes, please.
---
AH WIP C/Es
---
Jen -
Sweet, nerdy Carlisle finally pops his cherry. Even better, it's with the girl of his dreams.
---
AH WIP E/B
---
Teal -
Part is such sweet sorrow... Most of us have been there - post coital with the person you love (or at least love to fuck), and one of you has to leave. Edward definitely doesn't want Bella to go out of town, nor does Teddy, who seems to handle all the possessiveness in their relationship. Lucky for us, the result is some teasing, hot goodbye sex!
Emmy -
I wonder if either of them will cope with being apart. Thankfully possessiveWard is a fittie! And Bella was given a proper send off! InsatiableWard is yum.