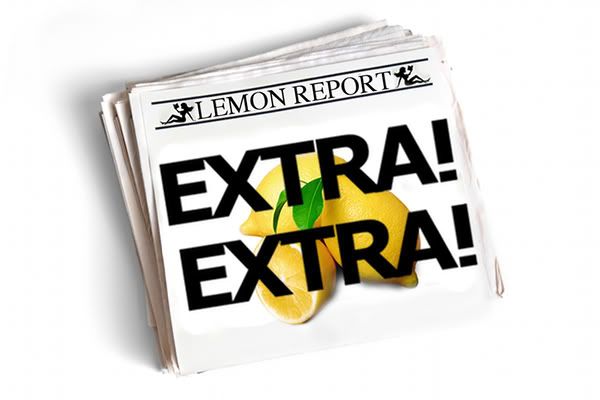 The Lemon Report - Fancy finding out what is on the FF bookshelves of the Pervy Girls of the PPSS? The lemon report lets you know our personal favourite updates of the week, and why you should give the fic a try.... It's a great place to trawl for new recc's and don't forget to share your favourite update with us by leaving us a comment.

In some cases, the Lemon Report may contain spoilers. Please read with caution.

Acronym Guide
AU - Alternate Universe
AH - All Human
WIP - Work in Progress
O/S - One Shot
OOC - Out of Character
WP - Wussperv
Slash/Femslash - Features homosexual characters and romance.
---
AH Complete E/B
---
Jess -
I'm not sure how I found this, but it was such a fun, fluffy, light read. Tatts, piercings, the desire to be real, and a one-night stand that might... just might... turn into more.
Emmy -
I could have sworn we had LR'd this fic before.... But never mind. It deffo bears repeating. As Jess said its a fluffy, sexy, tatto'd read. Perfect!
Trin
This story is just so fantastic. As the ladies said its a light fluffy read that is just delicious.
---
AH, O/S, Slash, Seth/Jake, Angst
---
Jeanne -
Do not confuse this with a fic of the same name. This is a one shot showing Seth's heartbreaking dilemma. He's in love with Jake, who uses him for drunken booty calls. I love Seth's voice, so real and it hits deep. His need, his pain and Jake's utter denial of everything Seth has to offer, except for sex. This isn't a love story, but the sex is intense and hot.
Emmy -
Jeanne said everything I wanted to. But she said it loads more eloquently and concisely than I could hope for. This fic pained me. But it was: So. Bloody. Good.
---
AH, O/S, E/B
---
Emmy -
I loved this wee one-shot. It was one of those that was a great, speedy and sexy read. It read true to life. A wife sick and tired of the status quo and worried that its the beginning of a slump into a passionless marriage. So she does something about it. No gimmicks, no ridiculously kinky nonsense. Just passion, lust and magic of the sexual kind!
Jess -
Emmy could not have said it better. I loved that this is a situation many of us can relate to, and Bella totally took control, decided to change things up, and hot damn it was good!
---
AH, WIP, SLASH, E/J
---
Emmy -
This is a slashy, kinky delight. Boy do these boys like putting things up their arses! And playing with them! Makes for a yummy read. There is a story in there too, about true love reuniting. But the main fun is how these two connect in a physical way and explore each others boundaries. Getting to do all the fun things they wanted to do before they were separated as Teens.... Bring on the butt-plugs!
---
AH, O/S(2-shot), SLASH, E/C
---
Emmy -
Yum, yum, yum! I was so chuffed that we got more of this scrummy storyline. Edward likes his knickers.... just as well that Carlisle likes him in (& out) of them. As always from SadTomato we get more than sex, we get human connections and anxieties explored. They have a beautiful relationship and hot sexing!
Jen -
Alerts from
Sadtomato
absolutely make my week. So hot, so loving. Carlisle is the perfect man.
---
AH, O/S, E/B
---
Emmy -
This was sitting in my tbr backlog, so I only just got round to reading this, even though it was a posted a few weeks ago. As always from
stella luna sky
it was a beautiful read. I LOVED Bella's confliction and her complex span of emotions from love, lust to despair and hurt back to love again. It was so well written and so convincing. This fic does not have a ton of smut, but the chemistry and passion within their kisses and explorations make this a must read. Beautiful.
---
AH, Novella (wip), E/B
---
Emmy -
A wee nerdward story makes any Lemon Report complete! Right?! The second chapter of this story gives us more of nerdy uncomfortable Edward and BoardRoomBella. But should Bella really have listened to a recommendation from Jessica Stanley for where to escape to for their Afternoon Delight? ….
Trin
You guys...this story I mean do we need to say more than Nerdward? It is a great little read.
---
AU, O/S, Carlisle/Edward, Slash
---
Jen -
I loved this exploration of a pre-Twi E/C. Edward is so earnest and definitely a product of the era of his birth. So glad he comes around to Carlisle's way of thinking.
Jess -
This was such a fun read! I loved seeing these two together and how Edward finally opened himself up to something new... something... better. Drive-in movie makeouts for the win!
Emmy -
I am
ALWAYS
up for Carlisle/Edward. Loved this au take on taking the plunge.
---
AH, WIP, Drabbles, WP, E/B
---
Emmy -
This is a fic made up of longer-length drabbles. A sexy and engaging fic. It's dreamy and romantic, a fic that touches you inside. Starting with sharp pain from Bella and Edward as they observe from afar before College starts and they are separated by distance and by love unknown and undeclared.....
---
Transformers, Slash, Bumblebee/Sam
---
Jess -
Well... I finally did it. I finally read some Transformers fic, and I blame Chele, Teal, and Jeanne and all their crazy raving about how awesome it is. Of course, my complete lack of Transformer awareness required a brief tutorial on how humans and cars could "mate." Follow that with some Wiki research on who the hell Bumblebee and Sam are... and I found a little hot car lovin'. This was... interesting. I wouldn't say it's something I'd read often, but for a newb like me, this was a great way to cut my teeth on how the relationship between human and autobot (and the many forms they take) could feel and be. I got all sorts of warm fuzzies from Bumblee/Bee and sweet mercy... Sam had me all sorts of needy. This was a fun change of pace!
Chele -
I was overwhelmed with happy that my fellow perv Jess decided to give this story a whirl. I thought that its smoking hot dirty-talking soldier Bumblebee was so perfectly done, and the transition from his human holograph to his car mode was so smooth that it was a perfect fic for someone daring enough to dip their toes into another fandom. Desperate, pent-up need and explosive attraction are a universal recipe for arousal, and the only thing sexier than the need to fuck so urgently that you slip into the backseat of your car to sate that need, is when you are the car.
Jeanne -
MWAHAHAHAHA!!! Eeeexcellent. *steeples fingers Mr. Burns style*
---
AU, Bella/Paul
---
Jeanne -
Great Googly-Moogly do I LOVE Paul smut! UNF!
TwiCharmed
gives it up good in this hot little AU one shot where Bella finds an unlikely fuckbuddy in Paul. I like this dirty talkin' Paul and this pragmatic Bella. Now, if we can get some more.
Teal -
Far too short, but OMMFG was this hot. In so few words,
TwiCharmed
created a o/s that was concise and hot as fuckity fuck. I loved that Paul's interest in Bella stemmed pre-Edward, even though this was NM-AU. Seriously, you can't afford NOT to go read this. Your pants will thank you!
Chele -
Holy dirty-talkinghumspticks. This is a seat-squirmer. So naughty and Unf I am dead from it. My pants are giving it a standing ovation.
Jen -
All I needed to know: Paul. Bella. sex. Yes, please.
---
AU, DC Comics, Wonder Woman
---
Jeanne -
Wonder Woman on the night shift at JLA headquarters. What's a girl to do? Oh yeah, masturbate to sexual fantasies involving different members of the Justice League. Ah, but things get really interesting when a certain Dark Knight interrupts her. Funny, hot and sexy as hell. UNF!
---
AH, Bella/Angela, Femslash
---
Jeanne -
This is just so sweet and real. *flails* Angela has a crush on her friend and seizes the moment, while Bella is tipsy, to make her move. The sex is hot, handsy and realistic. I want more. I want ANGELA. UNF!!!!
Teal -
Damn. Just...wow. Makes me want to be a girl who likes girls furrealz.
Chele -
I do so love some well-written femmeslash. Such an awesome young attraction. The nervousness, the anticipation. Adorable and Perfect.
Jen -
I'm going to read this as soon as I can.
---
AH, Bella/Leah, Femslash
---
Jeanne -
So fucking hot! Bella is so nervous and believably young. A teenage girl, self-conscious and sad over the loss of her best friend. Until said friend ends up staying the night and things take a very unexpected turn. This hot little one shot has seduced me and makes me want to have some naughty slumber parties of my own. UNF!!
Chele -
*fans self* Bella felt so completely real to me. Her internal monologue was spot on, and put me in the mindset of that timid teenage exploratory stage of emotions and attraction. This fic is funny, and so realistically erotic.
Jen -
Another o/s that's at the top of my tbr- so much fic not enough time!
---
AH, WIP, Bella/?
---
Jeanne -
Well, damn! I'm floored. Seriously, I think that this Carlisle is my all time favorite fan fic Carlisle EVER! I'm kind of horny for Aro too. Never thought I'd say that, but just read this chapter for yourself and see if you don't wish you were Bella too. UNF!
Chele -
I cannot believe this this fic continues to get better, but it totally does. I may need resuscitation after this.
Jess -
________________________________________ This is me. Ded. Because we got more Carlisle/Bella plus some other great goodies. OMG. Just... I'm speechless.
JenJadeEyes
pretty much did me in with this chapter, which is HANDS DOWN my favorite. And that's definitely sayin' something.
Jen -
I wondered how on earth
JenJadeEyes
could possibly top the last chapter, but damn, she does. Oh Carlisle! I'm with Jeanne on wanting Bella to get a solo turn with Aro. Woof!
---
AH, WIP, E/B
---
Jen -
It's all Treats and no Tricks when teacher Edward comes over for Halloween... and even more so when these single parents each have a sitter for their little one. Grown up sleepovers FTW!
Emmy -
I don't know this fic. But as Jen is reccing it, I am deffo going to run along and read it now! :)
---
AH, O/S, Carlisle/Edward, Slash
---
Jen -
Such angsty goodness. Somehow the heart hurt makes the lovin' even sweeter.
Jess -
I loved this o/s when I first read it... and even more so when I read it again. Watching Edward's journey through alcoholism and finding strength in himself... and in Carlisle was beautiful. When their relationship makes it to the next level... just unf unf unf! Gah!
Emmy -
More Carlisle/Edward treats for us! This was a real beauty. Sad and poignant whilst sexy and delish. Done very well.
---
AU, O/S, Carlisle/Bella
---
Jen -
Here's another story called If Only, only this one is a NM AU Carlisle/Bella. Heartbreakingly sad to watch Carlisle & Bella find comfort in one another after they've lost the one they loved so dearly.
Jess -
Wow... this was just so, so sad, but grief can make you do all sorts of things. ::sobs::