Love means different things to different people. Sometimes it happens between a man and a woman, two men, or even two women. We at the Share the Love Contest believe that love doesn't have to be restricted to two people alone. We asked for your threesomes or foursomes, slash or bisexual, AH or AU, and we were pleased to see that so many writers shared our love of....
love
.
And now without further ado.
The Winners of the Share the Love Contest are...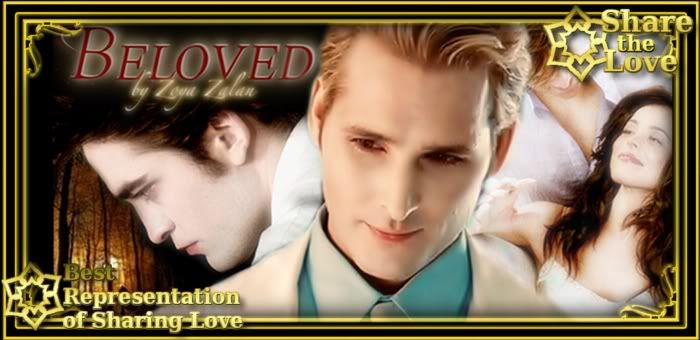 Best Representation of Sharing Love
Beloved
by
Zoya Zalan
.
There could not be a more aptly named fic, and, for me, this was the perfect example of an extrapolation of canon into polyamory. I've always wondered what would have happened if, when Carlisle found Esme, he was able to allow his love to expand to encompass both her and Edward, and
Zoya Zalan
does a masterful job of giving me exactly what I want. The characters are beautifully canon, Edward is brooding, emo, sweet, and introspective as he considers leaving Carlisle and Esme to their wedded bliss, even as a part of himself aches to feel that type of passion and mourns for the brief intimacy he'd known while it had just been he and Carlisle.
Edward's vulnerability and self loathing are palpable as Carlisle and Esme confront him with their fear of his imminent departure, and then... something wonderful happens. Instead of Edward leaving them, they reveal that their desires include him, and a beautiful romance follows. I truly felt the love between these three characters bloom as it grew to encompass all of them, and the passion blew me away.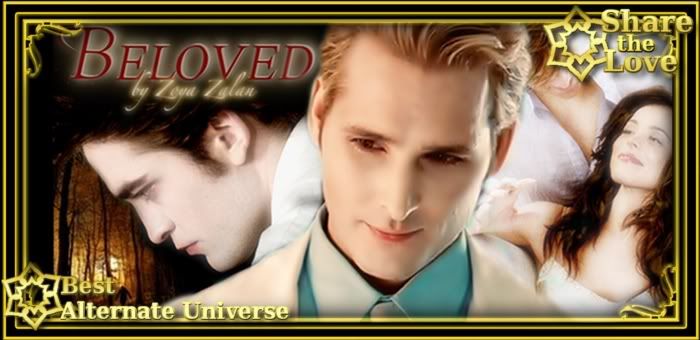 Best Alternate Universe
Beloved
by
Zoya Zalan
.
Writing Poly love isn't easy, but setting within the confines of Twilight canon is even more difficult.
Zoya Zalan
made it look effortless and logical. This story fits perfectly into the circumstances that surrounded Esme's making and what (in canon) led to Edward leaving the Cullens for a time (aka his rebellious period). Many have wondered what motivated Edward to leave, but it took the creative mind of
Zoya Zalan
to ask what would have stopped him from leaving. Within the beautiful, lyrical proses of
Beloved
we are given that answer.
Best All Human
Catching the Train
and
jenjiveg
Catching the Train
is as clever as it is entrancing. Telling a story of a seemingly mundane day on a commuter train. Here the three players are as different as three people can be, a businessman, a student and an editor (it would spoil the fun to tell you who is who). Despite their differences we find through the twist and turns of the story that love really truly unites all. This story is unique, intriguing and profoundly erotic.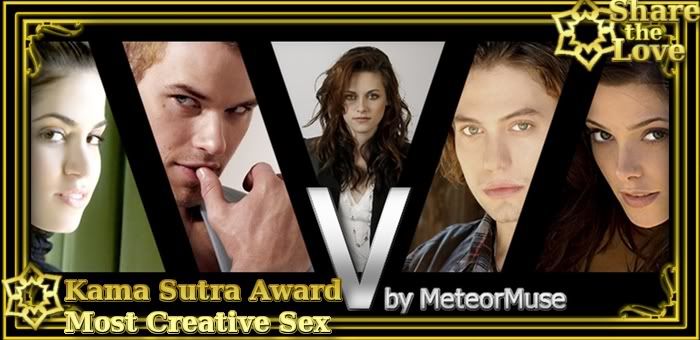 Kama Sutra Award (Most Creative Sex)
V
and
MeteorMuse
When we decided to host this contest we hope that some brave soul would venture out of the safety of threesomes and
MeteorMuse
answered our prayers with
V
. While this type of relationship is unconventional by even most poly readers' standards within this story we are shown how very fulfilling it can be for those involved. Bella has harbored a crush on her coworker, Jasper for quite awhile and is willing to do just about anything to get into a relationship with him. This is put to the test when Jasper reveals the nature of his relationship with his 'roommates' and explains how that will effect his relationship with her. Now she has to decide just how badly she wants Jasper.
V
earns it's award in the climax of the story, when Bella sees up-close how these roommates make their relationship work. All I can say is that is one big couch.
Special Awards
Most contest do judges' choice and we didn't want to miss out on the fun, but we also wanted to put our own twist on it so here are the winners of the Poly I'd Love to Join awards.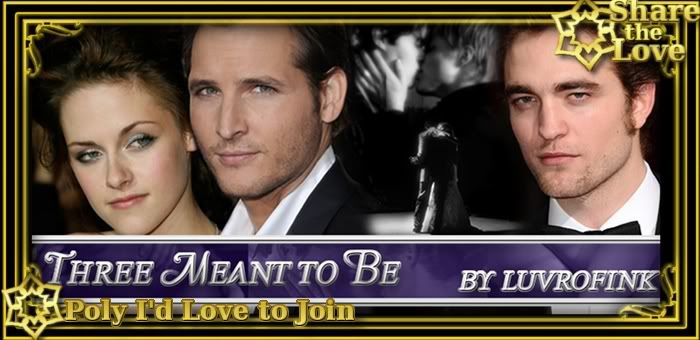 Three meant to Be
by
luvrofink
It's no surprise that the poly I'd like to join has a wicked-sexy Dr. Carlisle Cullen as a leading man. This fic hit all my warm and squirmy places, as well as my heart. I loved that Bella and Carlisle were such a solid couple and the way they supported each other and their attraction for Edward, and stood in solidarity that the experience they were about to share needed to be based on equal mutual attraction. So refreshing to see this avenue explored with a more experienced couple.

This had everything I wanted: vulnerability, boldness, and panty-melting sex.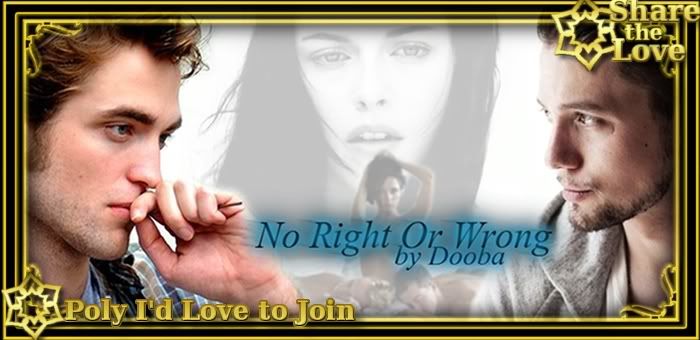 No Right Or Wrong
by
Dooba
I loved how comfortable they all three felt with each other from the very beginning. There is great chemistry but also true friendship. I'd like to join this poly because of these traits (comfort and friendship) but the smokin' hot sex doesn't hurt either!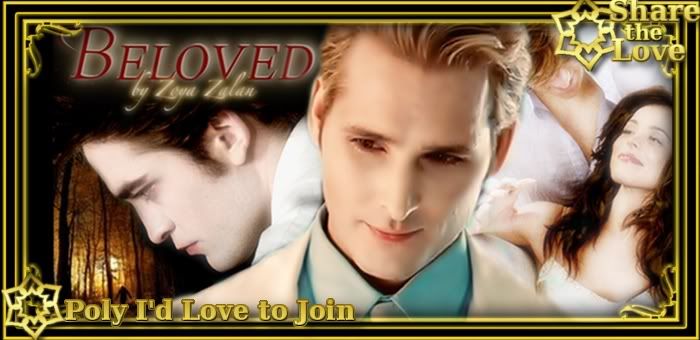 Beloved
by
Zoya Zalan
.
The unconditional loving compassionate support within that group, gah! I want and need that so badly it makes my heart hurt. To be held, loved, and embraced that way? Heaven.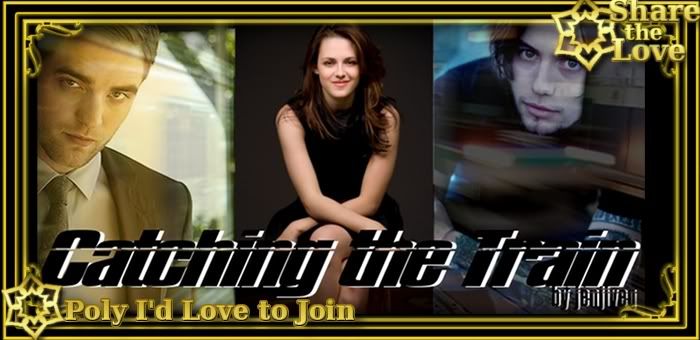 Catching the Train
and
jenjiveg
Why would you want to join Catching the Train? Edward and Jasper go down on Bella *together* -- need I say more?

Okay, the truth is, this fic is beyond sex. The way the author layers the characters and their distinct and unique qualities is beautiful. Everyone unfolds before your very eyes, the details of their time together slowly revealing themselves.

These three are unique, but you completely understand why they work all together. The author shows us exactly how hot and sexy they are, but what really got me were the details of their growth and time together. Bella gives the boys space to enjoy together, but when they ask her to sometimes join them, you get a great sense of their relationships separately as well as the three of them as a unit, which I always think is essential to a working poly relationship.

Yes, please.
---
The main purpose of the contest was to inspire talented writers to venture into the world of Poly fic and judging by the wonderful entries we received it was a wild success. However, we are greedy and we still want more. So this is not the last you've heard of Share the Love. While it may not be in the incarnation of a contest, it will be back.
So, make sure follow the
Sharetheloveff
Twitter account and the
SharetheLoveFF
Tumblr account for inspiration and news on future fic challenges. Also, if you're still craving Poly fic after reading the entries follow the
Share the Love C2
, we will continue updating it regular with new (and new to us) Poly fic as we find it.
Congratulations to all the winners and thank you to all the participants. We hope to see you all again for future Share the Love fic events.