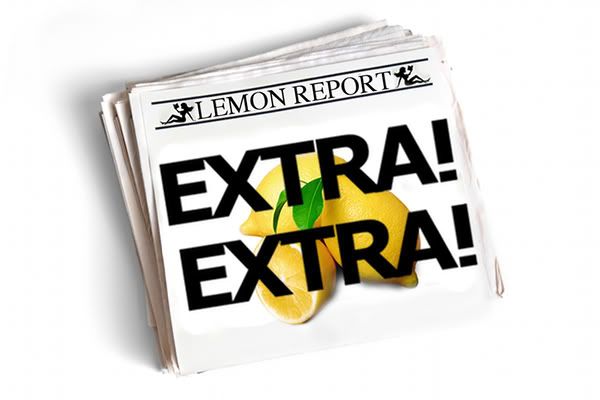 The Lemon Report - Fancy finding out what is on the FF bookshelves of the Pervy Girls of the PPSS? The lemon report lets you know our personal favourite updates of the week, and why you should give the fic a try.... It's a great place to trawl for new recc's and don't forget to share your favourite update with us by leaving us a comment.

In some cases, the Lemon Report may contain spoilers. Please read with caution.


Acronym Guide
AU - Alternate Universe
AH - All Human
WIP - Work in Progress
O/S - One Shot
OOC - Out of Character
WP - Wussperv
Slash/Femslash - Features homosexual characters and romance.
---
AH, Complete, E/B
---
Teal -
Sometimes, you just want some PWP, and that was what I found in this short story. Well, a little plot comes up, but there's no lack of tasty smut here. Why does Bella come and go from Edward's life? How long will he hold out like this when he wants more? The answers come up quickly, so go enjoy a quick read, pervlings :)
Emmy -
Thank you Teal. This was a real treat. Sexy sexy sexy with a real heart hidden within. Super quick read. Really what more do you want from a fic?
---
AH WIP? Jasper/Carlisle
---
Jess -
This story won the public vote in the
Dirty Talking Jasper Contest
. Ladies... this story is so full of steamy, tentative UST that builds into some mind-blowing sexy times. An older Carlisle... a younger, confident Jasper... it's like my kryptonite. Sad T, please to be writing me more more more!!!!
Emmy -
This was always my favourite DTJ entry. Just delicious. Just wonderful. Just perfection!!!! As always
sadtomato
has written a blinder of a story. AND we got a second part. A second slice of yum and adorableness. I think this is one of the best Carlilses I have read! Just wonderful. Some of the best slashy writing!
Chele -
I am in love with this fic. So thrilled that it had a second chapter. These two have, by far, my favorite virgin ass claiming ever in the world. Beautifully done. So hot and so real.
Jeanne -
I don't have much else to add other than if this fic was a person I'd hump the shit out of it and I want MORE! Carlisle and Jasper should be fucking in fic all the time! UNF
Jen -
The way
sadtomato
writes Carlisle- whether as the older, responsive, caring lover in Where You Belong, or as the tentative man exploring the sexual side that he's hidden for so long- makes me swoon and squirm and just crazy with happeh.
---
AH WIP B/E
---
Jess -
This story... so much love. And as all the answers start to come out, there's nothing like some very intense lovin' to heal old hurts.
Trin -
This was just a fantastic update! It was cathartic and sweet and so sexy. I just have to share one of my favorite lines from this one.
He kisses the tip of my nose. The way he looks at me. Soaking up my face. Like I'm his reason. For everything.
Emmy -
This was a previous Team Angst Pick, and I still love it. Just fabulous. SUCH A GOOD FIC!!!
---
AH WIP E/B
---
Jess -
Jeanne turned me onto this story, and I'm in love. This is a hot little dance fic, and sweet baby jeebus the hotness that just happened. So good!
Jeanne -
I'm still trying to catch up with this fic, since I only just recently found it (damn Jess for being such a fast reader). I love Edward's voice and the stark, ballsy style with which
Viridian6
writes this story. To be quite frank you know there is something different (and in my opinion special) about an Ed/Bella fic that gets me reading it. js
Emmy -
Well! If Jeanne is reading it? It has to be a good Edward/Bella fic. As E/B is not Jeanne's flavour of choice..... **scurries off to read**
---
AU, DC Comics, O/S, Lois Lane/Superman & Batman/Wonder Woman (kinda)
---
Jeanne -
If you have never read DC comic book fan fic this is the best way to start.
Under Cover
is a hilarious and sexy little romp, with a twist that will make your jaw drop. The sex...WHOA! You got to love the possibilities that arise when your partner can fly. Holy Kama Sutra, Batman!
Chele -
One smutty fic at a time, Jeanne is turning me into a fandom slut. With awesome banter, mind-blowing plot twist, and smoking hot sex, this one had me at "And you can call me Batman. I am vengeance. I am the night."
---
AH WIP E/B
---
Jess -
Based loosely on My Best Friend's Wedding, this is the story of two friends who love each other but are too afraid to admit it. As Edward is on the verge of marrying someone else, Bella tries to win him back. Their shared past comes to life as she remembers all their firsts. This update contained one of the most realistic cherry pops I've read in a long time. I wouldn't say it was hot, but it was perfect.
---
Prompts
---
Jess -
So, the
Twilight 25
challenge is up and running, and there have already been lots of great submissions. This submission was short, yet so vivid and full of depth and richness. This 100-words was heart-achingly beautiful.
---
AH, WIP, E/B
---
Emmy -
Finally!! New Years Eve! The chapter we've been waiting for! Perfectly done. Gah GolfWard is a sexy sweetiepie! Love love love him and this story!
(NB: I am not a golf fan, so if like me you hate golf - don't worry, you will still love this Edward.)
Jen -
bwhahaa. I am a golf fan and I am going to need to carve out some time to read this!
---
AH, O/S, SLASH, J/Riley
---
Emmy -
This was my other favourite Dirty Talking Jasper entry. Featuring my fave gay-boy, Riley! :) This was a dirrrrrty wee fic - with quite the naughty boy Jasper, who sets out to corrupt Riley. Riley certainly gets his bell rung. YUM. (I am kind of hoping we might get another part to this story. I can't imagine Jasper wanting to leave Riley as just that. MORE PLEASE)
Jeanne -
Sweet Jesus, you have got to love a heteroflexible Jasper. Put him together with a sweet gay-boy Riley and I am sold. Thank you to Emmy for pointing me at this fucktastic smutty fic. UNF
Jen -
Oh, sweet baby jebus, this Jasper is hot and oh-so dirty.
Jess -
Wow! Jasper is just... wow!
---
AH, O/S (extended) Novella (complete), E/B
---
Emmy -
I loved the original one-shot written for the Spanking the Monkey contest featuring Nerdy ProfessorWard and LibrarianElla. They are cute and lusty and I loved getting more of them, I am also hoping that we might get a part 3!
Jen -
I think I'mma have to read this too- who can resist a prof and a librarian?
---
AH, WIP (almost complete), E/B
---
Emmy -
After last weeks LR when Jess recc'd this fic and I had loads of folk reccing
First of the Month
to me and I got stuck in and loved it, I started looking at what other fics
by
iambeagle
had written. I stumbled upon
The Inheritance
and loved it! Such good fun. Edward is a bit of a tit initially. Is the love of a good woman enough to make him pull his head our his arse? Some killer chemistry and a fun plot. Its almost complete so its a great time to read it!
Jess -
Ooooh runs to read!
---
E/B Prompts
---
Jess -
Also part of the
Twilight 25
challenge, this submission showcases the animosity between boss and assistant and an overwhelming attraction that pushes them both to the edge. It's positively sinful and so, so good.
---
AU, O/S, Ed/Jake, ANSGT, SLASH
---
Jeanne -
HOLY HEARTFAIL, BATMAN! Seriously, this story is not for the frail. This starts right from the end of New Moon, in canon and takes a sharp left turn. Jacob imprints on Edward and everything falls apart from there. Edward's struggle is so heartbreaking. Jacob's need is palpable and when they finally give in to their desires...WOW. I didn't even mind the lack of lube (and that is saying something). Still this doesn't end well, especially for poor Bella, but I kind of love it all the same. Love is messy (especially with no lube).
Jen -
Jacob's utter desperation for Edward is too much for Edward to evade, and when he starts to feel it too? Hot damn.
---
AH WIP E/B
---
Jess -
FINALLY! After a long wait and some yucky yucky reality, we finally get super hot, super steamy, super emotional sexy times. It was worth the wait.
---
AH WIP E/B
---
Teal -
Oh, how I love thee, Britishward. You are such a dumbass sometimes, but you're trying so hard. Bella, too. These lovebirds have made huge strides in their relationship, even when they feel like it's all been at a snails pace. There's a new, hot first for them, and I was practically panting through it!
Emmy -
Just when I think things are going well, Edward manages to duff things up a wee bitty! Bless him. Bella and him are on smoother ground, but I fear more bumps are around the corner. But Yay! for Bella taking chances and exploring her sexuality. You go girl!
(I know - I can't really carry that sentiment off very well, can I?)
---
Harry Potter Fic, Complete, Hermione/Snape
---
Chele -
Post-Hogwarts, Hermione is being tutored by Severus in potions. All the Teacher/Student UST, none of the pesky legalities. Packed with intense attraction, beautiful writing, lighthearted humor and toe-curling smut. Complete in two Chapters, the perfect way to slip into this fandom.