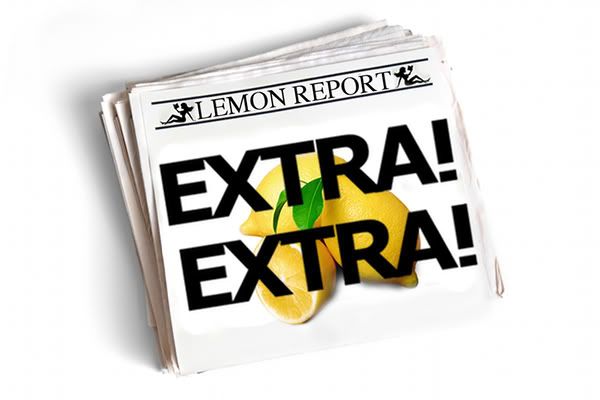 The Lemon Report - Fancy finding out what is on the FF bookshelves of the Pervy Girls of the PPSS? The lemon report lets you know our personal favourite updates of the week, and why you should give the fic a try.... It's a great place to trawl for new recc's and don't forget to share your favourite update with us by leaving us a comment.

In some cases, the Lemon Report may contain spoilers. Please read with caution.

Acronym Guide
AU - Alternate Universe
AH - All Human
WIP - Work in Progress
O/S - One Shot
OOC - Out of Character
WP - Wussperv
Slash/Femslash - Features homosexual characters and romance.
---
AH WIP E/B ANGST
---
Jess -
So, my heart is literally ripped open and laying on the floor right now. Every moment between these two is filled with such awful tension and sadness it makes my heart ache. The flashbacks to happier times are so bittersweet. I just want them to find some relief, to give a little... ::sad sigh::
---
AH, WIP, Angsty E/B
---
Emmy -
This fic can be tough reading at times for a pussy WussPerv such as myself! As, Bella is in the porn business. Yep that is right. Bella has to have sex on camera (or webcam) with other men and women. She has very extenuating circumstances for this career choice, which unfortunately means that she cannot leave her career. Where does that leave her relationship with a smitten (madly in love) but possessive/jealous Edward? In a difficult place, that's for sure! This fic has the tension sprung tight. The connection, sexual and otherwise of Bella and Edward is intense and believable. And
LazyKate's
portrayal of the somewhat seedy porn industry that Bella is locked into is very realistic. I love how the love made by Bella and Edward is contrasted to the uncomfortable couplings of Bella's work.
---
Harry Potter Fic, AU, Complete, Hermione/Severus
---
Chele -
This short story has a mystical, enthralling, and completely wanton quality to it. Hermione's meeting with Professor Snape behind the greenhouse are becoming steadily more addictive. Perhaps it's his dominant nature that has her so compelled, but it's probably not so simple.
Dirty talking Severus is insanely hot, and the plot is flushed out beautifully. It's a mindfuck and well.... you know...
---
AH, O/S, Twi KinkFest Compilation, SLASH, Jasper/Riley
---
Emmy -
This is part of the
Twi Kink Fest Collection
. Yummo. I adore Riley fics and this has lots of writhing, desperate, pleading, on-the-edge Riley! What more could you want from a delish one-shot? That's right. Nothing! A great read.
Laura -
I wasn't sure I would be into a Riley/Jasper pairing, but once again,
Sadtomato
makes me not only believe the pairing but makes me fall in love with it. This is a smoldering O/S and if you like slash even a little bit you need to read this.
Jen -
Jasper's in charge, and his reward is a begging, desperate Riley. Delicious.
Chele -
I swear every time I'm a skeptic,
Sadtomato
makes me a believer.
Jess -
This had me on the edge. So freaking hot!
---
Merlin, AH, SLASH, Merthur(Merlin/Arthur)
---
Emmy -
Did you read our yummy special on
Merlin
last week? If so, then you are probably now hooked on this slashtastic fandom fics too! We featured another of
Fr333bird's
stories then, and I am loving this one by her. Arthur is starved of affection and doesn't know how to be touchy-feely, or even affectionate. Thank heavens for a centre/retreat run by Merlin's mother. Will it allow Arthur to act on his affections for Merlin? Or is he doomed to admire from afar and deny himself?
---
AH, Novella, WIP, E/B
---
Emmy
This scrummy, dirty delight started off as a birthday one-shot. Thankfully
mjinaspen
has treated us all to a continuation. Its gritty, raw and realistic, even though it features a liaison between a rock-star and a fan, which is the stuff that dreams or fantasies are made of. As it stands at the moment, we don't know what the future holds for these two, BUT, their coupling is deliciously intense. Boy, do they have amazing sex.
Jen -
Who hasn't daydreamed getting a chance to go backstage with your favorite band, and getting naked with their favorite guy in the band?
mjinaspen
gave Kassiah a birthday gift but we all got lucky. So, so sexy, and a deliciously intense connection between Edward & Bella.
Jess -
Jen captured my sentiments exactly.
mjinaspen
has an amazing way with words, always crafting swoony boys and amazing female characters you can't help but love. This was HOT!!
---
AH, WIP, SLASH, E/J
---
Emmy -
I have featured this fic before in the LR. But you guys need to get on this fic! Its so intense. Its delish! Jasper has a secret. Edward discovers it (eventually). And its a dirty one. I am not going to spoil it for you by revealing the secret. But yummy! The latest chapter, was an outtake featuring Jake and Jasper. So much of this fic is mysterious, and we still don't know what is going to happen next. I know what I am hoping for though!
---
Ah, WIP, E/B
---
Emmy -
Don't be put off of this fic by the time taken between updates. It's a great read and well worth hanging on for. It's light, college fun with great and interesting characters. And very realistic sexual (& sexy!) explorations!
Laura -
If you like funny, smart, witty banter between E & B, then this is the fic for you. These two crazy kids are hilarious together and on top of that they are having a good time feeling each other out and up. LOL! Seriously, give this story a shot, it'll make you laugh and get you all hot and bothered, a perfect combination if you ask me!
Jess -
I love this story. It's fun and so easy to just laugh and love!
---
AH, O/S, Kinky, E/B
---
Emmy -
Oooh, I just loved this O/S. Bella explores her kinky side with the help of an anonymous computer user. I SO want an update/continuation to this fic! Gah.
Please jenjiveg???????
Jen -
What a fun, sexy o/s. So much possibility left open at the end--I'll join forces with Em and ask
jenjiveg
for more!
---
AH, O/S, A/J
---
Nicoconsd -
I wish my high school was this fun, nothing like jumping in right to the fun and giving a whole new aspect to time between classes. :)
Jess -
I have sort of a soft spot for Alice/Jasper fic but rarely see them done well. I loved the intensity and desperation of Jasper's emotions and how they were projected onto the people around him. This was a gorgeous and hot glimpse at how Alice is perfect for him in every way. So good!!
---
AH, WIP, Outtake, SLASH, E/J
---
Emmy
Rarrr. Who doesn't like JealousPossesiveWard? This outtake is full of him. This was our
Slash Brigade
pick for October. If you didn't read it then. Go read it now. Run along now. ;)
Teal -
Le sigh. Such a happy little treat to receive, even when the story has already ended. I may have to go back and re-read this one! UST FTW!!!
---
AH, WIP, B/E
---
Laura -
This is only two chapters in and there is already some hot action happening, which is a big, fat WIN in my book! This is set in HS and Bella is trying to get revenge on her arch nemesis, Rosalie by hooking up with her boyfriend, Edward. I was totally hooked 2 chapters in and can't wait to see how this all unfolds. Definitely check this out!
Nicoconsd -
So when Laura was nice enough to tell me about this gem I ran over and was quickly excited about getting more! :)
Jess -
I'm already gaga over this fic! Vindictive Bella hates Rosalie, Edward's on again off again girlfriend. Time will tell how this all plays out. It's unfy good right now!!!
---
AH, WIP, E/B
---
Jen -
Love, love, love this Masen (Edward) and Bella. There's so much uncertainty in their lives--what happens after graduation, Masen's abusive father & alcoholic mother. Bella tries so hard to be what Masen needs, it's nice to see her go after what she needs; the result is an intense, emotional first time for them both.
Jess -
So, I finally got around to reading this, and I am practically kicking myself it's taken so long. Love, love, love Masen and his quiet sadness. Bella is total win in this one! Cannot WAIT for more!
Emmy -
I so love this fragile, tender SkaterWard. But look how fierce he is for Bella. For her safety. Look how tender he is with her body, her love and her heart. *sniffles*
---
AH, WIP, E/B
---
Jen -
This was a Team Angst pick a while ago. The angst is resolved; fortunately happy people have hot sexytimes too.
Jess -
WORD! Just yes and finally!
Emmy -
After the eternal cycle of fear and hurt these two were stuck on. Now? Now comes joy and love. So much of both. A delight to read. This is how Bella's birthday should have been. Thank heavens for second chances and new starts. Oh and for happy sex and adoration.
---
AH, WIP, E/B
---
Jen -
It's tension galore in the present for FBI agent Edward, so what better place to escape than remembering that first time with the love of his life.
---
V
AH, O/S, Bella/Jasper, plus others
---
Jen -
Sometimes it's hard to keep up with all of the fabulous contest entries in the Twidom. I finally got to read this one from the Share the Love Contest, and it's amazingly delicious. Bella wants Jasper, but gets more than she bargained for. Turns out it was just what she didn't know she was looking for.
Teal -
Definitely more than what she bargained for, Jen! What amazed me about this story was
how well
she made the multiple player sexy times work, but GAWD THEY DID. I am amazy-eyed. And suddenly horny... ;)
---
AH, WIP, Edward/Bella
---
Teal -
There is absolutely no excuse for why I am so late to the party on this fic, especially considering that I've read one of the other stories by this author! The connection between these characters is so palpable, making the sexytimes extra spicy, but lordy, lordy is this a complicated one! The characters and their emotions are genuine, and I simply cannot get enough. UNF!