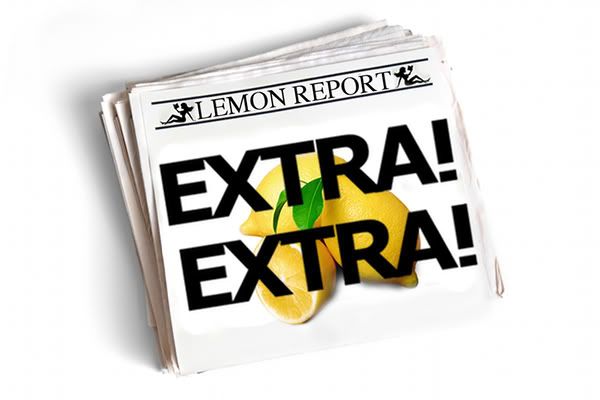 The Lemon Report - Fancy finding out what is on the FF bookshelves of the Pervy Girls of the PPSS? The lemon report lets you know our personal favourite updates of the week, and why you should give the fic a try.... It's a great place to trawl for new recc's and don't forget to share your favourite update with us by leaving us a comment.

In some cases, the Lemon Report may contain spoilers. Please read with caution.

Acronym Guide
AU - Alternate Universe
AH - All Human
WIP - Work in Progress
O/S - One Shot
OOC - Out of Character
WP - Wussperv
Slash/Femslash - Features homosexual characters and romance.

Please Welcome our Lemon Reporters!
While we Pervs are always working hard to find high quality, smutty fan fiction, it's a tough job to keep up to date on all the fabulous new fic posting every day. Even with all the diverse tastes of the Pervs, we are sure there is something we're missing, so the Pervs decided to reach out to the fandom for help.

Please give Nicoconsd and Laura_1025 a welcome spanking, as they'll be working hard to bring you the latest and greatest smut throughout the month of November!
---
AH, WIP, E/J/R/G, Slash, OOC
---
Nicoconsd -
Wow, I love how she always just jumps right in and who doesn't love a hot, sweaty Edward with a hot sweaty Garret thrown in as the cherry on top, delicious! Just the thought of what's coming has me drooling and ready for more. :)
Laura -
If I had boy parts and I read this story, I would be hard. J/S. Sweet jeebus, this story is 5,000 kinds of hot! Edward and Garrett are such a great couple and I love their banter almost as much as their super hot sex. Almost.
singlestrand
brings it... wait for it... hard and I couldn't love it more. If you like slash and you aren't reading this story, you're missing out!
---
AH WIP E/B
---
Jen -
jenjiveg
makes dental dams sexy. The end
Emmy -
I echo Jen. This chapter kicked arse. SEXY sexy sexy. I now want my own latex and tweed wearing OCDWard. Where can I find one?
Teal -
Holy fucking fuck. Who knew awkward OCD sex could be so damned hot. Edward was like a wild animal here, and the description of him giving Bella the noms had me dyyyyyying. I read it 3x. *flails*
---
AH Complete E/Em SLASH
---
Jen
- Ok, so we put this in last week too, but I could not resist publicly flailing over the epilogue today. HOT DAMN! So, so good.
Emmy -
Jesus these boys were too cute. I miss them already. Oh and there was docking and cyber sexing. Why aren't you reading this???!!!!
Teal -
BRB, *crying because it's over* Seriously...why did it ever have to end? Every time Emmett says "Ja" my girly bits twitch...
Laura -
I think I could read about what happened in every major city across the US and the world. LOL! Imma need more than just Zurich and Chicago, sooooo get on that,
singlestrand
&
sadtomato
:) I loved Edward & Emmett's foray into cybersex, it was hot, hot, hot! Seriously though, this is such a great story, please check it out!
Chele -
I'm officially nicknaming this story "What Happened in My Pants" because, wow.
---
AH Complete E/B
---
Laura -
This story is so deliciously smutty, I can hardly contain myself. The writing duo of
jarkin33
&
Phoebe
bring us the prettiest words and some of the hottest smut. This short story is SO worth your time. You will not be sorry, cross my pervy heart and hope to die!
Jeanne -
I started reading this after Laura brought it up to the group. I'm on the first chapter, but Holy fuck! These ladies do not fuck around. Right off the bat Ed and Bella get down to business. UNF!
Emmy -
Yeah, thanks to Laura telling us to read it, I bumped it up my TBR list (esp as Jeanne waxed lyrical!) Hummana-hummana.
---
AU Complete E/B
---
Jess -
I did a little happy dance when I saw this update pop up in my box. Ouijaward pretty much owned me throughout with his passion, tenderness, and of course, hot smexin'. If you haven't read this little bit of AU joy, get on it. It's finally complete!
Emmy -
GAH! Perfect and erotic end to this modern gothic tale. Her Edward is delicious and the right balance of dark, rough, sexy and devoted. Yum.
Laura -
This story is one of my all-time faves.
cosmogirl7481
is a pervy genius, and I think this story is a shining example of that. Her Edward, or as I call him, the Pervy Creeper, is ridiculously hot and has the dirtiest mouth. This is a lethal combo for me, so every chapter slayed me in the best way possible. I am so sad it's over but loved every word of it.
---
AH Outtake E/B
---
Jess -
There's nothing like a close Super Bowl victory to get the juices *cough* flowin'! This was a fun glimpse into their lives!
Laura -
Oh, QBward, how I love thee. I have missed this story and
nolebucgrl's
faithful Monday updates, so this outtake was the best kind of surprise. As usual, it was hilarious (Emmett in this story is pure win) and crazy sexy. QBward is one of the hottest Edwards ever!
---
Pre-Canon AU, O/S, Ed/Carlisle/Esme, Poly
---
Jeanne -
I am such a whore for pre-canon fic. I love the vampires and yearn for more information on their history. Now add to that my love of AU fics and polyamory and you get the perfect storm to make my pants explode.
Beloved
is like a dream come true. Lonely, naive Edward, caring Carlisle and openly loving Esme. These three make so much sense and when they get together they make me swoon.
Jen -
Love love love this fic. I adore all of
Zoya Zalan's
AU stories, in part because they are such plausible possibilities. This is just so sweet and sexy, and captures how I do imagine canon Edward felt when Carlisle brought Esme into the family.
Teal -
Zoya really knows how to make hot vampire sex, and the kicker on this was how damn sweet it was. Who needs the rest of the Cullen family when Edward has the love and affection of both Carlisle and Esme???
Chele -
This story was absolutely beautiful. Hit all of the emotional points, and made me ache and want. Loved it so much, and cannot hump it enough.
---
AH, O/S, Ed/Bella/Jasper, Poly
---
Jeanne -
I love the contrast between these three. I also love the intriguing, almost mysterious way this story begins, but most of all I love the love that draws them together. The depth of this story could easily translate into a mulitchapter fic (hint hint), but
jenjiveg
just gives us a glimpse into this unconventional relationship. Now that I have a taste I can't help, but beg for more.
Jen -
Yessss! just what Jeanne said. The mystery works so well for a o/s, but the characters are so interestingly written that it could easily become a multichapter story. Wonderful stuff here.
Teal -
When I first read this story, I loved that the style felt so different from what I had read otherwise from
jenjiveg
. The little fic was mysterious and romantic, and the end result lovely.
Chele -
Cough*WantsMore*cough*
---
AH, O/S, Ed/Bella/Carlisle, Poly
---
Jeanne -
I am so in love with this Carlisle and Bella. As a couple they're strong and perfectly suited for each other. Seeing them seduce the shy and beautiful Edward is so fucking hot. I love the dynamic between the three of them, but also how they each have chemistry each other outside of the threesome. I could reread this fic a hundred times and never get bored. UNF!
Teal -
This is hands down a must read. The bond Carlisle and Bella share is so strong and romantic, and the way they draw Edward in feels believable. Oh, and it's hot as hell. Gimme more.
Chele -
Like Jeanne, I'm also loving this Carlisle/Bella. Their chemistry individually is so perfect that it speaks to the talents of
by
luvrofink
that it actually gets better with the addition of Edward into the equation. The hotness also didn't hurt my feelings.
---
AU Breaking Dawn, O/S, Jacob/Bella, WARNING: DARK, Graphic Violence and Horror
---
Jeanne -
Jacob is in a mental institution, trying to determine what is real and what is fantasy. This fic is NOT for the feint of heart. However, it shows a very real possibility that could have happened in canon. Nothing is harder to face than the truth about yourself and what you're capable of doing to those you love.
---
AH, Novella, E/B
---
Emmy -
Dirty talking. Sex. Ust. Sex. Fingering. Fucking. Oral. Oh and cake? What more could you possibly want from a beautifully written smutty, fluffy wee delight?
---
AH, O/S, Flangst, K/G
---
Emmy -
I loved this AU short piece. Kate's POV of her struggle with Garrett's diet and way of life is brilliantly done. We feel her pain. Which means we also feel
all
her other emotions too.....
---
AH, O/S, Emmett/Royce, Slash
---
Jeanne -
NGL I totally begged on twitter for a fic about these two after I saw a picture of the actors seated together at some event.
vbfb1
took the ball and ran with it. OMFG I love these two. Life long acquaintences, these two have been dancing around their attraction to one another for years. Things finally come to a *cough* head when Royce asked Emmett to pose for him...nude. This sexy, sweet little one shot makes me ache for more fic about these two. UNF!
Jen -
Just... read this. So fucking hot.
Laura -
Jeanne, thank you for begging. LOL! I was not expecting to love Emmett and Royce but I absolutely did! This was off the charts hot.
---
AH, WIP, E/B
---
Jen -
Amishward makes me want to act like stereotypical Emmett--I want to give him high fives for his all-over-the-house sexing on a stormy day. The wall, the table, you name it.
Nicoconsd -
Whenever I think of Amishward outtakes I always think of Magnus which makes me think of magnum which then always makes me think of Amishward naked and doing naughty naughty things, it's a viciously delicious cycle.
Jess -
This. Just... yes and swoon and sigh and yum!
---
AH, WIP, E/B
---
Jen -
So excited to see a new chapter of
The Night She Wore Black
, and for Edward and Bella to attend their first sexuality class. Even more exciting? The explosive aftermath of the class. Edward taking baby steps toward exploring the kind of sex Bella is fantasizing about is all kinds of UNF.
---
AH, O/S, Outtake, E/B
---
Jen -
I adored
denverpopcorn's
Drift, and was totally surprised (and thrilled) to get an alert for an outtake. Another fascinating glimpse of this sexy, grown-up story.
Laura -
I positively adore the way
denverpopcorn
writes. This outtake is smart, sexy, sensual and smoldering. Yes, I like alliteration ;)
---
AH WIP E/B
---
Teal -
It's been a loooong time since an update on this fic, but I'd say this was well worth the wait. Sexual tension is at an all-time high in this one as Bella wars with herself and tries to figure out how to get her life where it needs to be. Ending her marriage is the right thing for many reasons, but no matter how hard she tries to let Edward move on while she gets her life together, the connection between them won't let either of them walk away. Inspired by the library scene in Atonement (yeah,
that
one), go enjoy some hot fucking against the stacks!