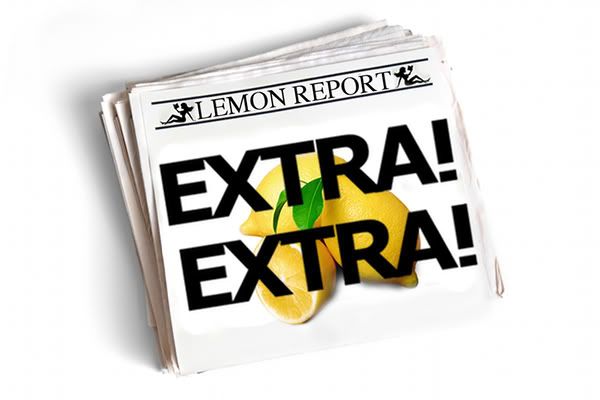 The Lemon Report - Fancy finding out what is on the FF bookshelves of the Pervy Girls of the PPSS? The lemon report lets you know our personal favourite updates of the week, and why you should give the fic a try.... It's a great place to trawl for new recc's and don't forget to share your favourite update with us by leaving us a comment.

In some cases, the Lemon Report may contain spoilers. Please read with caution.


Acronym Guide

AU - Alternate Universe
AH - All Human
WIP - Work in Progress
O/S - One Shot
OOC - Out of Character
WP - Wussperv
Slash/Femslash - Features homosexual characters and romance.

---
AH, WIP, Edward/Rose
---
Chele -
It feels like Rose is really finding her groove and her sense of self. I love how this manifested in her sexuality. Hot and empowering.
Jen -
Rose has grown so much, and she puts her new confidence to work by taking charge of Edward. So hot.
Jess -
There isn't a thing I don't love about this Rosalie. Watching her blossom and come alive has been amazing... and seeing her with Edward... beautiful.
Jeanne -
Without a doubt one of the most swoonworthy Edwards in Twific EVER! UNF! More please.
Teal -
Le sigh. Best Roseward ever. *floats off on bliss cloud*
---
AU, O/S, SLASH, Edward/Carlisle
---
Chele -
I read this on Emmy's recommendation last week, and all I can say is wow. Beautifully written and full of love and agony and want.
Emmy -
Isn't it just, Chele? I so want more... Pllllllleeeeeeaaaaaasssseeeeeeeeee...?
Jess -
Ditto to Chele's words. I was completely blown away by this. Lyrical, beautiful, and heartbreakingly good.
---
AH, O/S, E/B
---
Jen -
Don't be put off by the description if the idea of animal play gives you pause. This o/s plays out very differently than you might have anticipated, and damn is it hot. A great deal of the hotness comes from Bella discovering what it is she really wants sexually, and we're just lucky enough to witness her dreams coming true.
Emmy -
I do love the way that
fetish fanfic
writes whatever it is she wants to write. Well done love. Another fun, kinky and sexy read, written to a very high standard.
Chele -
I do so love fics of sexual empowerment. Even if it isn't my kink, it's just so sexy to read someone else getting theirs. This was well done in exactly that way.
---
AH, WIP, E/Em, Slash
---
Jen -
Oh, these sweet boys have been hung up in angstville for a while. Things are definitely looking up, and it's fun and sweet.
Jess -
I literally did a happy dance when I saw this pop into my inbox. LOVE these boys so hard and was giddy over their very horizontal reunion.
Jeanne -
OH MY GOD! *SWOONS* I may have teared up while reading. js
---
AH, WIP, E/Em, Slash
---
Jen -
I loved when
Sadtomato
&
SingleStrand
wrote What Happens in Zurich and had even teased/begged them to write some more. I thank whatever writing muse inspired them to write
What Happened in Chicago
. Young exchange student Emmett and host son Edward are adorable and it is really yummy to see them 'play' together, as Em calls it. Nothing like a little high school sexual exploration.
Emmy -
I do have issues with reading Emmett's. But the writing of these two is as ever topnotch. So I had to read this. Just HAD to! And you should too! Cute and winning.
Chele -
This little tiny fic has re-ignited the flame of my love for AH fic. Emmett is so dreamy and smooth and comfortable in his skin. The way he sets Edward at ease and creates a safe place for them to play and explore is endearing, and what happens within that place is incredibly hot. Such a quick read, but so full of caring and hot boy play.
Teal -
Oh, Emmett. I am so swooning. The original fic where these characters were created was so much fun. He's irresistible. But here? Younger, bold, and so fucking sweet your teeth hurt? GAH! Give me allllll the experimental boys lovez!!!!!!
---
AH, O/S, E/B
---
Emmy -
Who doesn't love a GeekWard? ESPECIALLY a Halloween GeekWard?!! Well if you don't, you are an idiot! This is the perfect witches brew (<-- See what I did there?) of smutty, sexy, Awkward and Halloweeny. A fabbio one-shot. Happy Halloween!
---
AH, WIP, E/B
---
Emmy -
Woo Week continues!! Let's give it up for Woo Week! Sex and DisneyWorld. Nuff said, Innit! ;)
Jess
Indeed. Nuff said.
---
AH, Complete, SLASH, Edward/Jasper
---
Emmy -
This is one of the few Edward/Jasper fics that has managed to engage me of late. So you know it has to be goood. This completed a wee whiley ago but I was savouring the last few chapters for a time I could really
appreciate
them. And appreciate them I did! I really loved the energy and the randiness that
Fr33Bird
wrote these two boys. A great sexy, sexy read and super cute too! A must read for any slash fan. Even if you are a wee bit jaded with Jasper/Edward together, these two are just too damn cute. Two boys in school, learning how to be with each other, and how they can come out and be who they are meant to be, together!
---
AH, WIP, SLASH, E/J
---
Emmy -
Now you might not know this about me. But I have a wee bitty of a thing for come play in fics. So I was ruddy thrilled when I read this sort of outtake for these boys. (The first part of this fic is complete, and the next part will be written next year.)
Vampireisthenewblack
has written a dirty hot YUM scene between these two rampantly randy and love-struck teens. Huge thumbs up from me. Naughty.
---
AH, Complete, E/B
---
Emmy -
I loved this when it was a WIP, and so I loved that we got a wee outtake. Sexy laundry times, so you could say, all good clean fun! Except it was playful, sexy and sweet. Lovely, just the thing to beat the winter blues!
Jess -
This was a fun little treat. I loved these two from the beginning and seeing them again do "anything but" was made of win.
Teal -
I die so much. These two are so fucking cute I can't stand it, and this unexpected outtake was such a delightful addition to my week!
---
AH, Complete, E/B
---
Emmy -
SO
thrilled to get an alert for an outtake of this. I adored the comfortable, gentle and wonderful story and its pacing when it was still a WIP and I miss it dreadfully. So yes I am thrilled with this wee taste from the future of Edward, Bella, Seth and Maeve. Cute and yet still realistic. Just as charming and ever. Made me realise just how much I missed those frequent updates of beauty.
Jess -
I was so pleased to see this update. It was exactly perfect for them and gave us a really nice glimpse into their future. Can't wait for the next one!!
Jen -
As much as reading fanfic is an escape from real life, there's something so satisfying about a realistic story and characters you can see yourself in.
Jennde
does it so well. I just love the family she's created here, and completely adore Edward and Bella's relationship.
---
AH, WIP, Bella/Everyone
---
Chele -
Oh. Holy. Mother. of. all. fucking. hotness. Calling all wolfpack girls. If you read only one smut-driven fic this week, let it be this one. I can now check three stories off my Christmas fic wish list, because this just handled all of those fantasies in one chapter. Santa came early and left a big bundle of hot pack smut in my stocking. Thank you,
Jen Jade Eyes
.
Jeanne -
Jesus Christ on a crutch! Um...yeah, what's a girl to say. This really is the fic that keeps on giving. UNF! I love all the boys. I love how they interact with each other and Bella. I want know where I can sign up for a nature hike like that.
Jen -
You have reached Jennifer. She is currently recovering from a
Hedone Ranch
induced stupor. Leave a message at the beep.