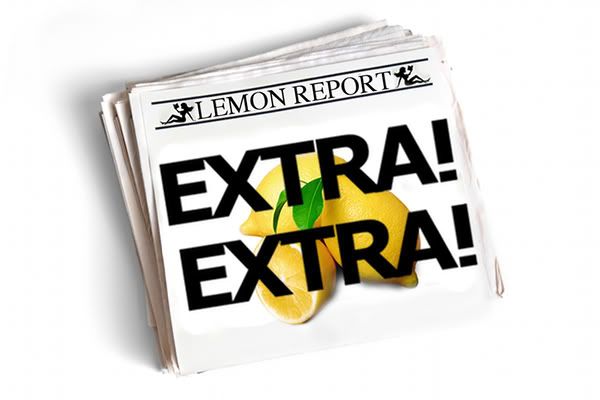 The Lemon Report - Fancy finding out what is on the FF bookshelves of the Pervy Girls of the PPSS? The lemon report lets you know our personal favourite updates of the week, and why you should give the fic a try.... It's a great place to trawl for new recc's and don't forget to share your favourite update with us by leaving us a comment.

In some cases, the Lemon Report may contain spoilers. Please read with caution.

Acronym Guide
AU - Alternate Universe
AH - All Human
WIP - Work in Progress
O/S - One Shot
OOC - Out of Character
WP - Wussperv
Slash/Femslash - Features homosexual characters and romance.
---
AH Drabblefic Complete E/B
---
Jess -
I love stories that get right to the point, and sweet mercy,
Addicted
starts out with bang and keeps you panting the whole way through. This is short, fast, and HOT!
Laura -
I'm going to be very original and say that I'm addicted to href=http://www.fanfiction.net/s/7555939/1/Addicted>Addicted! This story was hot in every way possible. I mean, who doesn't like a dirty talking Edward who wants to have sex with Bella in the supply closet at work? I know I do! If you haven't read this story, what are you waiting for? :)
Nicoconsd -
Having to work in an office and dress up every day has never seemed so appealing! Sometimes going to work can be fun. :)
---
AH WIP J/Riley
---
Jess -
This is a continuation of one of the prompts from the
TwiKink Fest
. I fell in love with the first chapter, even though is was so sad to read. With chapter two, the heartbreak continues, and I'm praying with get some happy soon. Watching Peter long and ache for Jasper... too much. <33
Emmy -
I think you all know by now that I love
Fr333bird
's Twilight and her Merlin (MERTHUR FTW!) stories! This is no exception! Gah. I don't know if I love Peter or Jasper more in this tender, heart achy, yet yummy tale! Moarrrrrrr please now.
---
AH WIP E/B
---
Jess -
This story just keeps getting better and better. My heart is all sorts of twisty turny with each update, but gah... go read! So freaking good.
Emmy -
I really think I need to go get my arse in gear! I haven't read this yet... And I REALLY want to. The girls keep raving about it.. **Scurries off to read**
Laura -
I was so sad to see this story complete over the weekend because I wanted MORE! I think the sign of a great story is one that leaves you satisfied with the ending but still wanting more of the characters. This is a steamy, funny, quick read, I hope you check it out!
Nicoconsd -
Being new to a school never seemed so fun before. I was so sad to see it end cause I wasn't ready to leave the fun behind.
---
Transformers, O/S, Optimus Prime/Ratchet
---
Chele -
I cannot get enough of these battle-weary soldiers finding comfort in each other's arms. The characterizations are amazing, and the passion that overcomes rigid control is just so... unf!
---
AH, WIP, E/B
---
Nicoconsd -
I'm totally addicted to drabble fics and this hooked me right from the start. Bella propositions Edward the popular boy to show her all about sex, High School never seemed so fun. :)
Emmy -
See, I was starting to get a wee bitty naffed off with drabble fics (esp the ones that update 17 gazillionity times a day - hello! Just gimme one proper chapter please!!!). BUT. This fic is not annoying in the slightest!!!! Huzzah. Its cute, sexy (with a cute, rarrrr, and adorable Edward). And each update's a delight to get. I really like Bella's narrative. She is interesting and we can feel the heady mix of emotions that Edward is stirring inside her, and the fears and anxiety this is triggering.
---
AU, WIP, E/B, OOC
---
Nicoconsd -
This story with its twists, turns and surprises at every corner keeps you on your toes. It's a slow build to the lemons but Edward's dominant take charge personality makes it all worth the wait. I just can't seem to get enough of this story.
---
O/S, Slash, Jasper/Riley
---
Chele -
So glad I dug this out of my alerts and made it a reading priority this week.
SadTomato's
talents for making the kinky seem warm and inviting are no less wow-ing here. I could practically feel Riley's agony as the night wore on. Intense and so much fun!
Emmy -
I've raved over this fic already in the LR. But I will say it again! Unfffffffffff. More please! & thank you! :)
Jess -
Like Emmy, I loved this and raved about it as well. It was SO freaking good... seriously, you will be on the edge. NEGL.
---
AH, B/E, OOC, WIP
---
Laura -
The plot of this story loosely resembles the movie, "The Proposal" but
TheSaintsMistress
puts her own spin on it and it feels fresh.This story is funny and smart and I love watching Edward & Bella's relationship evolve from enemies to tentative allies to more. Please give this story a chance, you won't be sorry!
Emmy-
Well this is quite the recc! Deffo going on my tbr list now!!
---
AU, O/S, Emmett/Felix, Slash
---
Jeanne -
FINALLY FELIX SMUT!!!! This sexy, sweet one shot fits perfectly into canon. I can totally see it happening, which makes the smutty turn of events that much hotter. We see the story from Felix's pov which is awesome, but also it allows us to see Emmett in a different light. We also see how his light, affectionate nature wins over the darker, pragmatic Volturi guard. GAH! I could read about these two forever. UNF!
Jess -
So I can finally say I told Jeanne about something first. Sure, she would have found this bad boy... or should I say these bad boys, but yeah... I'm taking credit for introducing the Felix/Emmett rough housing, smokin' hot lovin'. Good grief, this was... just read it. My words will seriously not do it justice. So good.
Jen -
Unggggg. The two big guys. Yessssss.
Chele -
This blew my pants completely off. It's like I've been waiting for it forever and now that it's here I just want to roll around with it. Love.
---
AH, WIP, E/B
---
Jen -
Bella's acceptance of Edward's past really surprised me because the Bella we've seen thus far seemed... sort of innocent or naive. Lucky for us, Edward had just the right key to unlock her passion. Sweet and unf-y!
---
AU O/S E/J Slash Feminization Kink
---
Jess -
So, I'll be honest, this particular kink - feminization - rarely does anything for me, but for whatever reason I clicked it open and decided to give it a read. Wow. I loved how
Miss Dare
made Edward much bolder and more assertive than we often see in canon, and more importantly the little twist at the end. Just... wow.
---
AH, O/S, E/J, Slash, Auto-erotic Asphyxiation
---
Jen -
I read this expecting to feel uncomfortable with the breath play this fic describes. It was a little nerve-wracking, a LOT hot, but what stays with me is the emotional development of Edward and Jasper's relationship.
Emmy -
I completely agree with Jen. Brilliantly done. Moving and sexy. Wow!
---
AH, WIP, E/B
---
Jen -
I have a few words: Hallelujah! Finally! Unf!
Emmy-
I echo Jen. Yay! Fin-al-lllllly! Love this.
---
AH, WIP, E/B
---
Jen -
I'm not even sure how many WIPs
LyricalKris
is juggling right now. I do know that I adore this Edward and just want to bundle him up so I can hug and love on him. He's had to work hard for his happiness, and now he's finally got Bella back in his arms. HOT! HOT! HOT kitchen sex. That is all.
---
AH, WIP, E/B
---
Teal -
Oh damn. Desperate, excited celebration sex. These characters have been in a thick mess for a while now, but they sure do know how to make lemons! Kitchen sex FTW!