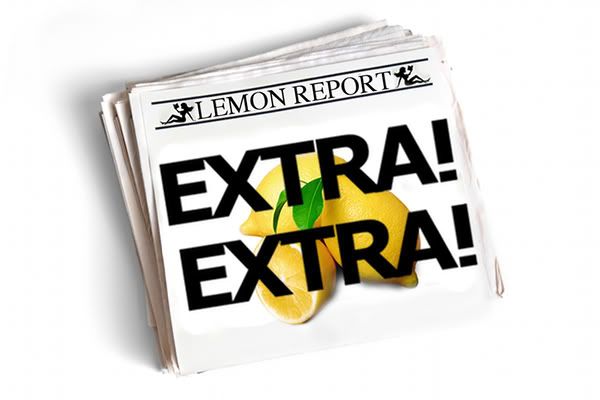 The Lemon Report - Fancy finding out what is on the FF bookshelves of the Pervy Girls of the PPSS? The lemon report lets you know our personal favourite updates of the week, and why you should give the fic a try.... It's a great place to trawl for new recc's and don't forget to share your favourite update with us by leaving us a comment.

In some cases, the Lemon Report may contain spoilers. Please read with caution.

Acronym Guide
AU - Alternate Universe
AH - All Human
WIP - Work in Progress
O/S - One Shot
OOC - Out of Character
WP - Wussperv
Slash/Femslash - Features homosexual characters and romance.
---
AH, O/S - FGB futuretake, E/B
---
Teal -
Like pretty much everyone else in the fandom, I love the original one-shot so hard, and having a little follow up to it pop up in my box was a big old "fuck yeah!" Things were just as hot and steamy, and Edward was so freaking precious and charming.
Jen -
Pure and utter fantasy- and so delicious.
Emmy -
I think the only thing I can say here is:
YUM!
---
AH, WIP, Bella/Jacob
---
Teal -
We happened to get two updates of this fic in one week, to which I say hoorah! I was beginning to get a cavity with how sweet and silly these two were, and finally, we got the hotness. It was WELL worth the wait =)
Jen -
This Bella and Jacob are funny, neurotic, self-doubting, sweet, communication impaired... and now we can add sexy to their list of endearing attributes.
MeraNaamJoker
and
grrlinterrupted
have clearly had fun writing this little ditty--how lucky for us.
Chele -
I've been anxious to see the adorable inner monologues and witty banter between Bella and Jacob explode. I am anything but disappointed here, though it's obvious these two have some things to work out, I hope they can do most of it horizontally.
Jess -
I read the last 4 chapters in one sitting, and I'm seriously dying and in need of the next one. That little tryst in the garage and cliffie at the end... want. more. now.
Addendum... the most recent update was absolutely delicious. A little wank. Some sexy under the covers time for B... this story is so made of win, people!!!
---
Jen -
Amazing climax (twss) to this super-angsty story. Gorgeously written intense emotions fill this final chapter- from the heights of sexual euphoria to the deepest despair. Warning: this story is probably not wussperv safe.
Liz -
I love writers who are brave enough to write serious angst, and talented enough to do it really well. I don't know what that says about me, but
jennde
knows how to suck you in, break your heart and turn you loose. There are no winners in this story, everyone is a victim of circumstance, and Jennde takes our beloved Edward through what might possibly be worse than their separation in the books. The final chapter is so intense, I can't say much beyond 'hurts so good' without spoiling it.
Jess -
This story was absolutely heartbreaking and so, so beautiful. When they finally come together in the most forbidden way, it's exactly what you sort of knew would happen, sort of wanted to happen, and never really wanted to happen at all. Just beautiful in the ache and longing and the goodbye.
---
AH, O/S, Edward/Garrett
---
Jeanne -
FUCK, I love
fngrcufs
's writing style. It plunges you right into the character's head and doesn't let you up for a breath until you gasping and flailing. Edward and Garrett are so hot and
right
. Read it!
Teal -
This story was so achy and heart-hurty, and as much as I love my Jasper, I wanted Edward and Garrett together so badly (well, I want them together all the time).
fngrcufs
paired the heavy style and tone of this short one-shot so perfectly with the subject matter, making all the more wonderful to read.
Emmy -
Wow. This is intense... The pairing is brilliant. I love love love Edward and Garrett together.
Chele -
The pairing is beautiful, the writing is lyrical and otherworldly. Perfection.
---
AH, Complete, E/B
---
Teal -
I'm so SAD it's over, but damn was it hot getting Edward's final say in the story. I will miss this one and all it's hotness so very much.
Jess -
This story was absolutely adorable and perfect in every way! Seriously loved these two...
Emmy -
This was an absolutely wonderful conclusion to this beautiful love story. Loved seeing their friendship and then love through Edward's eyes. J'adore his obsession with her tits across the years! This story is epic love to me!
Liz -
I will miss this story too much!
---
AU, Transformers - Slash, Sam/Bumblebee
---
Teal -
OMG she made more. Hood love FTW. My brain can't even process anymore. RAWRUNFRAWR
Chele -
Pure, unadulterated love and smutty goodness between our favorite car and his boy. So happy to have more of this.
Jeanne -
Such pretty, pretty smut. I love
Keelywolfe
hands down some of the hottest fucking slash fic around. I love the desperate, unsure and always self deprecating tone of Sam's thoughts. I love the almost ethereal beauty of Bee. Oh yeah and the sex blew my fucking mind.
Jen -
Zomg I read some Transformers fic. I have absolutely no understanding of Transformers, but it simply doesn't matter. This is hot.
---
AU, Complete, E/B
---
Jess -
I finally had a chance to read the last chapter and epi of this truly well-written story. It's an AU world where Bella and lots of others we love are seers. There's an epic battle and love along the way. The epi contained a great lemon that was absolutely perfect for these characters and the way in which the story was told. I can't wait for the sequel of this story... I'm ready!
---
AH WIP E/B
---
Jess -
Sexy tent times on the oceans... need I say more? Unf!
Emmy-
I adore this story. But am still so freaking out about the angsty stuff. But adore this Edward and Bella. So ruddy cute together, and so ruddy perfect for one-another. Gah.
---
AH WIP E/Leah
---
Jess -
Anytime cupcakes lead to lemons, you know it's a total win in my book. This update was nooooooo exception. Just so freaking sexy. Best line... "He carried me upstairs, all sloppy frosting-sweet kisses and clumsy steps." Um, yes please. And then, as if it couldn't get any better... just go freaking read it!!!!!
Jeanne -
Just...yes. Pastorward is so fucking swoonworthy. The sex is hot, but also so very sweet. I swear I want to do all manner of naughty things to
Idpattthat
for writing this amazing and beautiful fic. *draws puff hearts around Edward and Leah*
Liz -
*helps Jeanne with the puff hearts* I love... all of it.
Jen -
I was nearly done for on Sunday night- first Rob kisses Taylor and then
Idpattthat
updates
Accidental Atonement
. Best. Night. Ever. I will join in on the puffy-hearting and the
Idpattthat
humping.
---
AH, Complete, Slash, Edward/Jasper
---
Emmy -
Jenn had first recc'd this to me on a previous LR. But I had to remind you guys about it again, as some of the outtakes
Owenic
has added to the story are just fabbio. Some hot & steamy **cough Edward topping Jasper cough** or sweet and squidgy. So worth a read.
Liz -
I picked this up after a recent Lemon Report, and it quickly became one of my fave fluffy slash reads ever. Sofa King hot and sexy, and so so heartfelt at the same time. After the last little post-take, you'll be ready to book your flight to Montreal.
Jen -
I love this more and more with each outtake & futuretake that
Owenic
posts. I don't know, there's just something about these boys- sweet and sexy and just unf!
---
AH, O/S, WP, E/B
---
Emmy -
PWP? Why yes please and thank you! A very *delicious* wee one-shot. Edward surprises and treats his girlfriend Bella on her birthday, and we all feel the benefits....
---
AU, O/S, Jacob/Bella
---
Chele -
If only Bella had followed after Jake when he'd gotten feverish, New Moon could have taken a drastically sexier turn. This is a bit of edgy smut where Bella finds that being with Jake physically can knit the pieces of her back together, and Jake finds that it can keep him from flying apart.
This intense smut-shot was prompted by this picture:
NSFW Sexiness
. Therefore, it could only be wicked hot, and a little achy. Which it is.
---
AH, WIP, Slash, Edward/Jasper
---
Emmy -
Holy fuck this was a lemony chapter with some kink! No action between our protagonists but jesus some hot club action, pushing lots of my buttons. Seems our Edward had a special kink... One of the best wank scenes I have read.... DE-fucking-LISH!!!
Jen -
Hot wank indeed. Totally unexpected, but definitely gives us some insight into Edward.
---
AH, Angstyish, Novellas (WIP), Rachel/Paul
---
Emmy -
This most recent update focuses again on Rachel and Paul and their unusual and demanding relationship and dynamics. And boy is it hot, but even more than it is hot - it is beautiful. A lyrical and absorbing chapter about finding and taking what you need from life and love. Sexy and soulful. Intense.
Jen -
*gasp* I was looking for some Rachel/Paul smut a few weeks ago and the pickings were pretty slim. I am so excited to see this and can't wait to read!
*Update*
I stayed up till 2am to read this. If I had to live in an author's stories, I think I want to live in
Chicklette's
writing. Damn, girl, you can write some sex. UNF.
---
AU, Outtake, Flangst, E/B
---
Emmy -
I adore the complete multi-chap that this is an outtake from, its a really beautiful and unusual story. This outtake was a very different ending for the story, and just brilliantly done. Who else wants to read about Victorian Edward's kinky side with his wife?? Well I do for one!!! I still prefer the original ending, and I think
Tkegl
wrote that the right way. But I am so glad that she shared this with us, a lovely and at times sexy look at what might have been....
Teal -
What a lovely surprise in my box this week *happy sigh*
---
AH, WIP, E/B
---
Teal -
I'mma need a cold shower and a strong drink after this one. The sweetness
killed
me, and the sex was so intense and different for them. My mind is just...guh. This very well may be my favorite fic from
spanglemaker9
yet!
---
AH, O/S, Slash, Jacob/Seth
---
Chele -
Sue and her kids moved in with Billy Black shortly before Jake went away for college. In the time he's been away, Seth has grown into a man. During his first year at college, Seth decides to room with Jake. Cue Jake's permanent, unshakable attraction to the younger man. It's adorable the way these two dance around each other, and when they can no longer deny their attractions? Hel-lo heat.