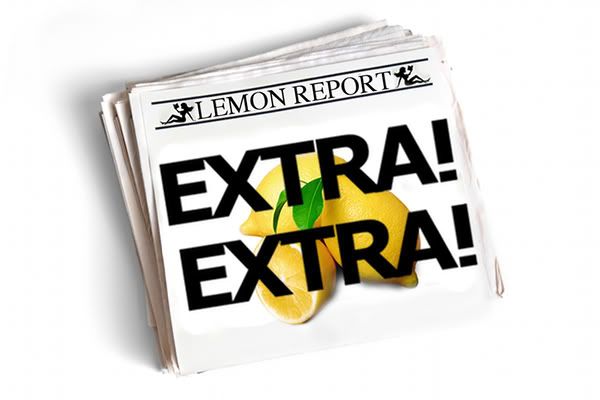 The Lemon Report - Fancy finding out what is on the FF bookshelves of the Pervy Girls of the PPSS? The lemon report lets you know our personal favourite updates of the week, and why you should give the fic a try.... It's a great place to trawl for new recc's and don't forget to share your favourite update with us by leaving us a comment.

In some cases, the Lemon Report may contain spoilers. Please read with caution.

Acronym Guide
AU - Alternate Universe
AH - All Human
WIP - Work in Progress
O/S - One Shot
OOC - Out of Character
WP - Wussperv
Slash/Femslash - Features homosexual characters and romance.
---
AH, WIP, E/B
---
Teal -
It's been a while since I've come across an all around GREAT story from an author who I've never read before. I was pleasantly surprised by this fic, and spent the better part of 3 or 4 days devouring it. The sexual tension between Edward and Bella in this fic is unreal, and when they finally get down to it: FIREWORKS. But while there's great lemons, there is so, so, so much more to this story than smut, and that is why I love it. Well rounded, unpredictable, and solid.
---
AH, O/S, Bella / Carlisle
---
Chele -
What would you do if Carlisle was your older sister's boyfriend? Bide your time, of course.
Okay, so perhaps Bella wasn't to calculating, but I certainly would have been. This is a coming of age and Hot Dr. Carlisle love fest rolled into one.
Jen -
I really love that while Carlisle is older than Bella, this isn't the typical older C, younger B scenario. Totally sexy, with a nice progression of their relationship.
---
AH WIP E/B
---
Jess -
I'm not sure where I've been, but I finally got on board the Amishward buggy... and thank God in heaven I did because the UST and the bits of citrusy goodness so far have about killed me. This story is so well written, and I found myself completely lost in
solostintwilight's
beautiful articulation of this story. Climb on board ladies (and gents), we just got the best chapter yet... and what a ride it was. Talk about a road trip the English way.
Jen -
The cuteness of this fic makes up for the awful alligator wrasslin' pix Annie Liebovitz took of Rob for Vanity Fair. The UST is like whipped cream on top.
Liz -
AmishWard Lemons? Ohhh hell yes. With a wonderful twist on canon virginal Edward,
solostintwilight
gives us one of the sweetest, most earnest Edwards in recent memory. Toss in a strict Amish moral code, abused Bella fleeing Jake and Charlie, off the charts UST and a cross-country road trip, and you have the makings for some very intense sexual exploration.
---
Transformers AU, WIP, Sam/Bumblebee
---
Teal -
Oh, how this little fic delights me! Sam is coming to terms with
really
enjoying this stalker-turned-boyfriend and still has no clue that said boyfriend is actually the pretty holo of his sexy Camaro, but that's not stopping them from getting down. There's just something so fun about secret, sneaky rendezvouses at school, and this one was is
steaming
hot (read the chapter - there's a pun in there). Such a nice treat on the cusp of the latest movie premiere!
Chele -
I may not recover from the beautiful smut of this update. I also found the arrival of Bee's "dad" completely hilarious. Such a wicked blend of humor and hotness. Never has a lark, turned WIP made me so happy.
Jen -
I don't even know what to say. This is so yummy. Sam is adorable in his 'well what the hell' enthusiasm for Bee. I'm trying to decide if watching the Transformers would ruin my smutty fun or enhance it.
---
AH, O/S, Pegging, Ed/Leah
---
Jeanne -
That's right, it's the fic that I have been waiting for. *crazed laughter* Edward and Leah are frenemies with benefits for a while, but now they are taking it to the next level. YES! The chemistry between these two is intense, their banter is hilarious and the sex is fucking hot. GOD, do I love how
TuesdayMidnight
writes them. She needs to write het more often, cause there is a sad shortage of hot pegging fic in the world, much less this fandom.
Jen -
Pegging is never wrong friends, never. It's delish here as
TuesdayMidnight
plays off the intrinsic feistyness of canon Leah with her 'I love to hate him' pal, Edward. Unf.
Liz -
Is it any surprise how much I love this? I saw a porn star define 'gay' once. More or less, he said that a man enjoying receiving anal sex because it felt good doesn't make you gay, but liking it because it's a dick in your ass does. Edward sums it up beautifully - "Do gay men have a monopoly on the prostate that I don't know about?" The fact that
TuesdayMidnight
gives a wonderfully sassy Leah the strap-on that sends Edward to pegging heaven makes it that much better.
Chele -
This was so completely needed. "Filling holes" jokes aside, there is a distinct lack of well written fic with this kink, and I was thrilled when the pack started spreading this little gem around. Subtle power play without preamble or contract. Hedonistic, beautiful, perfect.
---
AH, O/S, E/B
---
Jen -
Last week was one of those weeks where I really needed to read some 'this could never happen in real life but omg it's so cute and I love it' fic.
Anything But Mine
was just what I needed, a lovely, fluffy fairytale.
---
AH, WIP, femmeslash, A/B
---
Jen -
It's hard to get alone time when you're staying at the 'rents. Alice, Bella and the two boys fix that by going camping for a night; Bella is sure to situate their tent far from their brothers' tent so that they can freely *ahem* express themselves. And express themselves they do!
---
AU, O/S, Leah/Jacob
---
Emmy -
I keep finding Jeanne little tit-bits of Leah/Jake fics.. This is a smutty and fluffy and naughty wee fic to give your evening a boost. I also LOVE how their wolfy strengths and skills come through in different ways. And how Leah's dominant personality comes through without losing any of her femininity and sexuality.
Jeanne -
This light, fun, naughty little smut fic is just kind of playful fluff that Jake/Leah fans need. Not that I mind the wonderful angsty fic, but god damn is it nice change of pace. Jake and Leah's banter is in character and so fucking hot. Plus, you got to love a fic that really shows how shapeshifter strength can be used in the bedroom, if you know what I mean. UNF!
Jen -
I loved this. Fun little read on a lazy Sunday. So glad Emmy came across it. Loved being a voyeur to Jake & Leah's sexytimes.
Chele -
This pairing makes me so happy in my pants. I thought the physicality was well-handled, and I truly cannot get enough hot Jacob/Leah smut. This both satiated me and made me want more.
Liz -
The pairing that should have been canon. I love these two together so much. I can almost hear the giggling and moaning, and wish there was a place to download this sex tape. Here's hoping
Wolfasaurus
feels compelled to write this pairing again.
Jess -
Couldn't agree with the girls more. Love these two together... especially their playful banter... all the little details in this were just amazing!
---
AH, Novella, Fluff/WP, E/B
---
Emmy -
Part three of this delightful Novella was delicious. All I have to say is:
Coconut cake frosting and Edward Cullen. Need I say more?
---
AH WIP E/B
---
Trin -
I just like this Bella more and more with each chapter. I love that she is sexually confident but not in some sleazy sort of way. This last update had me falling even more in love with Edward the way he wears his (oh so sweet) heart on his sleeve. And there is a make out in here that gets handsey and it just..unf. The UST is delectable.
Jen -
Loving this fic so much. UST was killer this chapter. I'm dying for Bella to realize what she is surely feeling!
Emmy-
I am still adoring this story - loving all the increasing hints we are getting of Bella's personality, heart and soul (including her potentially changing feelings for Ed?) and all her little quirks.
Liz -
I love how smart these two are,and yet so totally oblivious of the other's feelings, even when they are practically making out.
---
AH, WIP, Slash, Jasper/Garrett
---
Emmy -
GAH. I LOVE
Dellaterra
's writing so ruddy much. She is a wonderful crafter of words. This is from a sub strand of her picspirations thread that she has written in response to my
Pervy Picspirations Feature
this week. This strand of
Pervy Picspirations Feature
features Jasper and Garrett. Jasper is injured and has had some trouble coming to terms with his disfigurement and loss. Especially in relation to his relationship with Garrett. This linked O/S is delicious and heartfelt and oh-so-so beautiful. It makes me melt and tingle in all the right ways!
Dellaterra
also used my fave pic from the bunch for her inspiration. This story is amazing. I die.
Jen -
I jump up and down whenever
Dellaterra's
name shows up in my alerts, and it's especially a treat when she's written some Garrett and Jasper, who originally appeared in her o/s
Brailled
Liz -
Plain and simple? I want more of this pairing from
Dellaterra
.
---
AU, O/S, Slash, Carlisle/Edward
---
Jen -
I can't say enough about
FarDareisMai2's
beautiful writing. This o/s explores the time Carlisle spent in Volterra. This tweak on the canon view of a vampire's human singer is filled with lots of longing, an intense sexual connection, and deep sorrow paired with the faintest bit of hope.
Emmy -
This killed me when it was an entry into the CarlWard contest and it kills me even more now. Tip-top writing and beautiful emotions. A very different side to Carlisle and canon.....
---
AH, WIP, Emmett/Rose
---
Jen -
Shop Woman
was originally a o/s for the Curvaceous & Bodacious contest. Rose is the gorgeous, curvy proprietress of a high-end lingerie store. Emmett meets her when he's shopping for a gift for his current girlfriend and boy, do the sparks fly. Lots of yummy smut as things have progressed, and in chapter 4 Em and Rose are really flying high... mile high club, anyone?
---
AH, WIP, E/B
---
Jen -
I've really enjoyed
The Caged Bird Sings
for its mix of the super angsty and the sweet, sweet love of a newly blooming relationship. Isabella has been set free of her cage, and it's so sexy to see her come into her own while reveling in the purity of the love she and Edward share.
---
AH, OS, Slash E/J
---
Emmy -
This is a super quick slashy read about musician Jasper and roadie Edward and how much lust can bubble up over a tour.. Read how they resolve all that tension on the last night of the tour...
---
AH, WIP-COMPLETE, E/B
---
Emmy -
Recent stress related insomnia has been atrocious for my piece of mind. But superb for my reading! One particularly stressed night recently I reread this. It was an absolute treat to reread. Edward with Masen is beyond adorable, and reading Edward and Bella try and find their way back to one-another after so much distance, and so many secrets and lies, is such an absorbing read. You know they should get back together but its never easy is it? A great read (or reread) when you need a boost.