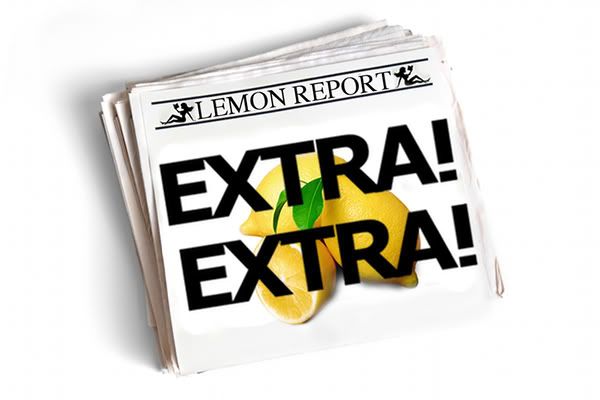 The Lemon Report - Fancy finding out what is on the FF bookshelves of the Pervy Girls of the PPSS? The lemon report lets you know our personal favourite updates of the week, and why you should give the fic a try.... It's a great place to trawl for new recc's and don't forget to share your favourite update with us by leaving us a comment.
Acronym Guide
AU - Alternate Universe
AH - All Human
WIP - Work in Progress
O/S - One Shot
OOC - Out of Character
O/T - Outtake/Deleted Scene
WP - Wussperv
Slash/Femslash - Features homosexual characters and romance.
---
AU, O/T, Bella/Paul
---
Jess -
Imprint. The power of the imprint. That's what this chapter is all about. It's raw and real, heartbreaking and full of hopeful need. I felt my heart break at the forced separation these two were having to endure, the way her scent alone practically killed him. And then the way they came together, him never seeing her face... just, there are no words.
Chele -
I absolutely can not get enough of Paul's Point of view from this story. It is so masculine and conveys such an ache for Bella that it completely captivates me. This is desperation and desire personified.
Teal -
So much vulnerability, so much need, so freaking hot. *ded*
Jen -
It was great to see this chapter from Paul's perspective, and I love how
MeraNaamJoker
conveyed the intensity of the imprint.
---
AU, Drabbles, BDSM, DARK! Ed/Leah
---
Jeanne -
First and foremost this is not for the faint of heart. There is hard BDSM, mindfuckery, and a Darkward that leaves the others behind in the dust.
The Game
is twisted tale of lust, manipulation, and violence. In other words, it's my dream come true. *SWOONS*
Scarlet Temptation
has your mouth gaping and panting for breath until the end. Put on your big girl pants and go read it. I dare you.
Jen -
When I see Ed/Leah, I click the link asap. This is very short, and oh-so-deliciously *not sweet.* If I weren't sitting in a room with non-Twilight people I'd be flailing about; instead I'm swooning in my head.
---
AH, WIP, Edward/Jasper
---
Jen -
We've all been waiting on tenterhooks for this next chapter of
What Matters
. It definitely met and exceeded my hopes. I loved hearing Edward's thoughts as he prepares to have sex with Jasper, as they're having sex, and right after they've had sex. He's simultaneously aroused, worried, and uncertain. Sometimes he's surprised; through it all he's honest with himself. Jasper too shows a number of feelings as well- lust, playfulness, and concern, too. Even though Edward is trying to figure out if male/male sex is for him, he's really open to enjoying the experience. There's a bond between Jasper and Edward as friends and as… well, they're not sure, but it's there, and it makes the entire chapter that much more meaningful. It was so hot that after reading all I was capable of was !!! :DDD
Emmy -
I think what I love most about this update is how genuine Edward seems in it. So tentative but oh-so-so randy! Unnnnffffff - perfection. It is THE scene we have all been waiting for AND he didn't freak out afterwards... Gah. Intense yet sweet, with an undertone of frantic. Perfection.
Jeanne -
HOLY MOTHERFUCKING SHIT! Totally worth the wait. I loved seeing sex from Edward's POV. I loved how Jasper was both confidant, hesitant and so fucking turned on. This just might top of my list of Hottest Sex scenes ever! I'm so in love with this story.
Chele -
Edward is so tentative yet determined to explore his growing attraction. I love the way he is so concerned about not hurting Jasper, about making him feel good. It's touching and such a revelation about they way the emotions are building. Beautifully done and sofucking hot.
Teal -
As Jeanne would say, this story makes my eyeballs melt! These characters are both putting their hearts on the line to be together, in such different ways, and it's completely and utterly worth it. And lucky us to read alllllllll the hothothotness =)
---
AH, WIP, E/B
---
Emmy -
We get an unexpected treat at the beginning of the most recent chapter of
I Never Knew
- which was a total bonus!! This fic is fabbio. Caren's CopWard is SO adorable - he's a total decent sweetie of a bloke yet is not a wet blanket - he's still a total stud-muffin!! Plus there is a good story and great characterisations in the story if you are wondering! I am completely in love with story. DRY HUMPS FTW!!!
Teal -
The pace of the physical relationship in this story has been slow, but waiting for the fuckhot, amazing dryhump in this chapter was sooooo worthwhile! It makes me extremely excited to see some real action...less clothes, a little wetter...
Jess -
I couldn't agree with the other girls more. The progression of their relationship has been perfect, full of intensity and desire, without pushing the boundaries of their very real situation. These two are delightful together and leaves me wanting more, more, more!
---
A/H, O/S, Femslash, Victoria/Bree
---
Chele -
What a rocking awesome way to approach Victoria's vamp talents in an AH universe. I LOVE Victoria as a military woman, and the image in my head of her fiery fierceness in a set of fatigues and boots is enough to make me swoon. If it wasn't, her keen intelligence, tough as nails attitude, and fuckhot femininity would certainly to the trick.
This is such a cool spin on the student / professor angle, with Bree as the pursuant seductress ingenue, and Victoria as the reluctant, mature object of her desire. When Victoria finally surrenders to the pull? Holy hotness and swoon.
Jeanne -
Sexy professor Victoria and naughty school girl Bree, UNF Forever! I have to admit that I have thing for the student/professor dynamic (with consenting adults). These two play it to the hilt. I love the power exchange between them, and when they finally get down to business...HOLY FUCK!
Jen -
I have a real thing for Victoria, especially in femmeslash. I'm guessing
brokende
does too, as she wrote a Victoria/Bella story that I've flailed about here in the Lemon Report previously.
My Escape
is everything Chele says it is; do yourself a favor and read this sexy one shot written for the For the Love of Women contest.
---
AH, O/S, Femslash, Alice/Leah
---
Jeanne -
Imagine something so wonderful, and sexy that it's down right dangerous. That is Alice in
Red Fades Before Blue
. This dark, deadly incarnation of our favorite little "pixie" is so fucking aweome that I squealed with delight. Add in a lost, heartfaily Leah, and I am fucking sold.
Chele -
This is a crazy, sexy mindfuck of a fic. Alice is totally badass, and
HoochieMomma's
play on her canon memory loss made me all squealy and happy. When Leah walks in? I melted, and it was before they even touched. After? Dead.
---
Description
---
Chele -
This is, perhaps, the geekiest, most adorably sexy slash in the whole world. My Inner-RPGamer squealed in delight at the original one-shot where Jasper and Edward discover their feelings for eachother while dealing with the UST only an intense game of Dungeons and Dragons can bring.
This second glimpse into their love is just as magical and adorable as the first, and now it's from Jasper's Point of view. I find this version of a Dungeon Master a refreshing change from the more recognized use in fic these days. You should give it a try, a figurine poking you in the back is a whole new kinky. Don't worry, for those who are unfamiliar with the boy's recreational pursuits,
theladyingrey42
is good enough to provide a glossary of terms at the bottom.
Emmay -
I will happily recc
theladyingrey42
till the cows come home! Her writing is always top-notch! This slash of yummy is just more reason for us to chain her to her laptop and this fandom! Its geeky without being overladen and stereotyped. Its brilliant. I think
theladyingrey42
has a real talent for writing Slash. MORE PLEASE! Ta! ;)
---
AH Complete Novella, Angst(ish), E/B
---
Emmy
I got this tweet recc'd to me the other night when I had a wee 30 minute spell of reading time. I dived into this with a mug of hot choc - and this was the perfect accompaniment.
Its the teensiest bitter, lots sweet telling of a couple who fall apart and have to come back together again... Eventually leading to their physical and intimate reunion too.
---
AH, OS, E/B
---
Emmers
I have a SERIOUS soft spot for fics set in porn - I have no scooby as to why! I love this one-shot - its fluffy and great fun! But also hot and yummy! Bella Swan has potentially the worst job in the world, and then she makes things even worse - by becoming a stand in for Porn Star Rosalie Hale. .. Just as well she is paired with shy fittie Edward. Where they get a wee bit carried away! Rarrrrr. Sexy fun.
Teal -
I love everything lexiecullen17 writes, and this story made me giggle and squirm. The industry lingo and attitudes about terrible jobs in Hollywood make this story hilarious and fun to read, the sexing is super steamy, and the end...well, it's a jaw-dropper. Humor and sex can be so nice together.
Jess -
unf! Unf! Unf! I love lexiecullen17 and this was such a fun and sexy read.