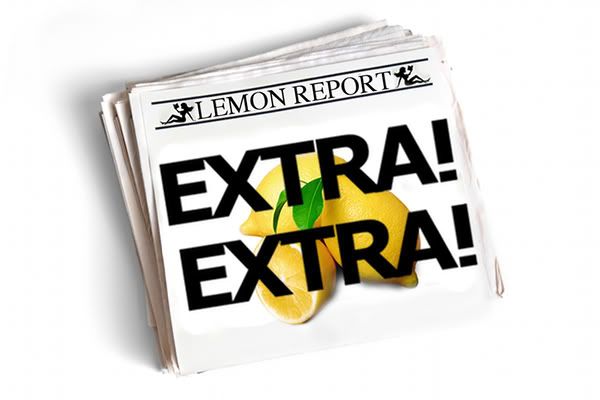 The Lemon Report - Fancy finding out what is on the FF bookshelves of the Pervy Girls of the PPSS? The lemon report lets you know our personal favourite updates of the week, and why you should give the fic a try.... It's a great place to trawl for new recc's and don't forget to share your favourite update with us by leaving us a comment.
Acronym Guide
AU - Alternate Universe
AH - All Human
WIP - Work in Progress
O/S - One Shot
OOC - Out of Character
WP - Wussperv
Slash/Femslash - Features homosexual characters and romance.
---
AH WIP Edward/Jacob
---
Chele -
The emotional intensity in this story only slightly outshines the amazing sexual tension. It's a beautiful balance of aching want, and physical need, and I love it hard. While I'm not sure what Edward's motivations are, I'm desperately hoping that he doesn't break Jacob's heart. Oh, and I'd kind of like to see him get a bj. js.
Jeanne -
All I can say is that this story gets better and better as it progresses.
SadTomato
is courageous, and gifted writer. She also might be the devil, but I'll leave that to the readers of
If Only
to decide.
Jess -
This story is so heartbreakingly delicious. I feel an overwhelming sense of protectiveness for Jacob. There is a very real intimacy between these two roommates... and bed time snuggles and unexpected lovin' almost killed me.
Jen -
Like Jess says, I feel very protective of Jake and want to go all mama-bear on Edward's fine ass. When Edward is giving in to his possible feelings for Jake, or maybe it's really when he's trying to torture his poor roommate, it's freaking hot.
Emmy -
Its official - THIS STORY IS GOING TO BREAK MY FECKING HEART!!!! Gah. But I just love it so. Its killing me this story, but the smutty yum yum yum yum-ness keeps me reading - seriously its THAT hot... If you are a slashy loving WussPerv please beware - Edward seems to be toying with poor Jakey, potentially breaking both his and my heart in the process! But oh my word! It is HOT.... Beautifully written and hot! READ IT!
---
AU O/S Slash Bloodplay Ed/Jake
---
Jeanne -
We all know that I love Ed/Jake fic, but I particularly crave great AU Ed/Jake. Nothing is hotter than seeing these supposed enemies work out their aggressions through sex. Boy howdy does
My name is Seren Dipity
deliver with this hot little one shot for the
Lemon Frosted Birthday Contest
. I will warn the more delicate reader that this fic has bloodplay* in it. Personally, that is one of the things I love the most about this fuckhot fic.
Jen -
Like Jeanne, I absolutely love AU Ed/Jake, and this short o/s really takes advantage of their vamp/wolf differences to great effect. Before reading Twific I never would have imagined finding bloodplay hot, and
My name is Seren Dipity
shows how hot it can be.
*
The act of drawing blood from another person (the blood is sometimes then sucked/licked off of the wound). Usually sexual in nature. Sometimes associated with vampire fetish. A form of edgeplay.
---
AH WIP E/B
---
Jess -
There has been such emotional growth in the last two updates, not to mention some hot, intense lemony goodness. Their weekend away was so good for them, and watching them use sex to communicate what words can't was beautiful. I anticipate the other shoe is about to drop... ::bites nails::
---
AU, WIP, E/B
---
Jen -
This story is filled with
Yellowglue's
poetic words. Edward and Bella have been moving closer and closer to having sex, and every ust-filled minute of it has been amazing. My legs were getting sore from all of the squirming I was doing during the build-up to sexing; my expectations were high, but
Yellowglue
blew them away. This was vampire sexing the way it was meant to be. UNF!
---
AH WIP Edward/Leah
---
Jess -
Freaking finally! I have been waiting for these two to hook up since I first started reading this story. Camping, a church van, dry humps, and a swim at First Beach. Get on it.
Jeanne -
After eleven chapters of the most intense eyeball melting UST I have ever had to endure
IdPattThat
finally delivers. This was one of the hottest erotic and emotional love scenes I've ever read, proving without a doubt that you don't need to take your clothes off to have fun (or get off).
Jen -
Did you hear the squeeing coming from the Shack? Hot damn, the moment we've all been waiting for. I want to hump
IdPattThat's
leg.
Chele -
Totally wonderful. Total swoon and love.
---
AH, WIP, Slash, Edward/Jasper/Riley
---
Jen -
As if sex with Jasper and Riley weren't enough, now the three boys are venturing into a little exhibitionism. And Edward finds himself flirting with another boy. So good.
Emmy -
UnnnnfffffffFFFF. I love this story! I love how we have seen such character development in Edward since the first chapter. In that Ed was lonely and isolated, the coffee shop his only highlight of the day - now he is interacting with others - whilst still being just as precious with his co-ordination, clothes and interior design. He's such a darling! I am soooo excited to see what happens with his new flirtation, plus still cutie hotness from Shy Riley and demanding Jasper. Yummy-scrummy.
---
AH WIP E/B
---
Jess -
I love this story. It's told from both Bella and Edward's perspectives. These two are best friends who gave in to a night of hot, hot sex. Now, as they navigate through the confusing waters, Edward wants more... and Bella's just... confused. The latest update had the most intriguing lemon, told through EPOV and broken up throughout the chapter. Just yummy and so, so good.
Emmy -
What is there not to love in this story? It IS perfect. Just divine. Beautifully unfolding and developing as Edward knows what he wants, and how best to get it as Bella still faffs about trying to get a grip on her changing reality and changing emotions for Edward. From best friend to lover. Oh how she is beginning to see she wants more. Please don't get me wrong, this Bella is not annoying, she is engaging and her confusion is so very real. But I adore the wee snippets of EPOV. He brings the story to blazing life. The way he worships her through these words and then the actions we see from Bella's POV, woweeee. A great read.
Trin -
I always adore a friends to lovers story. There is just something about witnessing two people learn interact with each other in a totally different way and the journey as they admit to themselves the true feelings for someone who was once just a friend. As Emmy said the EPOV are just divine and they really help us understand everything that is happening even when being told from BPOV>
---
AH WIP E/B
---
Jess -
Saintward, as he's come to be called was so freaking hot in this update. This update was a whopper of a lemon, one of exploration and new things... UNF!
Emmy -
Yay for this story. It KEEPS delivering brilliant and realistic love scenes between these two as they try and figure out their lives now. Oh and come play too! How fantastic for me! LOVE it, as ever, just LOVE THIS STORY!
Jen -
I love so many things in this story it's hard to say I love one element more than another. That being said, I freaking flail every time Edward's internal monologue references the sexual knowledge he's picked up from his extensive collection of men's magazines, including Maxim and FHM. He takes pleasing Bella very seriously!
Trin -
SWOON, SWOON, SWOOOOOON! I am just so in love with this story, and of course SaintWard. Like Jen said every time he references some of his researching I do a little happy dance. He is so damn sweet and earnest. That is ALWAYS a lethal combination in my book.
---
AH WIP Slash Edward/Emmett
---
Jen -
Like We Never Were
is an fgb fic which uses characters from an earlier o/s
TheManiacalMuse
wrote. Edward has just accepted that he's gay and has started a relationship with Emmett. There's angst on the way, but right now I just want to love these two sweet guys. In this chapter Emmett treats Edward to an amazing blowjob in the kitchen. So hot.
---
AH, O/S, Bella
---
Jen -
How much did I love this? Let me count the ways... flamboyant bisexual James, seemingly quiet Bella and her unabashed sexuality, and never-sticking-my-dick-in-a-girl Edward. Yes, please.
Jeanne -
OH MY FUCKING BABY JESUS YES! I love James. I adore his relationship with Bella, and Edward...*makes a choking fish-face of awe* Throw them all together, add a metric ton of UST, and stir!
Chele -
The UST is so thick I'm going to need to cut it with a chainsaw. Loved the balance in the personalities of the characters. Young people, open to new experiences, a few drinks, hottub, you get the picture. Unf.
Emy -
**Gulps** then **whispers** 'Ruddy hell'........
---
AH O/S (outtake from Multi Ch Complete) Flangst E/B
---
Emmy -
I was THRILLED to see this outtake post. I was/am totally in love with the original story that is the outtake from, but alas the original is not a smutty story. But its amazing. This outtake, has Edward's views of different points of their story and their relationship, from Bella confessing she has a terminal illness and asking him to marry her until she dies, from her moving in with him and him falling in love with her. Just amazing. We also get a glimpse into their physical connection, it is not smutty, its beautiful and oh-so intimate. Sometimes as much as I love a good rip-roaring, explicit and detailed lemon, I love a breathy, hinty description that hints at the act, but reveals so much of the passion, love and connection underlying the sex. This is perfect for that and made me feel their love and sensuality.
---
AH O/S (follow up to drabble arc) SLASH P/J
---
Emmy -
Well this was a wee delight to get an alert for this week! Want to read about Jasper in Italy? Pining for Peter but trying to push through and get his end off? But somehow always wanting Peter? Memories of Peter and his physical and emotional reconnection with Peter? Well I certainly did!!! Perfectly done, written wonderfully and just a unffffy squirmy read at times. YES PLEASE! Love!
Jen -
I loved
On the Turning Away's
drabble story about Jasper and Peter. By the time the boys had given in to their attraction to one another it was time for Jasper to go to Florence for his semester abroad. Characters and readers alike were left yearning for MORE to happen between them, and thankfully
On the Turning Away
found the opportunity to give us all some relief! So good, such a treat!
---
AH WIP SLASH E/C
---
Emmy -
This is a fantastic collection of related chapters, detailing different times in Professor Carlisle and younger Edward's lives and relationships. I love how realistically these two (and their relationship) is chronicled. Oh and its FUCK HOT! Really sexy, but not unrealistic or ridiculous love scenes between these two, and lovely glimpses at how they make their relationship work makes
Stay
a winner!
Jen -
Stay
was absolutely my favorite story from Slash Backslash 2.0; I flailed when I saw that Emmy added it to the Lemon Report because I didn't know about this newest chapter. It doesn't disappoint
Jess -
I read all five chapters tonight and sweet mercy it was a bundle of hotness like you can't imagine. I loved watching their relationship grow and blossom in chapter one and then their exploration in the chapters that followed. Just... yes.
---
AH WIP E/B
---
Emmy -
I think everyone would concur - that everything
Rochelle Allison
writes is just pure genius and beauty.
Air
is NO exception. Its gentle and subtle, with a younger but mature Bella and a 29yr old Edward. But he is not seedy or manipulative. Their story unfolds beautifully, and I love how Edward makes Bella take what she wants - wow does it work when they work together. Unnnnnfffff.