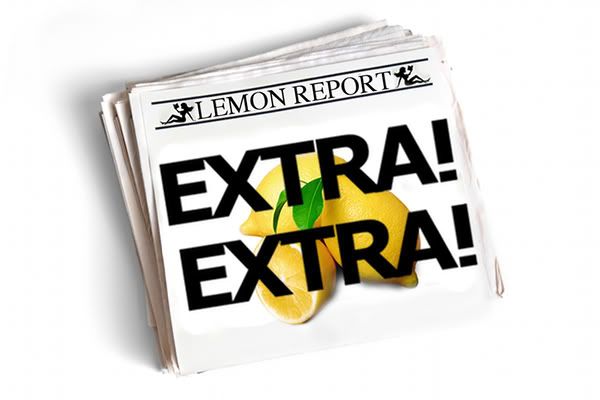 The Lemon Report - Fancy finding out what is on the FF bookshelves of the Pervy Girls of the PPSS? The lemon report lets you know our personal favourite updates of the week, and why you should give the fic a try.... It's a great place to trawl for new recc's and don't forget to share your favourite update with us by leaving us a comment.
Acronym Guide
AU - Alternate Universe
AH - All Human
WIP - Work in Progress
O/S - One Shot
OOC - Out of Character
WP - Wussperv
Slash/Femslash - Features homosexual characters and romance.
---
AH, O/S, Jasper/Edward
---
Jess -
Can I just say I loved this! Lou-La totally won the public vote with this delightful little gem. Edward's roommate finds himself in a precarious situation when a dirty talking Jasper finds his way into their apartment! Just smutty as hell and delish!
Jen -
I just loved this. From not knowing who the narrator was to hearing his assumptions about Edward being blown away (heh) to Edward being treated right by his dirty-talking boyfriend--it's all fun and smutty. Love.
Emmy -
I have said it before, and I will say it again - I love
Lou-La
's writing. This story is no exception to this. Woah hot geeky slashy sexing? Erm yes please. How could it not be loved? Plus its all from the point of view of Ed's straight roomate Emmett - who has no idea just what his geeky roommate gets up to, or gets his kicks from. Fab fun and sexy.
Trin -
Holy Moly, wasn't this just a delicious little read! Obviously when I'd read "geeky roommate" I was in. I really enjoyed the juxtaposition of having Emmett's thoughts of Jasper and Edward's sexual encounter. It's funny and hot and also a little unexpected.
---
AH, O/S, Slash, Jake/Ed
---
Jeanne -
We've all been with someone that we should have given the time of day. The dickhead, asshole douche bag that was just using us for sex. Let's admit it, there's something undeniably attractive about someone with enough confidence that they truly doesn't give a shit about anyone. How else can you explain the popularity of Douchward stories?
Well, ladies this is a asshole Edward to rival all the ones that came before him. Despite being in a relationship with Bella, he is also fucking several other girls and boys behind her back. One of the boys in question is Jacob Black, who is telling this wonderfully real and complicated tale of sex, intimacy and love.
Touchstone67
captures the painful reality of the emotional repercussions of seemingly casual sexual relationships with such clarity that you physically feel Jacob's heartache. The sexual and emotional connection between these two men is overpowering at times. I often had to take small breaks to catch my breath while reading. It is one of my new favorite fics.
Chele -
This oneshot had me feeling a full range of emotions, the most predominant of which was ache. Bittersweet, loving, ache. It is complex , hot, true and well-written, but the best part? Like the best lovers, it finishes strong.
Jen -
Equal parts angsty and sexy.
Touchstone67
really makes you feel Jacob's pain and ambivalence. He should hate Edward for using him sexually, but he can't.
---
AH, O/S, E/B
---
Kimpy -
I will never fail to squee when something unexpectedly shows up in my inbox from the lovely
MsKathy
. Naturally, I dove right into this fic, but I stopped short when I read the intro: Bella, married to Aro for 15 years? WTF? However, I
knew
this was an Edward/Bella story, and I also trust
MsKathy
implicitly, so I forged ahead.
What I found was a freaking
Pornward
, and my latest obsession was born. Oh, sweet baby jesus,
MsKathy
, have you no mercy? Pornward is a Wussperv's dream come true. In typical MsK fashion, the sex is hot, the characters are sweet and endearing, and in the end, life is good. She's like the FFn equivalent of a spa day, or hot chocolate with whipped cream while relaxing in a hot bath.
Soooo good
.
Teal -
I have a dirty, dirty mind (obvs), and when
MsKathy
mentioned that she was writing a Pornward story . . .well, my mind went straight south. I was imagining raunchy, hot, kinky sex with the strong possibility of spankings . . . and a video camera. Now, the smexing was fuuuuuuckhot, but this one-shot turned out to be a very sweet story of two people who help each other in ways seen and unseen to overcome their pasts, rebuild, and find love. *swoony sigh* And did I mention how freaking hot it was? If only we could all have our own little porn boy . . .
---
AU, O/S, Jake/Bella
---
Jeanne -
Merciful Jesus this is hot. WussPervs look away, cause Bella doesn't go to Italy to save Edward. *evil grin* Instead she runs to Jacob, and has delicious sex on top of his kitchen table. All I can say is MORE NOW! UNF!
Jen -
Kitchen table sex- need we say more? So good.
---
AU, O/S, Slash, Emmett/Edward
---
Jeanne -
FINALLY Emmett/Edward AU! That's right my dear sweet perverted deviants, this is vamp Edward and vamp Emmett getting it on. It is sexy, humorous and so fucking believable that I felt like I was reading a missing moment from canon. Don't believe me? Read it yourself and try to resist begging
NanaMun
for more.
Kitty -
SWEET BABY JESUS!! I swear to all that is unholy that I want to lick this little one shot up and down and all around and twice on Sunday! Edward and Emmett?!?! Edward and Emmett VAMPY?!?! *flops on the floor like a fish and humps everything in sight* This was so much in canon it was scary and it I FUCKING LOVED IT!! UNF! And GAH! UNFGAH!
Jen -
I don't know what's more fun- Emmett pounding the hell out of Edward or getting to hear Edward's canonesque inner monologue as well as Emmett's stray thoughts as heard by Edward. They may or may not call each other Yogi and Booboo. They're both adorable and it's great fun to see Edward lose his v-card to Emmett.
Teal -
Mmm . . . slash. The only thing that makes me happier than yummy boysecks is VAMPIRE boysecks. This was so delightful to read. Can't say I wouldn't be interested in getting fucked by Emmett for over 4 hours. JS . . . JFS.
---
AH, Complete, Carlisle/Bella
---
Teal -
This story isn't new, but it was new to me when I stumbled across it last week, and it has been a fun little read. I mean, Carlisle/Bella with lots of dirty sex. I'm sold. Oh, and it's totally a he's-almost-old-enough-to-be-my-dad kind of fic. Rawr. I love stories with sneaking around, dirty talk, and heavy flirtations. This has them all. If you're a C/B fan, give it a try. It's sweet and sassy and full of smut.
Jeanne -
I in my naivete, I clicked on this fic, based on Teal's praise and my own mistaken belief that it was a one shot. FUCK! It is a multi-chapter roller-coaster ride of hotness. It sucked me in fast with its humorous tone, and the fascinating spin on these characters in an AH world. Oh yeah, did I mention that Carlisle is so hot that my eyeballs melted? Yeah, get the fuck out of here and read it.
Chele -
My deep love for Bella/Carlisle isn't new, but some of it was fostered by my joy from reading this fic. It's a lovely, romantic tale of a passion that pays no mind to age difference. Rainy afternoon indulgence reading at its best.
---
AH, WIP, BDSM, E/B
---
Kimpy -
This is a wonderfully well written BDSM story that has been reworked, and
TheManiacalMuse
recently started reposting it, much to my absolute glee. You see, Muse's incarnations of Edward and Bella are perfectly canon--exactly right for this ol' Wussperv heart of mine. She does an incredible job of weaving elements of canon Edward and Bella's temperaments into her characterizations; they're the same E/B we know and love. The one difference? Oh, my god, the sex. They have a great sex life, but Bella wants more--harder, rougher, wilder. Afraid of hurting her, Edward resists. That is, until one night, when she surprises him with a little gift.
The Night She Wore Black
will be updating weekly, and I suggest you tune in for the fun. It's going to require fans and changes of panties. You have been warned.
---
AH, WIP, Slash, Ed/Emmett
---
Jeanne -
Holy Double Barrelled Hotness! This fic just keeps getting better and better. The hot fucking in the shower had my eyes crossing. I love the playful sweet moments too, and Edward yelling Sperm is officially a classic. Despite certain developments *gives
TruceOver
the side eye* I trust
TruceOver
to get our boys through anything and get them to the HEA they deserve. Huh, looks like I'm a WussPerv for slash. Go figure.
Jess -
I am dying over here at the shower hotness. It seriously killed me dead and had me rereading... which I rarely do! Seriously, if you like slash, this one is for you. It's heartwarming and deliciously smutty in all the right ways!
Kitty -
OMG OMG OMG! Againt with the groany "want inside" from Edward!!! I mean Jebus just freaking kill me now because that makes me all squirmy and so deliriously happy in my girlie parts. Just...just GAH!
Teal -
Oh hai tasty slashy goodness, let me nom you. Watching the relationship between these characters develop and take shape has been so much fun, and now that they're really, umm . . . getting comfortable as a couple, you might say, the hottness just keeps getting better and better. Yum!
---
AH, O/S, Slash, Jasper/Edward
---
Jess -
This little gem tied for first place in the judge's round of the
Dirty Talking Jasper Contest
. This story is not just about Jasper finding himself and some peace with Edward, it's about the journey he makes in doing it. It's about the demons he battles along the way, and the men he loses or finds himself (however you want to look at it) in the process. Filled with lots of steamy goodness with Jasper/Peter, Jasper/Randall, and finally Jasper/Edward, you will be panting and begging for more.
Jen -
I didn't have a chance to read all of the Dirty Talking Jasper entries while the contest was on. I'm really glad I have time to read them as they are posted on the authors' ffn pages.
tuesdaymidnight
manages to do something I absolutely love to see in a o/s--not only is the sex hot, but Jasper is developed so well as a character. Just absolutely delicious.
Emmy -
*sigh* I adore this story. Its written so so so well. So believable and so moving, and yes its sexy to boot too! I loved the characterisations, you feel for Jasper. You understand him, that's down to the high calibre of the writing. You also enjoy his sexual explorations! Delishly done!
---
AH, WIP, E/B
---
Jess -
Finally! That's all I can say about the wait we had to endure while these two got it together. This update seriously ended with a bang... and I mean that literally and figuratively. Self lovin' in the garter, a BJ against the hotel door, him going down on her on the edge of the bed, and a corset, garter and stockings romp that will blow you away.
Emmy -
I am so with Jess on this one! Huzzah! A great chapter and some serious shagging. Just what the doctor ordered. Plus it featured amazing lingerie! (I want more stories to feature nice lingerie - not just overpriced polyester from Victoria's Secrets... But that's just my rant! Sorry! :D) So yeah - great sexing, where sexy lingerie plays a proper part? I am sold. Yum.
Trin -
Hot! Hot! Hot! The other two lovely ladies already hit most of my points, but I just have to reiterate the BJ was A-MAZING!
---
AH, futuretake, E/J
---
Jen -
I was so excited to see this outtake of Red Letter Year, because it gives us a chance to see Edward and Jasper's relationship through Edward's pov, instead of Alice's or Bella's. Also: boysecks! E & J are adorable in the main story, so clearly smitten with each other. It's so freaking hot to see them in the bedroom, with Jasper all demanding and bossy. Alice and Bella may not want to know what their brothers are doing when they're holed up in the bedroom, but I sure do!
---
AH, WIP, E/B
---
Emmy -
I have no idea how I stumbled upon this author, suddenly she was in my author alerts and I thought lets give this WIP a shot. I am SO very glad I did. Not necc WussPerv safe, due to their time apart. But worth a read. This is a very subtle story - it is in fact a masterclass of subtlety. I think the quality of the writing is just incredible. Edward is a med-student, Bella a burning-out writer. How do they find their way back to one another after a disastrous first start? How can they cut through the crap to wht they both want? This isn't a smutty fic. Its serious and intense. To me their connection, and therefore their sexing is real. Genuine. Powerful. Deffo worth reading, too good to not delve into.
---
AH, O/S, Slash, Carlisle/Edward (age difference)
---
Emmy -
So this was a wee gem to pop-up in my inbox today! What a delight!
Savannah Vee
is a judge on the CarlWard contest that is currently being run, so she couldn't submit this slashy Professor Cullen and his troublesome student Edward Masen misbehaving story to the contest. But we still got the benefit of it, as its posted for all to see. And Wowser. Edward is certainly trouble for Professor Cullen - he is pushing and pushing his buttons. He's randy, and incorrigible in his pursuit of his professor. It makes for such a tasty read. I WANT MORE FROM THIS STORY - these two are such flirty fun to read, I am sure if we got some more it would be flirty FILTHY fun... So I want! :)
Chele -
Naughty, Naughty, Naughty Edward. Naughty.
---
AH, WIP, E/B
---
Emmy -
FAP stands for For Authentication Purposes, Bella is trying to write a smutty story, but her smut sucks. As she is informed by Edward when he reads it on her laptop. He gallantly offers to help her out, by providing the real life experiences she is missing out on to er beef up her story! ;) Ding-Dong! ;) But there is much more going on than Edward well and truly ringing Bella's bell. What is Edward's deal - he is much more invested in this deal he is letting on, his aim is much more than getting his end off! And what seemed straightforward initially for Bella has become much more complicated - Edward
was
never on her radar, apart from being an annoyance or a pain... Updates are almost daily! Yay! I am loving this!