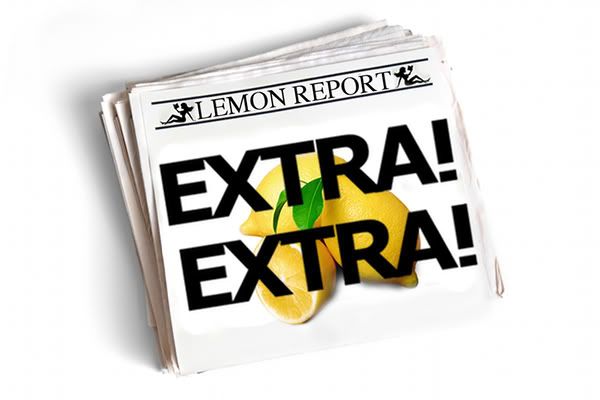 The Lemon Report - Fancy finding out what is on the FF bookshelves of the Pervy Girls of the PPSS? The lemon report lets you know our personal favourite updates of the week, and why you should give the fic a try.... It's a great place to trawl for new recc's and don't forget to share your favourite update with us by leaving us a comment.
Acronym Guide
AU - Alternate Universe
AH - All Human
WIP - Work in Progress
O/S - One Shot
OOC - Out of Character
WP - Wussperv
Slash/Femslash - Features homosexual characters and romance.
---
AU, WIP, Bella/Paul
---
Chele -
I am so thrilled to have found this New Moon AU. Paul imprints on Bella, and the results are like a perfect storm. It is awesome, and thrilling, and smoking hot.
taoist elf
brilliantly explores the wolf pack mindset and group dynamics, an area I find lacking even in most "pack fics". There is something very special about the way Bella and Paul's personalities compliment one another. The lemons are volcanic, but always move the plot forward, illustrating the desperate need for one another that the imprint creates. The eroticism is vital, the intensity of the writing imparts a painful ache of need. I get so excited when this updates because I MUST know what happens next.
Jen -
Bella/Paul AUs make me so, so happy. Paul's canon characteristics are so well suited to being a wolf who imprints--the hot-headedness and intensity. There's just something about the combination of Paul and Bella. They're sort of like that crazy food combination that sounds hard to imagine but is so damn delicious. The sex is feral- there's no other word for it, and it's so damn good.
---
AH, Multi-Chap Complete, E/B/Emmmmmmett
---
Chele -
Emmett/Bella/Edward. Unf. If you're looking for intricate plot, this may not be the best choice, however it is fun, flirty, and seriously fuckhot.
Oh, while you're at it, the
Eurofornication
Contest has some steamy entries you should check out, while you're in the smutty European state of mind.
Jen -
I'm so glad that the hosts of the
Eurofornication
contest wrote this fic as an example for the contest. It's hilarious and sexy, and stars hot, Swiss Emmett. unf!
---
AH WIP E/B
---
Jess -
This came recommended to me as I have been wanting to read historical fic with lots of cherry poppin'... and this did not disappoint. at. all. This is a medieval story where Edward wins the right to choose the hand of any maid in Aro's kingdom. Pushing aside what is expected, he chooses Bella... a handmaid. So begins the journey of their relationship to know each other, grow in their intimacy... you get the idea. This most recent chapter involved intense, rough wall sex in a stable after Edward removes his armor... just unf!
---
AH WIP E/B with hints of Carlisle
---
Jess
So, after reading
If Only
I decided I should see what other goodies
sadtomato
had up her sleeve. Sweet mother of mercy, this story had me panting... literally... as we watch Edward and Bella, a married couple, learn to explore their D/s needs under the guidance of Carlisle, a long time Dom. This story is so freaking hawt, I seriously do not have words. Go read this... like now.
Jen -
Edward and Bella have had a challenging time of it the last few chapters, balancing their new interest in Dom/sub play with the rest of their lives. What better way to reconnect after a taxing session in Carlisle's playroom than some sweet, hot loving in their own bed, followed by falling asleep in one another's arms?
Chele -
While I adore E/B's cuteness in this exploration, I have to give it up for hot Dom Carlisle. There is just something about his sureness and maturity that lights me on fire. His capacity for forgiveness and understanding, while still maintaining the dominant role is perfect. Love this story.
---
AH, WIP, E/B
---
Liz -
I love this fic beyond measure, and hate to see it now winding down to the last few chapters. The UST finally bubbled over in ch16, and WOW was it worth the wait. Any fic that includes descriptions like this is A++ in my UNF book: "No words, just ragged breaths, all uneven and deep and hot. No conversation, just the way our bodies move together, and the sound of skin sliding against skin, each soft kiss melting into another" Go, read, and fall in love with StarsWard.
Emmy -
This story makes me ridic happy. I love love love love how Edward and Bella have reached an easy, playful stage with one another in their relationship. Edward is dreamy in this chapter in how he looks out for and takes after Bella. Oh and dry humping ftmfw!
---
AH, WIP, slash, J/E
---
Jen -
This has a hilarious premise--bff's Bella and Jasper make a pact that if they don't have sex with someone else by the end of the school year they'll do it with each other. One minor problem: Jasper's gay, hasn't told Bella, and on the first day of school both they both develop a crush on Edward. All manner of hijinks ensue as Jasper gets himself a beard, kisses a boy he's not interested in, and somehow finds himself involved with a giant pink dildo. There've been some steamy kisses and a few hot wank sessions. Looking forward to seeing where this goes.
Emmy -
A few of the girlies have been raving about this fic. Its SO on my to be done list, as high priority! Sounds fabbio!
---
AH, WIP, E/B
---
Jen -
When
Yogagal
mentioned
Rubbish
on Twitter she described it as 'a fic about Garbageward and Hookerella.' I couldn't quite wrap my head around that, so I checked out the first chapter. Love it. It's hilarious, it's smutty, and
Belladonnacullen
posts short chapters very frequently.
---
AH, O/S, Jake/Caius
---
Chele -
I'm such a sucker for non-canon, and the idea of Jacob and Caius sets my pervy heart on fire. This little one-shot took a prize in the behind-the lyrics contest, and it was most deserved. What a unique concept, and a pairing that knocked my socks off.
---
AU, O/S, Carlisle
---
Jen -
What happens if Carlisle indulges in a fantasy about Bella? I'm not going to tell you the fab ending to this short little o/s, but I will tell you that it's fuckhot.
Chele -
Why oh why did I not have Zoya Zalan on author alert? She makes such good Carlisle. I will be rectifying that oversight post haste. Unf.
Jess -
I haven't had a good Carlisle/Bella fix in a while, so this was right up my alley. So freaking hot.
---
AH, E/B/J, WIP
---
Jen -
Edward and Bella are serving detention and are getting punished by Mr.Whitlock in the playroom. 'nuff said.
Emmy -
Yeah this story is well hot. There is potential for a tremble of angst here, as perhaps Jasper are not equal or entirely honest in their feelings for their boss Bella. But there are some intense and steamy shenanigans in this tale!
---
AH O/S E/B
---
Emmy -
So Emmy is total fail on this fic, I am WAY behind the party here! But I stumbled upon this fic the other day when on the train and gagging for an update to read ***shakes fist at fecking FF.Net fail***. But I am so glad I did. This was smutty fun but with an edge, as Bella and Edward are not each others. Instead Edward is dating Bella's best mate! Oooops. They really should dally in public then should they? Partic in school, no?
---
AU WIP Complete E/B
---
Emmy -
Wow in this final chapter of
Warmth
(
KatieBelleCullen
's Missing Moments from Breaking Dawn) we get a beautiful conclusion to a wonderful look at important moments for Edward and Bella.
KatieBelleCullen
has always focused more on the ermmmm naughtier or more adult interactions in this tale, although she has featured a couple of their angstier, more bittersweet unions too. In this final chapter, we see Bella use her newly strengthened shield to show Edward just what it was she dreamed about that frustrated night on their honeymoon that led to him crack and finally show her again just what form his physical need for her took..... rarrrrr
---
AH WIP Angsty E/B
---
Emmmmy -
Finally, finally, finally, finally, finally, finally, FINALLY. Finally, finally, finally, finally, finally, finally, finally, finally, finally, finally, finally, finally, , finally, finally, finally, finally, finally, finally, finally, finally, finally, finally, finally, finally, finally, finally, finally, finally, finally, finally, finally, finally, FINALLY! Gah this chapter was SO well done. Yes there is still so much to be resolved. But oh such sweet reunion, such sweet connection and declarations of love for these two. They are where they belong, back with one another. Well and truly as one. Wonderful stuff.
Liz -
Ohhh this story owns me. This chapter was a long time coming, and so absolutely perfect. Hot and tender and sweet and amazing. The timing felt absolutely real after what these two have been through together.