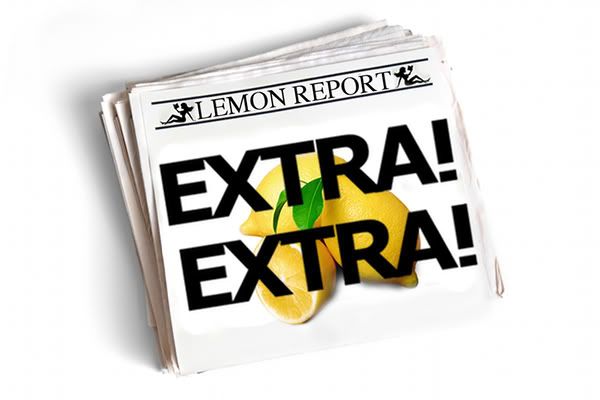 The Lemon Report - Fancy finding out what is on the FF bookshelves of the Pervy Girls of the PPSS? The lemon report lets you know our personal favourite updates of the week, and why you should give the fic a try.... It's a great place to trawl for new recc's and don't forget to share your favourite update with us by leaving us a comment.
Acronym Guide
AU - Alternate Universe
AH - All Human
WIP - Work in Progress
O/S - One Shot
OOC - Out of Character
WP - Wussperv
Slash/Femslash - Features homosexual characters and romance.
---
AH, OS, Femslash, Rosalie/Siobhan
---
Chele -
"I miss the way a girl kisses, the way they smell, and I especially miss the way they touch." From the moment I read the summary for this O/s, I was in love. It struck such a deep chord with me, and spoke to a quiet, unattended to place in my heart. When I read it I loved it even more. While the story is one of simple attraction between two women with not-so-simple pasts, the passion between these women is complex, stunning and real. Rose and Siobhan made me swoon and ache with want in equal measure.
Jeanne -
One of the few things that I expect when I open a fan fiction story is to feel like I'm reading an actually printed novel. There is a tone, and atmosphere that
Fiberkitty
brings to
The Rose and the Gypsy Queen
that makes it feel like it is part of a much larger story. That is not to say that it felt abbreviated in any manner. Rather that as you learn more about Rose, her agent Felix (my personal favorite) and Siobhan, you begin to wish you could draw out the story. Not to relive the beautiful detail romantic and deeply sensual moments of the story, but to know how the love and desire between these very unique and wonderfully developed characters blossoms over time. This is truly a wonderful example of how fan fiction can surpass mainstream (printed) fiction.
Jen -
This entry from For the Love of Women is absolutely gorgeous and sensuous.
---
AH, WIP, Slash, Ed/Jake
---
Jeanne -
I can't say much about this fic, as I was a proof reader, but I feel like I should take a moment to squee. It is so awesome to see talented writers tackling the complicated dynamics of sexuality. Not to mention doing it with my favorite slash pairing. Also,
sadtomato
has committed to updating TWICE A WEEK!
Jess -
I wish I had words to describe how hot this little jewel is! A gay Jake and a straight Edward as roommates, a what strikes me as flamboyantly gay Seth with his sassy cocktail, and a voyeur's paradise. Just... thank goodness this is only the beginning of a short a multi-chapter fic. I have so many questions... why Edward? Was it on purpose? Do you get off to the idea of Jake watching? Just... yeah, go read this.
Jen -
This is crazy hot; I just can't help but wonder what the hell Edward is trying to do to his roommate and how long it will take for Jake to... blow. Yeah, I went there.
Chele -
My inner voyeur is screaming in appreciation. I have her trapped in my pants. Unf.
Emmy -
Feck me! I don't think this fiction could get any more scorchio! It could and does? Well knock me down with a feather and call me Torquil. Just read this. If you have
any
fondness for or any kind of slight secret fantasies about seeing two blokes go at it. Read this. If you are slash mad. Read this. If hot blokes turn you on. Read this. Oh for fecks sake. JUST READ IT!!!!!!!!!!!!!!!!!!!!!!!!!!!!!!!!! Please?
---
AH, WIP, Bella/Carlisle
---
Chele -
This story continues to own me hard. The lyrical nature of the writing captures so well Bella's young, artistic inner monologue and does such a good job of expressing the intensity of emotion that is present between our lovers. Bella and Carlisle are rocketing toward the heights of erotic pleasure this chapter with some what may very well be the most lyrically written hand job of all time. I want to hold my breath until this updates again in hopes that it will happen sooner. (Pssssst,
Please
let them fuck. Someday.)
Jen -
The UST in this story is so intense that if you held a match anywhere in the vicinity of Carlisle and Bella the entire town of Forks would be blown to smithereens. They moved past the intense, secret kisses of chapters past, and the result will set your pants on fire.
Jess -
I have been in love with this story since I first read it, and I adore this Carlisle/Bella. More. Please. That is all.
---
AU, O/S, Angela/Embry
---
Jen -
I neeeeed more Angela. I want more Embry. Together, in this AU o/s they are heaven. So hot, so much fun.
Chele -
The only thing I love more than a good AU, is a fuckawesome AU written by a talented author about two completely under-explored characters in which they have steaming-hot sex. I LOVE AU ANGELA / EMBRY SO MUCH.
Jess -
I would never have considered this pairing... but it just works so freaking well! Library sexy times between a somewhat timid Angela with a hint of spunk (no, not that kind...) and an oh so hot Embry... yum! I could so go for more of this little story.
Teal -
I am of the belief that Angela is a stone cold fox in dire need of a good lay whenever possible, and I should have expected
MeraNaamJoker
to give it so good. The interaction between the characters was sweet, funny, and oh yeah, totally fucking hot. As long as you're not a hardcore Angela/Ben fanatic, READ THIS. Guh. So yummy.
---
AU, O/S, Jake/Jessica
---
Jeanne -
I was first drawn to this fic by the unconventional (even by my standards) non-canon pairing. Jessica and Jacob seem so oddly matched, but
Jacina night feather
skillfully weaves a tale where these two strike up a friendship, that eventually becomes more. Jessica is bitter, and bitchy as ever, but here we kind of love her for it. Through her eyes we see a broken and wounded Jacob, a boy in the body of a man. I love the realism of the sex, and the emotions. This story is now on my top list of all time favs.
Chele -
This O/S gave an unprecedented level of depth and complexity to Jessica's character, and proposed a pairing which I would never have seen coming, and made me totally believe it. In short: It was awesome.
Jess -
I echo Chele's comments. I've never really read anything about Jessica, and I found it really interesting and exactly what I thought about her in my own head... except more vulnerable and sad. I loved the journey that was taken here and how it was told. Just a really great little o/s.
Trin -
I was intrigued when I saw Jeanne rec this. I am a WussPerv through and through, but that really only pertains to E/B. I will happily pair Jake with anyone OTHER than Renessmee ICK ICK ICK! This O/S is very well written and gives me such insight to Jessica Stanley as a real person, not this villainized character that she seems to constantly be written as. It's a short read, and completely worth your time.
---
AH, O/S Carlise/Everyone
---
Chele -
Carlisle is a total slut and fucks his way through nearly every woman he encounters, except his wife, to whom he makes passionate love. Totally smoking-hot smut-fest. Not to be missed.
Jen -
This is hot, ya'll. It's definitely on the repeat reads list.
Teal -
WUT? Carlisle fucks everyone? Slap a sign in the front yard, I'm sold.
---
and
A/H, O/S, Garrett/Kate/Jasper
---
Chele -
So many of the
High Times Contest
entries were fabulous but this one really stood out for me in the way it took me completely out of my head and put me in the story.
winterstale
and
Viola Cornuta
take us back to a time when free love and open minds were more than historical buzzwords, but were the fervent beliefs of an impassioned youth.
This story may have taken second place in the
High Times Contest
, but it's taken first place in the contest to make me want to turn back time and have a mind-blowingly awesome sexual and metaphysical experience with two musicians after a pop music festival.
Teal -
Can I get a GUH up in here? It's almost like these authors pulled a "Being John Malkovich" and hung out in my brain (and Chele's) for a while before writing this contest entry. Garrett? Jasper? Peter? Threesomes? I die and I die and I die. And then I read again.
Jen -
Such a fun o/s. Seriously- like Teal says- Garrett, Jasper, Peter in the same o/s?! Heaven on earth. The authors have crammed a lot of characters in here, but none of them are slighted, and each supporting character is intriguing in their own right. And threesomes. How can it not be full of win?
---
AH, WIP, E/B
---
Jess -
FINALLY, the much awaited BJ! This chapter, like all of the previous ones, is witty as hell, and had me cracking up. Best post-BJ line ever, "Democrats are always difficult to swallow," Isabella quips, licking her lips."
Jen -
I never fail to enjoy the snarky banter that
Belladonna1472
writes in TCC, and this chapter was no exception. I had actually forgotten Isabella's rule about blow jobs and cackled as Edward finally got to release some tension.
---
AH, O/S, E/B
---
Jess -
This was the first of many entries I read for the Fic a Pic contest. I absolutely ADORED this entry. It was raw and real and written in the most beautiful way. I was literally drawn in from the very first sentence and so sad when it was over. Just perfect... it was the winner of the public vote.
---
AH O/S James/Rosalie
---
Emmy -
I found this fic by accident after I read something excellent but as yet, unposted by http://www.fanfiction.net/u/2393991/DarkBlueBella>DarkBlueBella the other day. I was immediately intrigued by this pairing. Thanks to Jeanne, I have a soft, warm spot for James fics and thought he could work well with Rosalie.... This was an easy fun read - Am I a pig if I say I want more sex between them? I love the wee twist to the ending and how canon Rosalie appeared through this... I can really see the merits of James/Rosalie fics now... Jeanne what have you done to me? ;)
Jess -
I read this mostly out of pairing curiosity. It was a fun read... and had a little twist at the end that had me cackling!
---
AH O/S E/B
---
Emmy -
I CANNOT RECC THIS FIC ENOUGH. CANNOT. Its intense, SENSUOUS and just BEAUTIFUL. The quality of the writing is incredible - as you get sucked completely into this heady and heavy world that Edward creates for Bella. This is the tale of love and lust between two who know and trust one-another without question. I wish I could convey just how much you get drawn into the scene that Edward constructs for Bella - the intensity of it takes my breath away and my hairs stand on end. This could be an AU fic, the brilliance of this Edward, his understanding and passion for Bella. Gah. Just read it.
Jess -
I read this after reading Emmy's glowing rec, and I could not agree more! This is so intense and beautiful and different than anything else I've read.... and in the end, left me surprised. The whole thing had somewhat of a voyeur feel... unf!
---
AU, Drabbles, complete, Laurent/James
---
Jeanne -
Oh Jasper My Jasper
, how do I begin to praise your courage, talent and genius?
The Big Top
isn't just a character exploration through a series of drabbles, or even wonderful intricate Alternate Universe exploration of the dynamic between James, Laurent and Victoria. It is a beautiful, straight forward story of love and friendship that doesn't waste a single word. This writing is tight and yet magical. The story is lush, and captures the setting better than most fics with ten times the word count. The same can be said for the sex scene which are sensual and breathtaking.
Jen -
This is a drabble story, told from Laurent's point of view. I absolutely adore the love story that develops between James and Laurent; I especially love what
Oh Jasper My Jasper
has done with James.
Chele -
This was so refreshing. Such a completely different perspective on the relationships between James/Laurent/ Victoria than I have become accustomed to. I was happy to get these updates in my inbox each day, but you don't need to wait. It's all there, and it's complete for your reading pleasure.
---
AH WIP E/B
---
Emmy -
This is one of those beautiful stories that makes my heart in turns ache or be glad, its a beautifully paced story full of real life, real situations (reality bites) and real love. This Edward melts my heart with how hard he fights for the little things and happiness in life. He also makes me swoon, as he is just adorable with and to Bella. Together this Edward and Bella make me so very happy and quite melty. The last few chapters have been quite monumental for this two, for various reasons, and this chapter is so for another reason. Possibly the most beautiful and emotional love scene between Edward and Bella I have read. Maybe its just because I think this Edward deserves a happy ever after more than most, and boy does he need the stress relief! Just a gorgeous, delicate story with real love and now includes real loving!
Jen -
There's not much to add to what Em says about this story. Bella has been there for Edward when he's needed someone to lean on, and he got to return the favor this chapter. The sweet, sweet loving was a bonus. So satisfying to see them really becoming a cohesive couple.
---
AH, WIP, E/B
---
Teal -
Ahhhhh!!!! Finally back together! I'm convinced that
Kassiah
's devotion to reading and rec'ing great fic has done her well as an author because all of the emotion ties, all of the longing, and each and every moment of the physical expressions of love/need/desire she creates are utterly perfect. And really, reunion sex in the meadow? Yes. Fucking. Please.
Jen -
Yessssss! The moment we've all been waiting for. In the meadow. There was much joy throughout the land when this chapter posted.
---
AH, WIP, E/B
---
Teal -
Copward, oh Copward, you wield your weapon so well. Figuratively
and
literally. The dry hump last week was amazing, but the real thing? Guh. Not only was it fuckhotamazyballs but it was also filled with a deep emotional connection that these two really needed to solidify their relationship. Desperate, needful sexytimes FTW!
Emmy -
I waxed lyrical about this fic last week - so you better be squealing with me now about this latest chapter!!! If not then hop-to-it chaps! No dilly dallying! This is a fabbio fic, and the intensity and the action is well building between them!!! Woah, **fans self** - this chapter is just unffftense and sweaty delish. I think I fancy her CopWard EVEN more after this zingy hot lemon delight of a chapter.
Jen -
As much as I love and read non-canon pairings, there are times when a nice E/B just hits the spot.
nerac's
Edwards are always completely swoon-worthy, and Copward is delish--quiet, a bit broody/broken, and freaking hot.
---
AH, O/S, E/B
---
Teal -
Chicklette
makes me squee. Normally, I covet her Jasper/Bella stories, but her E/B remind me of why I fell in love with those characters in the first place. This o/s starred a sexy, kind Edward and a sweet, inexperienced Bella, but in the end, I think that Edward experienced a few first with Bella as well, namely on the emotional side. The lemon was simple but perfect, blanketed by a starry night after a day of sun, great music, and happy-time drugs, I was completely taken back to my teenage years in this story.
Emmy -
This fic is just perfection. http://www.fanfiction.net/u/1976343/Chicklette>Chicklette nails it yet again... Bella is completely believable, and Edward is crumply-scrummy. I love how their sexing is intense and feels so private and heady, like you are wrapped up in their little starlit blanket bubble with them. Perfect.
Chele -
Agreed with all of the above. Loved this.
---
AH, WIP, Peter/Bella
---
Teal -
Oh hai thar, Peterella <3 I love Peter. Love love love him, and the characterization, the relationship, that
AccioBourbon
created in her original drabble series and carried on to this FGB multi-chap is soooooo wonderful. Peter is sexy, charming, sweet, and a bit of a trouble making, all of which combine so well into an irresistible character. The lovin' in this episode was short and sweet, but didn't lack in gratification at all. A hint of Dirty Talking Peter combined with love making . . . *dreamy sigh*
Jen -
ohhhhh, Peter. I fell in love with
AccioBourbon's
Peter as she was writing for the first Twi 25. He is truly a heart-throb: handsome, smart, knows how to treat a lady, and just an all around swoon inducing guy. The FGB continuation of Peter and Bella's relationship has only deepened my love for this pairing, especially as written here. I find just about everything Peter says and does to be insanely sexy; sex after Bella has given her ex hell is delicious.