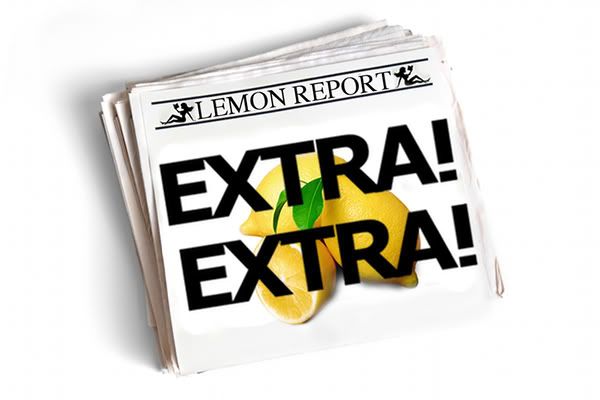 The Lemon Report - Fancy finding out what is on the FF bookshelves of the Pervy Girls of the PPSS? The lemon report lets you know our personal favourite updates of the week, and why you should give the fic a try.... It's a great place to trawl for new recc's and don't forget to share your favourite update with us by leaving us a comment.

In some cases, the Lemon Report may contain spoilers. Please read with caution.
Acronym Guide
AU - Alternate Universe
AH - All Human
WIP - Work in Progress
O/S - One Shot
OOC - Out of Character
WP - Wussperv
Slash/Femslash - Features homosexual characters and romance.
---
AH, O/S, E/B
---
Jess -
I love a good HEA, but sometimes HEAs aren't meant to be. That is the case in this absolutely stunning and beautifully written o/s by
yogacat
. This is the story of two people who meet while on business travel and who are instantly connected to each other. Both are attached to other people, and while I would never condone adultery in any form or fashion, the raw emotion and desperation between these two is simply too good not to mention here. The lemons are written so in the moment it's like you are there. WPs, even if you crave a HEA, I strongly urge you to read this. Simply one of the best one shots I've read in a long, long time.
---
AU, O/S, Embry/Angela
---
Chele -
ZOMGSOFUCKINGHOT. Preacher's daughter/reluctant librarian Angela, and roguish, playful, and persistent Embry. There are books, glasses, and practical jokes. Oh, and maybe even hot, frenzied library sex.
MeraNaamJoker
brings it again, infusing enough heat and personality into Angela and Embry that I truly wish they'd been the headlining characters. I am madly in love with these kids. I want them to have their own 63 chapter story.
Jen -
Ditto to all Chele's said. Especially the bit about 63 chapters. Sexy Angela, in all of her PK, glasses wearing glory is the pride of brainy girls past and present. Angela ♥ Embry forever!
Trin -
YESSSSS!!! I have always loved both of these "secondary characters" separately but HOLY SHIT...put them together and it's just too much. It was such a fun and hot read.
Teal -
MeraNaamJoker
is such a h00r =) Getting one Angela/Embry lovin'-in-the-library story was fantastic, but two?!?! Rawr. This version of Embry is cocky, and Angela has a bitchy, bad girl streak about her, and they are just so much fun to watch get down in dirty in the stacks.
Jess-
I echo EVERYTHING mah girls have already said! So much unf! This pairing is divine. Read it.
---
AH, WIP, Emmett/Kate
---
Jen -
An alert for a chapter or o/s from
winterstale
always feels like I've just received a much anticipated gift. This newest chapter of
The Garden
does not disappoint. Emmett is quite possibly the swooniest Emmett EVER, and Kate is just delightful.
Chele -
I've never been so happy for the loss of perfectly good china. When the plate hit the ground, my heart took to the sky, and my pants exploded.
---
AH, O/S (+ sequel), E/B Flangst
---
Emmy-
Well this is a very festive and wintry feeling story from the first chapter, as it was a O/S for Christmas. BUT the sequel (& concluding chapter!) is set at Easter, so brings us bang-up-to-date! Slightly shy VetWard tends to slightly lost Looking-For-A-New-Job-Journalist-Bella's horse.... And a helluva lot more happens. I've labelled this as Flangst, as in that it is fluffy angst - angst that gets you a bit fretful, surrounded by lovely warm sugar. I love how these two have written Edward. He's super cute and super decent. And his connection with Bella is a joy to read. I particularly like his jealously in Ch 2 and his indifference to his blonde bombshell intern. Just a lovely read. Quite an open end, I made up more of an ending for this two, I hope that the authors are perhaps tempted to give us a wee bitty more from them? (Pretty please?)
Jen -
I needed a little pick-me-up after chauffeuring my daughter to Brownies and back. These two hot chapters fit the bill perfectly. I'm having a bit of a love affair with ranches and horses, and though there aren't any cowboys here, this E/B hits the spot.
---
AH OOC WIP, Angsty, E/B (some non-canon pairings inc E & B)
---
Emmy-
FUCK ME! This chapter is hard. Oh so ruddy good, but bloody hard. Beautifully written. But the pain..... We all knew it was coming. But. But. I so hoped it wouldn't. I cannot tell you just how beautifully
Lola Pops
wrote this chapter. Particularly the most intense and heart breaking lemon I have read in AGES. GAH! FIIIIIIIIIIIIIIIIIIIIIX ITTTTTTTTTTTTTT PLLLLLLEEEEEEEEEEEAAAAAAAAAASSSSSSSEEEEEEEEEEE......
Jen -
This has the perfect blend of the burn of angst and the UNF of a true sexual connection.
Jess-
Unf and double unf! You know I can't resist the slow burn. Gah!
---
AH, O/S, ?/? [but I like it! ;) ]
---
Emmy -
You will have read this kind of story before. But this is done very very well. Two strangers at a bar.... They get busy (as it were). Delicious lemony action ensues... But who are our pair? …...
---
AH, O/S, E/B
---
Emmy -
It seems to be that I am loving on
Single Strand
something rotten at the mo. As I am always reccing her fics. But hey! If she keeps writing top-notch smutty fun? I am gonna keep reccing it!! Nuff said!! - Now like me you might know her best for her slashy delights... But this is a cracking E/B fic that had me hot under the collar and LOVING it! Uptight, SEXY, king of his domain, and his department, boss-man Edward, knows just how to trump all his employees at 'Words with Friends'. But who is the sexy young whipper-snapper who is playing him at his own game (and driving him insane with lust at the same time?)? It couldn't be anything to do with that sexy brunette working in his office giving him an inadvertent eyeful couldn't it?
---
AH, O/S, SLASH, Edward/Riley
---
Emmy -
This won the popular vote award in the
Eurofornication Contest
, but I only read it recently, so had to show it some love this week! It has my fave slash pairing of Edward/Riley ***swooooons**, so I just had to mention it! Our own lovely Liz, recc'd some of the contest entries already, but I hadn't had a chance to read any of them at that point! Anyways back to
Eat Laugh Fuck
! Can a drink with Paris Resident Riley convince traveller Edward that he needs to extend his stay in the beautiful city of Paris? If he did, what delights, travel, culinary and the other could he show Edward? Would one day ever be enough? There is something quite unique about this story, its narrative for one, but also the beautiful and hazy feel to the piece. We feel Edward's moods and shifting views, his changing perspective. We can also feel the sparkling chemistry between him and Riley, as Riley shows him what Paris is really about.
Liz -
I'm soo glad you enjoyed this one! I love love the beautiful use of out of the way places, and Riley's almost sinuous sensuality... such a hot o/s!
Jen -
I just love
Eat Laugh Fuck
. Riley. Edward. Paris. Oh my dog, the sex! Lots and lots of sex. Total party in your pants. In my imagination this thing between Edward and Riley doesn't end even if it is the end of Edward's time in Paris.
---
AH, WIP, SLASH Jasper/Edward (with others also).
---
Liz-
If you love slash and aren't reading this, I don't know what's wrong with you. This is a round-robin with each chapter written by one of 30 of the fandom's best slash writers, with no-holds barred and sizzling sexytimes in nearly every chapter.The most recent chapter, by Bbebar, left a few readers sad with the lingering presence of a little side action for Jasper, but it's so damn hot I don't think you'll mind.
---
AH, WIP, E/B
---
Teal -
Bella and Edward have come so far in this story, both literally and figuratively, but this most recent chapter was such an affirmation of their love. Things aren't perfect or even calm yet, but the hope for the future is there, and that's what warms the heart. Not to mention the fuckhot middle-of-the-night-gotta-have-you sexfest. YUM!