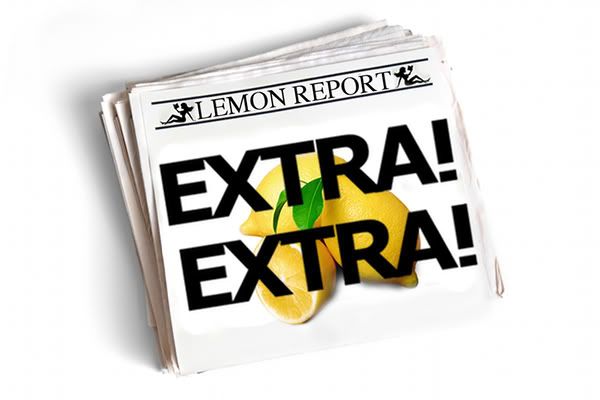 The Lemon Report - Fancy finding out what is on the FF bookshelves of the Pervy Girls of the PPSS? The lemon report lets you know our personal favourite updates of the week, and why you should give the fic a try.... It's a great place to trawl for new recc's and don't forget to share your favourite update with us by leaving us a comment.

In some cases, the Lemon Report may contain spoilers. Please read with caution.
Acronym Guide
AU - Alternate Universe
AH - All Human
WIP - Work in Progress
O/S - One Shot
OOC - Out of Character
WP - Wussperv
Slash/Femslash - Features homosexual characters and romance.
---
AH, WIP, E/B
---
Teal -
As always, the lemons in this fic are hot, but this week, they came on the cusp of a major breakthrough in Edward and Bella's relationship, making their time together so much more special, both for them, and for the reader. Lovely!
Chele -
These have been a few very tense chapters, but this most recent one gave us so much illumination, and I think, a far greater level of connection between Edward and Bella, both sexually, and intimately. People who are communication with their mouths, bodies and souls are soooo fucking sexy.
Jen -
For all of Edward's magazine-based knowledge of how to please a woman in bed, sometimes you just have to let the heart and body guide you. Bella leads, Edward follows, and it's beautiful and moving.
Emmy -
Jesus. Will I never stop singing the praises of this fic? Um highly unlikely. A piece of brilliance yet again. Beautiful writing and scenes that touch and move me.
Trin -
This was such a moving chapter. To see them moving closer together in such a way was really beautiful. So much love for this fic.
---
AU, O/S. Slash, Bumblebee/Sam - Transformers
---
Chele -
Sam knows that he loves his car, but he's a little unsure about the pretty blond boy who seems to be stalking him wherever he drives it. Tucked snug in his garage, and nestled in the Camaro's plush leather backseat, he tries to get a little personal love time in, but is startled when someone arrives to give him a hand. This is an awesome, red-hot wank.
Can you catch the subtle Edward Cullen nod in this? Cause I totally did and it made me love it even more.
Teal -
It would be a complete and utter shame if I didn't throw myself down on the Lemon Report and roll all over this o/s...considering that the fuckawesome
Keelywolfe
wrote it on a plot bunny from meeeeee!!! After her update of another Sam/Bumblebee fic (see review below), I somewhat begged for this. Like the sweetheart she is, she delivered! Outside the context of understanding the 2007 Transformers movie, Sam's creepy stalker guy would have been creepier,but knowing exactly who it is watching him makes the unexpected interaction between them even hotter. Yet again, all slash lovers who are also Transformers nerds need to be reading these fics!
---
AH O/T Edward/Emmett Slash
---
Jess -
I have missed these boys so freaking much. This was a very steamy smuttake that takes place on their trip to Vegas that didn't make the cut. All I need to say is mirrors. Unf!
Jen -
Vegas with Emmett & Edward is my happy place. I don't want them to leave. Ever.
---
AH, WIP, Slash, E/J
---
Jen -
All kinds of v-cards are getting punched. Will Jasper have to fulfill any of the provisions of the pacts he made? Or will there be filling of another kind for our sometimes bumbling hero? You can find out if you run to read this funny, sweet & sexy story.
---
AH, WIP, E/B
---
Teal -
Things are starting to get a little more serious in this "just for fun" arrangement Edward and Bella have going. Real life issues are slowly working there way into the dynamic they share, and it seems that Edward might be breaking the rules he set in place for them. Even though we don't get to see Bella's perspective directly, she appears to be experiencing something similar. In the meantime, the lemons keep coming (pun intended), but I have to wonder if these two realize how their physical relationship just keeps drawing them closer and closer emotionally.
Emmy
Just more gorgeous writing from
spanglemaker9
! I adore Edward's confusion about .. well everything! Including Bella. I love knowing more about him, hearing his backstory and seeing just how lost he is. And as ever I adore the chemistry
spanglemaker9
creates between Bella and Edward.
Jen -
Bella has been the pursued in this story; it was fun to see her be the aggressor with Edward this time. Yum!
---
AU, WIP, Bella/Paul
---
Chele -
After the last several chapters of nail biting action, and heart-clenchy angst, we have a bit of home and healing, and the physical connection that we've all been aching for them to have again. So good to have Bella back and reconnecting with the pack. I continue to love the way that
Taoist Elf
incorporates the pack bonds and physicalities, and can't wait to see what she does with the revelation at the end of this chapter.
Jen -
I just love this story.
Taoist Elf
does both dramatic tension and sexy loving so well, and I just adore the depth she's given to the concept of imprinting.
---
AH, WIP (Drabbly), SLASH Ed/Carlisle
---
Emmy
This fic might not be everyone's cup of tea, as it has DaddyKink and an age difference between older doctor Carlisle and younger student Edward. Its a super quick read thus far, only 3 short chapters..
Aavery
writes in a great style. We are getting glimpses of Edward and Carlisle's life's together. The latest chapter hinted at how they met and what drew them together. This pairing together is always hot, and I love how this fic is unfolding. Very classily done, for a kinky topic.
Chele -
This story makes me feel just a little bit naughty for reading it. I like feeling naughty.
Jen -
I am stupid excited over this fic and it's just getting started.
**SPOILERY**
BTW - Carlisle is not at all predatory in this fic. Edward appears to be the one looking for an older man.
---
AH, Novella Complete, Angstyish, E/B
---
Emmy -
This is a delightful novella, that at times was sad and painful (with a couple of harrowing scenes) but illustrates the beauty and bond of true love. Edward and Bella have had some hard knocks and need to rebuild, how can they? Will they? Some honest and bloody hot lemons, and honest emotions. The characters and their pain feels very genuine to me. A great wee read. Gorgeous.
---
AH, WIP, SLASH, E/J
---
Emmy-
This was a find this week. Edward and Jasper - from two VERY different worlds- meet in Vegas when both are there for work conferences. Hot sex ensues, so does some miscommunication and blunders. What's next for this sexy pair? Edward is due to fly home, but are they really done with one another? We are only 4 chapters into this story, so I ruddy hope not! Worth picking up now, when it's super quick to catch up on!
---
Transformers AU, WIP, Sam/Bumblebee
---
Teal -
Thanks to
Keelywolfe
, there's always one mech or another up to no good, and despite the serious story arc taking place right now, she still managed to fit in a couple goodies. The wank in this chapter was so freaking hot, I find myself wishing I had my very own Bumblebee to writhe around on. UNF.
Chele -
I felt so naughty watching the wank, but not to be forgotten is the wicked chemistry between Sam and Sideswipe. I love that the relationship between Sam and Bee is so strong that a little tongue between friends going off into battle is no big. Unf.
Jen -
I've never even
seen
Transformers, but the way Teal and Chele talk about this fic makes me want to read it!
---
AH, WIP, Edward/Jasper/Bella (this chapter)
---
Jen -
Spontaneous 3-some FTW! This is an alternate reality of
MizzHyde's
Since
. Bella returns to the apartment to find Jasper all wrapped up in Edward, asleep in the guest room. She's not angry, she wants in on the action. And what yummy action it is. UNF!
Chele -
I am desperately remiss in not having
MizzHyde's
on alert. I will be reading this RTFN.