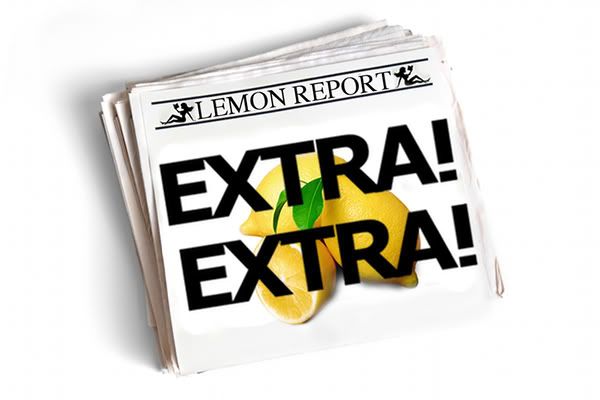 The Lemon Report - Fancy finding out what is on the FF bookshelves of the Pervy Girls of the PPSS? The lemon report lets you know our personal favourite updates of the week, and why you should give the fic a try.... It's a great place to trawl for new recc's and don't forget to share your favourite update with us by leaving us a comment.

In some cases, the Lemon Report may contain spoilers. Please read with caution.

Acronym Guide
AU - Alternate Universe
AH - All Human
WIP - Work in Progress
O/S - One Shot
OOC - Out of Character
WP - Wussperv
Slash/Femslash - Features homosexual characters and romance.
---
AH, O/S, E/B
---
Jess-
There's something really powerful about reading through heartbreak and relationships gone bad over a single night's misunderstanding in flashback form.
Suzie55
shares the beautiful story of Edward and Bella who eventually find their way back to each other when no one else compares. Really beautiful.
Trin-
This O/S, to me, is about redemption and hurt and how in a relationship you can work through all these things when you know you truly love the other person. The flashback format of the one night really helps you see the entire story and ultimately the way back to one another. It was just so lovely.
---
AU, O/S, Leah/Charlie
---
Teal -
I'm on a Charlie kick, friends, and this one was certainly a fun treat to stumble across. The pretense is minimal and the attraction and smut are high, which makes this a fun, indulgent little fic to enjoy. I will always be down for Chief Swan getting down and dirty. And bossy. Yes fucking please.
Chele -
It is my humble opinion that Charlie isn't getting laid nearly enough as his mustache warrants. Thank goodness
by
restlessxpen
and
BellaFlan
have given us this little bit of smutty indulgence in attempt to right that vicious wrong. Unf.
Jess -
I read this after Teal started sharing all these Charlie fics in one of our many threads. I am still all sorts of conflicted but I have to say this was just hot! Oh, the power of the imprint.
---
AH, WIP, E/B
---
Jess-
So, I didn't get a chance to read this before last week's LR. Makeup sexy times on the football field. Need I say more?! This is a voyeur's paradise.
---
AU, O/S, Bella/Jacob
---
Chele -
Apparently, I am the last Bella/Jacob shipper to have found this awesome oneshot, but in case there are others out there, I have to shout from the rooftops my absolute enamoring of it. It's a New Moon AU; when Bella asks Jake to run away with her to escape what binds him and forces him to keep secrets from her, he agrees. The resulting journey is painful, spectacular, and eventually, healing. The emotions expressed are raw, and as Bella and Jacob get far enough away from Washington, and their pasts, they are able to let their emotions and attractions take a natural course under the most unnatural of circumstances. It's beautiful and I love it.
Jess -
How did I not know about this?!!!!
Jen -
This is just perfection. So glad Chele stuck it in here. I need a lazy Sunday so I can read everything on
Audreyii_fic's
profile.
---
AH, O/S, E/B
---
Jess-
Talk about sloooooow burn... good mercy so freaking hot! Emmy rec'd this last week and to be honest, I had hoped to read it then, too, but I'm glad I had the time to take my time with this. Dirty Words with Friends and office fantasies.... kill me dead.
Trin-
I too read this from Emmy's rec and unfity unf unf! I love all online flirtations and the way it unfolds in this story is both sweet and oh so sexy!
Emmy -
You're welcome ladies! You can thank me 'properly' later! lol. Scorchio isn't it?
---
AH, WIP, E/J
---
Jen -
Edward is a type-A workaholic overachiever who believes he's asexual. He moves to Forks to see if he can find room in his life for something beyond work. Instead of finding a hobby, he finds Jasper, living in the home he thought he'd be living in on his own. Things get interesting when Edward starts to think maybe he's not asexual after all. His early explorations are endearing and citrusy, however I'm fairly certain it won't all be smooth sailing for these two.
Emmy -
oooh Jen, you have me all intrigued.... **Scurries off to read**
Jess -
As if I need another slash fic to add to my list... gah I can't hardly bear heart hurts for boys. I don't even know why... but I am def intrigued! ::runs after Emmy::
---
AH, WIP, E/B
---
Jess-
I love seeing people finally come face to face with their grief and work through it. This chapter was unbelievably well done - raw and real and so very healing. Watching Edward and Bella get lost in this lemon was amazing. I loved how scattered and intense it felt. It was descriptive in a very undescriptive way... allowing my mind to fill in the bits and pieces and I freaking LOVE that! So so good!
Liz -
Ohh yes - this is such a powerful, well-written story, and the intimacy she shares with the reader really shows the development of their relationship. Her lemons are more than just smut, although i find her style of writing OFF THE CHARTS HOT. There's so much more to them.
---
AH, O/S, Jasper/Carlisle
---
Teal -
What's that you say? You've been looking for some fun spank!fic? Well, come along, pervlings, I have a little taste for you. Jasper is sexy as a rockstar drummer, and Carlisle is appealing in his own right as the older, educated, professional who gets tangled up with him. Two hot blond men? Why isn't this real so I can film it? When Jasper upsets Carlisle, the dirty talk and sexual threats ensue, and back home, Jasper is getting his ass pinked . . . and loving every minute of it. The story is a delicious blend of sexy, sweet, and fuckhot, and definitely worth your time!
Liz -
oh DAMN i need to read this! brb..... (later) HOLY YES! I have no words, except maybe Spank me, Daddy!! UNF.
Emmy -
When I read Teal's review, I just had to double check that I had read this, I had, but once I had reopened the story up, I just HAD to reread all the way to the end! Cor blimey, what a scorcher this fic is! Yum yum yum.
Jen -
I'm so glad you guys read this- I *love* this o/s; it's a mainstay on my re-read list.
---
AH, WIP, E/B
---
Jess -
I am devastated for Bella and the deep hurt she felt at Mike's hands. Watching the way they are helping to heal each other is just amazing and beautiful. Love, love, love this story.
Teal -
While this chapter was a bucket of angst as Bella dealt with the darkest impacts of her previous relationship,
LizLemonBennett
somehow managed to make those moments of sexy times so stinking hot. Honestly, I was torn as I read because it was so UNF-worthy, but then in the next paragraph Bella was falling to pieces. In the end, I settled with really love this update. They both needed this, and it seems that it was indeed a "beauty in the breakdown" situation. Kudos to Liz for this one!
Chele -
With their relationship built on such a shaky foundation, there was bound to come a time when things started to get painfully real. This is that time. It's stunning to see these fragile people holding each other up, and the way
LizLemonBennett
chooses to have Bella and Edward exorcise their demons while exploring each other physically is a beautiful tenuous tightrope.
Emmy -
Woah. Intense stuff. The way Liz writes kills me. The layers revealed or hinted at in this chapter? Meaningful and intense. Could I love this Edward any more than I do? Probs not. He's the perfect mix of adorable and sexy (& vulnerable). A brilliant chapter that reveals the beauty in the fragility of life and love.
Liz -
I agree completely - this was such an intense chapter, finally getting to the core of Bella's issues, beyond the shock of sudden loss, but deep into her relationship past with Mike. Edward is just about the most clone-able male ever written. So totally sexy in a smart, sensitive way. I love his internal dialogue throughout, as he struggles to balance his sex drive and Bella's well-being, especially as he starts to fully understand what she's been through.
---
AH, WIP, E/J
---
Jen -
In the o/s
I'm Not Okay
Edward goes to visit big brother Emmett at college and ends up having a
really good
time with Jasper.
mrsbeas
tells the story from Jasper's pov in
I'm Your Toy
, and because it is multiple chapters she can go a bit more in depth with what happens between them, both at UDub and a few weeks later, at the Cullen home over Thanksgiving. Sweet and fluffy boylove.
Emmy -
Ooooh Jen, another one for me to ahem read now...
---
AH, WIP, C/B
---
Jen -
I'll never be disappointed when
Zoya Zalan
shows up in my box. It's going to be dirty, hot, and hopefully, just a little bit wrong.
Playing With Fire
is all three. I thought it was just going to be a o/s but no, there's more! Lucky us. Oh, and
Zoya Zalan
was inspired by Emmy's
Pervy Picspirations
post.
Chele -
This was so hot, and so very very wrong. Carlisle lusting over his step-son's bride? What a naughty boy.
---
AH, WIP, Odds & Sods (outtakes) E/J
---
Emmy -
This latest outtake from
PerfectlyPersuasive
's WIP story
A Tangible Dichotomy
is good clean (well dirty) fun. As Jasper takes Edward on a wee surprise shopping trip... To a sex store... Lots of giggles and some sexy toy/ass play to boot?! Yes please.
---
AH/OOC, O/S, (mild)BD/SM, E/B
---
Emmy -
I stumbled upon this one-shot the other day. The author has put a ton of warnings over this delish wee one-shot, but I think anyone reading it knows that this fic is just a slice of naughty indulgence, and that exploring fantasies and desires with someone you trust and really fucking want can be a fucking fabbio thing. Bella is NOT interested in Edward... Edward, her boss at the treatment centre where Bella interns, is very interested in Bella. But Bella has certain flavours she enjoys, despite what her attitude and mouth suggest to the contrary... Will Edward get in touch with his own hidden passions? I love how independent and certain this Bella is, how unashamed of how she views and enjoys sex she is. A great, sexy one-shot with lots of fire and interest.
---
AH, O/S, Jasper/Maria
---
Chele -
Jasper is a businessman training in all of the wickedness of making his way to the top. What he finds in Maria is a comrade in arms, and a passionate fire. An entry in the Un-happily Ever After Contest, you can assume that there's gonna be some angst. In this case, a lot. This is wicked hot, and made my Jasper-loving heart ache.
Teal -
JASMAR???? Okay, so I haven't read this one, but I'm TOTALLY going to now. Right after I SPANK Chele for not telling me about this fic sooner!!!
---
AH, Complete B/E
---
Liz -
I was insanely sad to see
OLU
come to an end. This has been a powerful story of personal growth and empowerment, and
TLIG
did an amazing job of giving us an Edward I won't soon forget. The final chapter and epilogue are passionate and such a beautiful tribute to the journey Edward has taken and the bond he has with Bella. Their final love scenes will go down as some of my all time favorites in this fandom.
---
AH, Complete B/E
---
Jess -
This series of drabbles, 16 to be exact - was a light, fluffy read and just warmed my heart. It's just made of win. Read it.