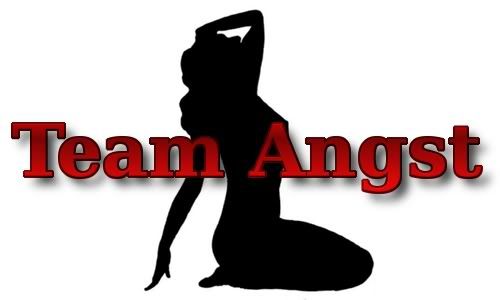 Team Angst is a constantly changing team, depending on who can handle the angst levels of the Team Angst pick. Only the bravest (or craziest) Pervs tackle the tears and pain to bring you the best angst and heartfail that fan fic has to offer. Non-canon pairings? No problem. Cheating and Break-ups? No sweat. Character death? Bring it! It's all in a days work for Team Angst. So if you think you're tough enough put on your big girl pants, take a seat and join us for the Team Angst Pick.
---
The Team Angst Pick is...

Title:
Between the Devil and the Deep Blue Sea
Author:
jennde
Chapters:
9
Words:
24,093
Reviews:
289
Summary:
What do you do when the thing you want most is the one thing you can't have?
---
Jess -
It's not often i start a story where I'm pretty sure there's not going to be a HEA, but with all of
jennde's
warnings and the way this story is playing out, I am almost certain this is where it's heading.
Between the Devil and the Deep Blue Sea
is the story of bad timing and the pain of unrequited love. Edward, a college student, finds himself deeply infatuated and in some ways practically consumed with Bella, his father's girlfriend and eventual wife. Edward struggles to reconcile his feelings amidst the shame of wanting her - the one woman he can't have - but finds it increasingly difficult to get her out of his head. His attempts to be irresponsible, to be with other girls, and to sleep away the hours fall flat. And he is still left wanting, aching.
We are privy to Edward's internal thoughts as he
tries to process and forget. There are parties, times with his mom, and even time with several girls, but in the end nothing helps. Even when he thinks he can take it, he is slapped back to reality with just a few words from her.
Setting aside the heartache for a second, let me tell you, there is a wank scene in here that will literally leaving you breathless. It was probably one of the hottest scenes I've ever read. It's full of forbidden thoughts, and with Bella just outside his door it's all the more tragic because you know nothing is every going to happen between them.
I closed my bedroom door and sank to the floor with my back to it. I ran a hand through my hair and adjusted myself; my hard-on making me uncomfortable. I sat there for a few minutes trying to get it under control but it was useless. Her smell and her voice and the heat of her body were imprinted on my brain. I was reeling from our conversation, from everything said and unsaid, and from being so close to her.

I touched myself through my jeans and threw my head back, groaning. I was so hard it was painful and almost against my will, I unbuttoned my pants and lowered them, along with my boxers, just enough to free my rock hard erection.

I took myself in my hand and moaned loudly.

That was when I heard a gasp outside my door.

Bella.
I think the thing that strikes me the most
about this short story is just how truly sad it really is. There is no villain. There is no major situation that brings them to a precipice or some life altering decision that has to be made. It's simply a terribly sad situation where one boy meets one girl a little too late.
With the latest update, it looks like things are getting ready to go from tense to much, much worse. I am on pins and needles desperately waiting for the next update... which is almost the last one. This story will suck you in from the very first word and will keep you in its tight evil clutches until it spits you out at the end of what will be all of its 11 chapters.
Seriously, read this. It's amazingly well written and absolutely beautiful.
Jeanne -
One of the things that I love the most about
Between the Devil and the Deep Blue Sea
is how real it feels. Edward's struggle, Carlisle's intensity and Bella's confusion. You don't just read this story you experience it.
So often in stories like this it either is treated as a smutty taboo, with tons of sex and little plot development. Or it's just angst for the sake of angst. However,
jennde
takes this story to the next level. She gives us deliciously slow build of sexual tension, and developed characters to explain how a tragic situation can actually occur in real life.
No matter where this story goes someone, and most likely everyone, is going to get hurt. This family is on the brink of being torn apart and not just because of lust and attraction, but because of the very realistic flaws deeply seeded within these people. Carlisle's loneliness, Edward's tenacity and Bella's misguided sense of right and wrong has put them on a collision course. I can't wait to see it all blow up, because you know it's going to be so insanely hot.
Jen -
Between the Devil and the Deep
Blue Sea
balances intense dramatic tension and forbidden UST that will keep you on the edge of your seat. It's not a surprise that each short chapter has my heart beating wildly--
jennde
is no stranger to angst and tears (see
Finding Home
), nor is she afraid of writing a story that doesn't resemble a fairy-tale (see
Unplanned
).
jennde
has filled the story with multi-dimensional characters, and it is wonderful to watch the various dynamics unfold as the story develops. Edward is at once wise beyond his years and painfully naive.
Growing up he was responsible for quite a lot of his own care, as Carlisle was busy working at the hospital. In some ways their relationship is more one of friends than of father and son. Carlisle has always had extremely high expectations of Edward, and this has started to put a strain on their relationship. With his focus on his career and his son, Carlisle never pursued romantic relationships after Esme. Carlisle's girlfriend, Bella, is a social worker who grew up in foster homes.
Edward is standing on a major precipice in many parts of his life as he makes the journey from teenager to adult. He's caught between a mother and father who both want the best for him, and the answer to what that is differs depending on which parent's point of view you're seeing. He's caught between pleasing his father by becoming a doctor and pursuing his own dreams of being a musician. And last, but certainly not least, he's caught with strong feelings for his father's new wife.
As both Jess and Jeanne have said, it's incredibly well written. The story is incredibly suited to being a short story; there's nothing drawn out and artificial about this angst. The lemons serve the story, and, just like the story, are intense and dramatic.
There are only two more chapters left to post and they're sure to be full of turmoil. If you start now you're sure to be all caught up before the final chapters are posted. Hop on and buckle your seatbelts!
Teal -
Honestly, I don't have any idea where this fic is going, but that's part of the fun of it. The way this is written, there is the struggle Edward feels drawn to someone he shouldn't be, as well as some obviously but difficult to measures tension that Bella feels on her part. It's certainly unpredictable because there is permanence in Bella and Carlisle's relationship, and through it all, I can say that this is one story where I don't think I want there to be a happy ending for Edward and Bella . . . I just don't see a way there can be.
That struggle as a reader - that connection to the character yet not wanting him to get what he wants - is what makes this fic so captivating. While certainly not for the faint of heart and quite possibly not for the hardcore E/B lovers (it's hard to tell yet), this is one that will keep you glued to your computer chapter after chapter.
But remember, this is Team Angst. If it doesn't turn out well, we warned you . . .