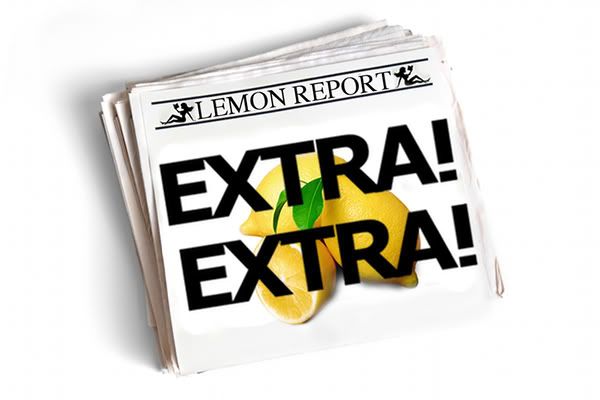 The Lemon Report - Fancy finding out what is on the FF bookshelves of the Pervy Girls of the PPSS? The lemon report lets you know our personal favourite updates of the week, and why you should give the fic a try.... It's a great place to trawl for new recc's and don't forget to share your favourite update with us by leaving us a comment.

In some cases, the Lemon Report may contain spoilers. Please read with caution.
Acronym Guide
AU - Alternate Universe
AH - All Human
WIP - Work in Progress
O/S - One Shot
OOC - Out of Character
WP - Wussperv
Slash/Femslash - Features homosexual characters and romance.
---
AH, WIP, E/B
---
Teal -
Hoorah!
Spanglemaker9
is up to it again! I love her stories because she's consistently good, and this new venture is no exception. Things start out with what's only supposed to be a one-time hookup, but Edward is clearly a little more into her than he realizes. As for Bella, she's guarded but perhaps not as tough and jaded as the front she presents. Their first time together is incredibly hot, and I'm keeping my fingers crossed for more sweet lovin' as they figure out where they go from here!
Jen -
There's something about this Edward that I don't think I'll be able to resist. He's a nice guy, but also, as Bella notes, one smooth motherfucker.
Jess -
I couldn't agree with Teal and Jen more. I like the way these two are as individuals. It's clear they both have stuff going on in their lives, but we're still in the dark about it. The sexy times were HOT, and I can't wait for more! I just hope Edward isn't stupid; he better get to callin'!
Emmy -
As
ALWAYS
I am loving
Spanglemaker9
's writing! However I am a chapter behind on this bad boy, so ****la la la la la la**** ****Not listening to what my Perv's say about her most recent chapter!****
---
AU, O/S, Jasper/Bella
---
Chele -
This is a wicked dirty Jasper/Bella smuttake. Bella is an insatiable newborn, Jasper does his best to resist her urges, and fails. Miserably and repeatedly, much to my delight. Dirty, Sexy, Unf.
---
AH, O/S, Jacob/Bella
---
Chele
- The title says it all. Bella, Jacob, humans with a warm, passionate friendship which turns into a metric fuckton of sexual tension. Beautifully written. Warm, funny, sexy. Loved it.
---
AU, O/S, Bella/Jacob
---
Jeanne -
Holy fucking shit, I will
never
get tired of
MeraNaamJoker
's writing. I love her visions of alternate universe and especially when she shows how happy Bella could be with someone other than Edward. In
Synergist
she shows a slightly bolder and sexually curious Bella taking things further with Jacob. I get hot and bothered just thinking about the make out scenes, when things finally progress to sex my brain shuts...
Jen -
MeraNaamJoker
has built a beautiful universe in this o/s. It's utterly believable, with a little fluffiness, a little angstyness, and a whole lotta hotness.
Teal -
Ohhh, it hurts my heart. This one is a gold medal for Bella/Jacob fans, sliding so smoothly into canon that you just might believe it yourself. Hot and sexy, angsty and rich.
Jess -
As a true Edward/Bella lover, this o/s is a tough read, but seriously, give it a shot, because it is so beautifully written. I found myself sucked into this alternate world, loving how Bella and Jake are so comfortable and confident together... watching her choose between Edward and Jake is heartbreaking but makes so much sense. The sexy times are hot... and not just because Jake is warm... they are just... unf!
---
AH, O/S, E/B
---
Teal -
I loved this one-shot because it was like a modern day fairytale. He's the heart throb rock star, she's the girl swept off her feet. He's enamored, she's hesitant. A series of unfortunate events prevail, but it doesn't ruin them. In fact, the deepness of their love is what sees them through it all. When they come together (pun intended), it's so poetic and sweet that you'll want to read all over again!
Emmy -
Jesus Teal! I could just kiss you all over. I hadn't read this story before!! Wowser. What a lovely wee treat! Just adored this. Such an interesting Bella.
---
AH, WIP, Bella/Jacob
---
Jen -
How hot is this chapter? So hot that I was adding it to the Lemon Report before Bella even had her first climax. And what better to accompany steamy wake-up sex? Why, a heaping serving of angst, in the form of a major bomb dropped at the end of the chapter. Lemons help the medicine go down...
Chele -
Wickedly erotic opening. For the first thousand words, it was like the rest of the universe didn't exist. Of course, then the world starts to creep in and spoils all the fun. Can't wait to see what's going to happen next.
---
AH, WIP, E/B
---
Jen -
Art After 5's
Edward and Bella are having a baby. That doesn't stop them from getting caught fucking in a public place.
Sleepyvalentina
gives good lemon!
---
AH, O/S, Jasper/Riley
---
Jess-
This little gem of smutty goodness popped into my box courtesy of the Non-Jasper/Edward C2... and thank goodness I subscribed. I think all I need to say is massage therapy, teacher-student, uncut, sexy lovin'!
Jen -
Pure and unrepentant porn and so unf. Also: Riley/Jasper. Yes, more please.
Emmy -
New slashy Riley? AND I DIDN'T KNOW???? Gah. **Runs off to read.** Mmmh a dirty talking Riley, my favourite. Oily!
---
AH, O/T Jasper/Edward
---
Jess -
We've been loving on these boys since I was an Honorary Perv back in the day. But what I loved most about this O/T wasn't the DP, although that was hot (even if it's not really my thing). It was the vulnerability and trust, the way you can see Edward expressing his love and Jasper starting to feel it, all without words. It's through touch, eyes, and whispered words... and I long for the day these two boys finally admit it to themselves and each other.
Emmy -
God I love these two boys something rotten. I love what a pair of in denial sweeties they are. JUST FACE FACTS! YOU ARE IN LOVE YOU DUMB FANNIES!!!! But I also love what randy and naughty bastards they are. Fucking fabbio and fuck-hot chapter is this one.
---
AH, WIP, E/B
---
Jen -
Bella has been
dying
to get into Edward's pants at drama school but he's playing a bit coy. She's a crafty girl, though, so she makes it happen and discovers that giving can be just as good as, if not better than, receiving.
Trin -
I am loving this story! Theater Bella and Edward make me so happy and I love reading Bella's thoughts as she is trying to rehearse with so close to her. It is a fantastic read!
Emmy -
I do love how Kiya writes these two thespian lovies and sometimes Love-Birds... Their emotional turmoil, confusion and LUST is just so ruddy realistic and pure brillo. Their chemistry is off the Richter, and I love to get updates for this fic. The power dynamics in this chapter are fabbio, and I love the analogy within this chapter.
---
AH, WIP, Edward/Rosalie
---
Jen -
Roseward- always explosive, yeah? This is no exception- we're talking hot angry sexing. Some angst but it's going to be a short fic so you won't be hurting for too long. Lots of fun bickering!!
---
AH O/S Fluffy :) E/B
---
Emmy -
A very cute one-shot about not taking things at face-value and finding more than you expected from life. Fluffy and fun oh and lemony too! Perfect!