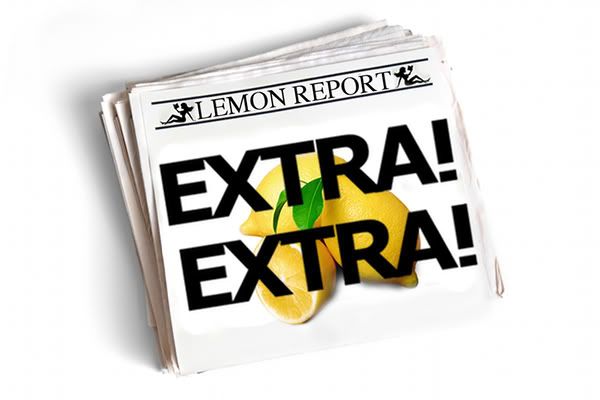 The Lemon Report - Fancy finding out what is on the FF bookshelves of the Pervy Girls of the PPSS? The lemon report lets you know our personal favourite updates of the week, and why you should give the fic a try.... It's a great place to trawl for new recc's and don't forget to share your favourite update with us by leaving us a comment.

In some cases, the Lemon Report may contain spoilers. Please read with caution.

Acronym Guide
AU - Alternate Universe
AH - All Human
WIP - Work in Progress
O/S - One Shot
OOC - Out of Character
WP - Wussperv
Slash/Femslash - Features homosexual characters and romance.
---
AH, WIP, Slash, Angsty E/J
---

Emmy -
Whew! Quite the chapter. My tummy was scrunched up all chapter and a wee bit melty at the end. (oh & a bit squirmy too!!!). Excellent!
---
AH, Outtake (kinda), Threesome/Femslash, Edward/Leah/Tanya
---
Jeanne -
Jesus Flaming Christ! I think
IdPattThat
is trying to kill me. This hot little "nottake" is short and to the point. Tanya and Leah's chemistry is palpable, but when you add an intrigued Edward to the mix the sexual atmosphere is explosive. Make sure to find a private place to read this smutty little threesome, cause you're going to need some alone time when you're done. UNF!
Jen -
I'm soooo glad I caught
IdPattThat's
tweet about this birthday o/s. What could be better than a spontaneous threesome between three extremely attractive people? Hot!
Chele -
Holy Hotness. Who needs The Rapture when there is this awesome smut right here? Unf.
Liz -
I usually shy away from girl slash, but ohhh holy damn this was a fun read!
---
AH, WIP, E/B
---
Teal -
I can't deny it - I love
spanglemaker9
so much. Yet again, she's giving us a fun, exciting Edward/Bella fic with hoooooootttttttt lemons. And such a fun premise in this one. Will they continue to dance around each other and play the hook up game, or will something change them both? Part of me doesn't care, as long as we keep getting the lemons! ;)
Jess -
Like Teal, I have some of the same questions. The latest update was so freaking hot... and I'm left wondering what are they actually going to do from here? I seriously need more like right now... and yet, I know this is going to be a short little fic, and I don't want it to end! Gah!
---
AH, O/S, Charlie/Sue
---
Jeanne -
This too short, incredibly well written one shot reads like a missing moment from canon. A peek into a very private moment in Charlie and Sue's relationship, and a look into Sue Clearwater's mind. It's soft, slow and sensual. At times I found myself tearing up at the realistic inner monologue of a mother, widow, but more importantly, a woman that is ready to move on. I think that I just feel a little bit more in love with Sue Clearwater after reading this beautiful story.
Chele -
It's so fucking hot when grown ups have sex. Seeing Charlie through Sue's eyes makes him infinitely sexier. Dirty talking Charlie? Killed me.
Liz -
Jeez, how much do I love grown-up sex in fics? I think this may be my new fic ship of choice. These two are perfect together - mature but not in a 'caught my parents doing it' sort of way, but more like a 'jeez, I hope I'm that good when I'm that age' sorta way. Damn... I *am* that age.
Trin -
This seemed so perfect and believable! Not to mention getting another level of these often (sexually) forgotten characters. And yes...Charlie dirty talking. UNF.
Jen -
I was struck silent by this fic.
chef diamond heart
created an amazing grown-up universe and then takes us, along with Charlie and Sue, on a journey of human emotion. I love the backstory she's created for them and in my mind it totally meshes with pre-Twilight canon.
Teal -
This story is absolutely gorgeous. The pairing alone intrigued me, especially going into knowing it was meant to a missing moment for Charlie and Sue. As an adult, every aspect of the story was just grown up, so realistic, with the body consciousness and the nervousness of being with someone new after so long with someone else...every little bit of this one-shot was amazing. And seriously, Charlie - what a hottie. Loved. It.
Jess-
The girls have all said it so well. I loved the part where Leah told her mom to go for it... it was just so real. Seeing the blossoming relationship, the indecision and insecurity about which piece of lingerie to wear, and the way they both dealt with the "consenting adult" piece was great. I really loved this!
---
AH complete, Jacob/Bella
---
Liz -
After falling in live with
Gravity Never Sleeps
, I had to troll though
chef diamond heart
's other fics and WOW was I glad I found this one. Auto mechanic Jake isn't exactly what you might expect, and art dealer Bella finds herself in need of his skilled services - repeatedly. Holy hotness. I am not ashamed to say I rooted for Jacob instead of Edward.
---
AH, O/S, E/B
---
Jen -
I love the sexy AU
Nolebucgrl
has created here. I would not complain if she decided to revisit this universe and tell us some more.
Jess -
I echo Jen's comments. This was unique and very different from
Nolebucgrl's
normal style, but it totally worked... and damn, it was hot.
---
AU, Complete, Embry/Leah
---
Jeanne -
Fuck I love this pair so much. Embry's playful, unflappable confidence is the perfect counterpoint to Leah's intensity and rage. In this short but steamy little story we see a very believable scenario in with these two become fuck-buddies, of a sort. Although, Leah soon learns that nothing about her life is uncomplicated, especially sex with another pack member.
Liz -
I fall more in love with Embry every time I see someone write him, and that's not often enough. This is a fast, sexy, fun read that will leave you panting and searching FFn for more Embry.
Jen -
I can't add much to what Jeanne & Liz have said. Leah's always sexy; add in Embry and you go Poof! Thud! Dead!
Jess -
Agreed on all the above. Just total unf and yum. Serious love Leah and I have a soft spot for Embry. And with a last name like "Call," well, who wouldn't.
---
AU-Human WIP, BxE
---
Liz -
Oh my gawd. Seldom has a scene left me quite so happily breathless and speechless. Finally. FINALLY, and it is perfect. Real and sweet and hot and wonderful and OMG my heart is so full of happy for these two.
---
AH, SLASH, complete, Edward/Jasper
---
Liz -
1300 words of tattooed Jasper getting a little morning beej? Oh Hell Yes. Quite possibly the best five minutes you'll spend alone with your computer today.
Emmy -
A tasty wee treat that Liz recc'd to me. **slurp**
---
AH, WIP, E/B
---
Teal -
This is a fic that has been pure fun to read all along. The BFF history that Edward and Bella shared perfectly paved the way for their adorable new relationship. Edward's little snippets of flashbacks to
that night
have been such a tease, and FINALLY we got to see them relieve all the sexual tension. OM NOM NOM.
Jess -
This was one of the cutest fics I've read in a long time. And I don't mean cute as in cheesy, I mean totally awesome and so well written. Every step of the way, I felt like all of this could totally happen... and watching them finally come together was so worth the wait. The UST, the teasing, the sweet way they stayed the way they were as friends and just let their relationship grow was total win! Just adorable!
---
AU, Complete, Carlisle/Bella
---
Teal -
This fic isn't new, but it sure is worth giving a go if you love Carlisle/Bella stories! In this AU, it isn't just Happily Ever After for Edward and Bella. Say hello to coven love, my friends, and as the coven leader, Carlisle has the privilege of the First Night with Bella. While there's no Edward loving in this one, he's not tossed aside or disrespected. Bella loves him no less, but she also loves her other husbands, and the night she spends with Carlisle is pure romance and a non-stop lemon FEAST. So go on now, you know you want to!
Chele -
I happily re-read this after Teal reminded me of the awesomeness. Carlisle's mannerisms seem so true to me that I firmly believe that Bella will be living happily ever after in polyamorous love with the Cullens. There is a lot of sexy here, and I love every bit of it.
---
AH, OS, Edward/Riley
---
Chele -
A misunderstanding between Riley and Edward prompts an explosion of desire. This short period fic is full of longing and need and an intensely erotic exchange fueled by a love forbidden by status and society. Unf and ache in equal measure.
Jess -
Wow! This story was so well done. If that wasn't a cure for writer's block, I'm not sure what is. Seriously, the best line in the whole thing: "They rut against each other frantically, while their hands and lips and teeth are busy pinching and licking and biting all the bits of skin they can manage to expose." It showed the carnal, deeply intense need in that moment on the beach. KILL ME DEAD.